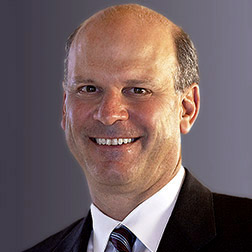 A partner in the Litigation Department, Ken Gallo has substantial trial experience in antitrust, patent, trade secret and major commercial disputes. He has tried cases involving the banking, payments, and travel industries, computer hardware and software products, medical and telecommunications equipment, commercial real estate and biotechnology products. Clients have recognized Ken as "the finest lawyer I have ever worked with - my number-one choice for any high-leverage litigation" and that he is "one of the most talented litigators ever seen, a great jury trial lawyer."
EXPERIENCE
Ken regularly represents clients in private and government antitrust matters, including claims related to alleged monopolization, tying, mergers and acquisitions, cartels and the interplay between the antitrust and intellectual property laws. He has been recognized as one of America's top antitrust, patent and commercial litigators by various publications, including Chambers USA, Benchmark/Institutional Investor, Best Lawyers in America, The Legal 500, The National Law Journal and Financial Times, which named Ken one of the "Top 10 Agents for Change." Ken was selected to "The International Who's Who of Competition Lawyers & Economists 2013" by the Global Competition Review.
Some of his representative antitrust and intellectual property matters include:
Farelogix, Inc. – In 2020, Ken successfully led the trial team that won a judgement on behalf of Farelogix and Sandler Capital Partners V, LP in an antitrust merger trial in which the DOJ sought to block Farelogix's acquisition by Sabre Corporation. The DOJ argued that the merger between Farelogix, an information technology company that connects travel agencies directly with airlines and travel services, and Sabre, a travel distribution intermediary between ticket agents and airlines and travel services, would reduce competition for booking services in the online and traditional travel agency markets. After a two-week trial in the District of Delaware, U.S. District Judge Leonard Stark rejected the DOJ's request for a permanent injunction and entered judgment in favor of the defendants.
News Corporation – Ken is lead trial counsel to News Corp subsidiary News America Marketing (NAM) in several high-value antitrust competitor and class action cases. In July 2021, he led the company's defense in a three-week jury trial in the SDNY in a monopolization suit brought by Valassis Communications, Inc. Valassis sought seven hundred million dollars in damages. After deliberating for three days, the jury was split 9-1 in favor of News Corp and NAM, enabling them to reach a confidential settlement. Additionally, in 2019, Ken helped News Corp settle a purchaser class action after the first day of trial for a small fraction of the company's more than $2 billion exposure.
SAP AG – Ken is defending German-based multinational software company SAP in two related actions brought by business analytics provider, Teradata, alleging that SAP misappropriated trade secrets and monopolized a relevant market in violation of the Sherman Act. Teradata seeks more than one billion dollars in damages. In November 2021, the district court granted summary judgment in favor of SAP dismissing almost all of Teradata's claims. The district court then certified the case for immediate appeal after Teradata agreed to dismiss or stay the remaining claims.
Genentech – We successfully represented Genentech in a summary judgement dismissal of patent litigation brought by Baxalta, Inc. (now a subsidiary of Takeda Pharmaceuticals) concerning Genentech's breakthrough hemophilia treatment HEMLIBRA®. The U.S. District Court for the District of Delaware granted Genentech's motion for summary judgment, holding that Baxalta's patent is invalid for lack of enablement. Previously, in 2019, the team defeated Baxalta's request for a preliminary injunction, permitting the new therapy to be marketed and sold. Ken has also represented Genentech against GlaxoSmithKline, Eli Lilly, Bristol Myers Squibb, and Human Genome Sciences on patent infringement claims related to the Cabilly patents regarding recombinant DNA antibodies. Ken successfully represented Genentech in a federal jury trial in Philadelphia against a $1 billion claim for misappropriation of intellectual property and fraud related to the development of Lucentis, a leading treatment for age-related macular degeneration. He represented Genentech in patent infringement litigation against Regeneron involving anti-VEGF treatments for eye disease and cancer. Ken previously assisted in a jury trial representation of Genentech against patent infringement claims related to oncology care products Herceptin and Rituxan.
Mastercard Incorporated – Ken has represented Mastercard for 20 years in a series of government and private antitrust actions. He is lead counsel for Mastercard in the so-called "interchange" multidistrict litigation brought by putative classes of U.S. merchants, as well as in related opt-out actions brought by nearly 100 of the largest merchants in the U.S., challenging payment card "interchange" fees and certain rules governing merchants' acceptance of payment cards. He is currently representing the company in three antitrust class actions brought on behalf of independent ATM operators and two groups of ATM consumers challenging ATM access fee non-discrimination rules. He also represents the company in defense of an antitrust class action brought on behalf of U.S. merchants alleging that major payments networks, together with card-issuing banks, conspired to shift fraud costs for certain card transactions from the issuing banks onto merchants in connection with the roll-out of EMV-chip cards in the U.S. Ken has further defended the company in civil investigations and lawsuits brought by the United States; in private suits brought by competitors under the Sherman Act; against class action merchant complaints of alleged tying of credit and debit products; and against claims brought by classes of indirect purchasers in more than 20 states.
Bumble Bee Seafoods – Ken was retained by Bumble Bee Seafoods in the defense of a price-fixing class action and opt-out litigation in the $1.7 billion packaged tuna market. The company restructured and avoided civil liability.
Sharp Corporation – Ken was lead counsel to Sharp Electronics Corporation and Sharp Electronics Manufacturing Company of America, Inc. as plaintiffs in a major antitrust class action concerning cathode ray tubes. His clients alleged that manufacturers of cathode ray tubes conspired to fix prices and exchanged competitive business information, harming competition in violation of Section 1 of the Sherman Act. The alleged conduct occurred over a 12-year period and affected billions of dollars of cathode ray sales in the U.S. Ken negotiated favorable settlements with the Hitachi, LG, Panasonic, Philips, Samsung SDI, Technologies Displays Americas, Thomson and Toshiba defendants. Ken and the team also obtained summary judgment on behalf of Sharp dismissing a $3 billion damage claim brought by Motorola for alleged price fixing of LCDs, and represented Sharp in a DOJ investigation of LCD pricing and LCD class action opt-out cases brought by AT&T, Best Buy, and Dell.
Citigroup Inc. – Ken is defending Citigroup Inc. and certain affiliates in an ongoing multidistrict putative class action filed in November 2015, alleging that Citi and various other banks conspired to reduce potential competition in interest rate swap trading and to raise prices for purchasers of the swaps. The consolidated action includes a putative class of purchasers of the interest rate swaps and individual plaintiffs who allegedly attempted to launch a competitive form of interest rate swap trading.
Morgan Stanley – Ken represents Morgan Stanley in a class action alleging that primary dealers in the auction market for debt instruments issued by the U.S. Treasury conspired to rig the auctions and manipulate the pricing of Treasury bills, notes, bonds and derivative products.
Cartel Matters – Ken regularly represents U.S., Japanese and European companies in DOJ and state AG antitrust investigations. He has, for example, represented a major European bank in an investigation related to alleged bid rigging concerning municipal bonds; a major financial institution in the foreign exchange investigation; a U.S. corporation in the transportation industry; a Japanese manufacturer of high technology glass products; and a European carbon manufacturer. Ken has served as global coordinating counsel for clients facing investigations by competition authorities in the U.S., Canada, Mexico, Japan, Korea, Brazil, the UK and the EU.
AIG - Ken successfully defended AIG against RICO and antitrust class action claims related to alleged bid-rigging of insurance contracts in all lines of commercial insurance.
Nichia Corporation – Ken represented Nichia Corporation in numerous disputes concerning the company's core patents covering bright-white light-emitting diode (LED) technology. Ken was retained to replace previous counsel in a Federal Circuit appeal following a jury trial. He also represented Nichia in the enforcement of its patent rights to white LEDs and backlights and liquid crystal displays, including litigations nationwide against VIZIO, TCL Corporation, Mary Elle Fashions and Lowe's Companies Inc.
Automotive Technology Patent Litigation – Ken successfully defended more than 15 automotive manufacturers and their suppliers in district court and the Federal Circuit against patent infringement claims related to side impact airbag sensors.
Siemens Corporation – Ken successfully represented Siemens as a plaintiff in a patent jury trial in the Northern District of Georgia related to telecommunications equipment. He also represented Siemens in an ITC patent trial related to LED products. The matter settled before trial.
New Venture Gear/Patent Litigation – Ken represented an automotive industry joint venture against patent infringement claims related to on-demand four-wheel drive systems.
Ken is a former member of the Firm's Management Committee.