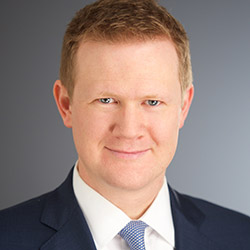 Kyle Kimpler is a partner in the firm's Restructuring Department. He has broad experience advising clients in complex restructuring and bankruptcy cases, including secured creditors, ad hoc creditor committees, distressed investment funds, claim purchasers and equity sponsors.
EXPERIENCE
Kyle's recent representative experience includes:
National CineMedia, the largest movie theater advertising business in North America, in its chapter 11 cases filed in the U.S. District Court in the Southern District of Texas
Revlon, a leading global beauty company, and certain of its subsidiaries in their chapter 11 cases in the U.S. Bankruptcy Court for the Southern District of New York
An ad hoc group of holding company noteholders in the chapter 11 cases of Intelsat S.A. and its co-debtor affiliates, operator of the world's largest and most advanced satellite fleet and connectivity infrastructure. Despite being creditors of Intelsat's various holding companies, the ad hoc group negotiated a plan of reorganization that provided holding company creditors with approximately $400 million of value, in addition to other contingent value rights tied to Intelsat's continued C-band spectrum clearing project
Apollo Global Management on behalf of certain funds and accounts it manages in a $6.5 billion joint bid alongside Knighthead Capital Management and Certares Opportunities, as sponsor to Hertz Global Holdings, Inc.'s chapter 11 plan of reorganization and to fund the company's exit from bankruptcy
An ad hoc group of first lien secured lenders in the chapter 11 cases of Frontier Communications Corporation, a leading telecommunications company with approximately $17.5 billion of funded debt obligations
General Motors LLC, the purchaser of substantially all of the assets of General Motors Corp (now known as Motors Liquidation Company) ("Old GM"), in litigation in the bankruptcy court related to a proposed settlement between a trust representing Old GM and plaintiffs asserting personal injury and economic loss claims arising from ignition switch and other alleged defects in vehicles manufactured by Old GM that were recalled in 2014
An ad hoc group led by The Baupost Group, L.L.C. in acquiring more than $7.5 billion in claims against Westinghouse Electric Company LLC and its affiliates and subsequently negotiating the Westinghouse plan that centered on a $4 billion asset sale. Pursuant to the Plan, the ad hoc group took ownership of W Wind Down Co., the entity responsible for resolving all claims in the Westinghouse chapter 11 cases
Kyle's bankruptcy-related litigation experience includes:
The County of Westchester in the chapter 11 case of Standard Amusements, the would-be operator of the Playland amusement park
The ad hoc group of Puerto Rico General Obligation Bondholders in restructuring the $18 billion of Constitutional debt issued or guaranteed by the Commonwealth of Puerto Rico
The second lien agent in the chapter 11 case and related fraudulent transfer litigation concerning Sabine Oil & Gas Corporation, an oil and natural gas exploration and production company
Citigroup in prosecuting and defending claims arising from Lehman's collapse
The Citco Group of Companies in bankruptcy-related litigation and cross border insolvencies arising out of the collapse of the Fletcher Funds
Kyle's other restructuring matters include:
The IMAGINE Group, a leading provider of visual print communications and experiential marketing solutions, in its recapitalization transaction, which involved a $550 million deleveraging and a $100 million new money investment
Expro Holdings, a leading provider of well flow management services to the oil and gas industry, in its prepackaged chapter 11 case
The ad hoc committee of first and second lien secured creditors in the prepackaged chapter 11 case of Allen Systems Group, Inc., a provider of information technology management software solutions
An informal committee of certain holders of secured and unsecured notes of Chassix and Chassix Holdings (n/k/a Aludyne), a metal parts supplier in the automotive industry, as well as certain lenders under Chassix's postpetition and exit term loan credit facility, in Chassix's restructuring through a prearranged chapter 11 case
Oak Hill Capital Partners in the restructuring and chapter 11 case of Southern Air Holdings, a leading air cargo carrier
Silver Point Capital, as prepetition and postpetition agent for lenders to Hostess Brands
An ad hoc group of trade creditors in the chapter 11 case of Spansion, a U.S. developer and manufacturer of semiconductor and chip solutions
In 2022, Kyle was recognized as Turnarounds & Workout's "Outstanding Young Restructuring Lawyer." Kyle is also a finalist for The American Lawyer's 2022 "Young Lawyer of the Year." His work on Frontier Communication's chapter 11 cases was recently recognized as the "Chapter 11 Restructuring (Mega)" winner for The Turnaround Atlas Awards 2022. In 2021, Kyle was named as one of The American Bankruptcy Institute's "40 Under 40" winners. Kyle is also recognized Lawdragon's "500 Leading US Bankruptcy & Restructuring Lawyers," by U.S. New – Best Lawyers and by The Legal 500 as a "Next Generation" lawyer in restructuring, and as a notable practitioner in structured finance: derivatives. He is also an active member of Practising Law Institute, most recently as a panelist for "Corporate Governance, and Sales of Assets" as part of the Bankruptcy & Reorganizations 2021: Current Developments program.