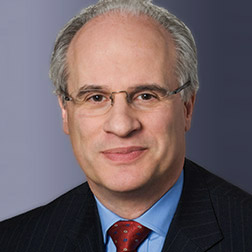 London
Alder Castle
10 Noble Street
London, United Kingdom EC2V 7JU
Fax: +44-20-7367-1651
+ vCard
ADD TO CONTACTS
Of counsel in the Corporate Department, Mark Bergman is the former Head of the Global Capital Markets Practice Group. Mark joined Paul, Weiss in 1982 and was elected to partnership effective January 1, 1991. In the early 1990s, he was the resident U.S. corporate partner in the firm's Paris office.
EXPERIENCE
Mark has extensive experience in corporate finance and securities transactions. Offerings in which he has been involved range from traditional offerings of equity and debt securities (including high yield debt and investment grade Yankee bonds) to offerings of perpetual and long-dated hybrid securities for financial institutions. Mark has been involved in global capital markets transactions and other securities offerings for issuers in a number of countries in Europe, Asia and Africa, as well as in the United States. He has represented issuers listing securities on stock exchanges in the United States, the European Union, Switzerland, South Africa and Hong Kong. For issuers of high yield debt, in addition to offerings, he has been involved in restructurings, refinancings and other liability management transactions.
Mark advises a range of listed companies in connection with reporting and other obligations under the securities laws, establishment of corporate compliance programs, compliance with corporate governance standards under the securities laws and stock exchange rules, and risk oversight and risk management matters. He has advised companies in connection with SEC and other U.S. regulatory investigations, and stock exchange proceedings.
In the cross-border M&A arena, Mark has been involved in cross-border tender offers, exchange offers and going private transactions. He has also acted for sponsors in connection with leveraged acquisitions.
Mark has represented a range of companies (financial institutions as well as and corporate clients that are not in the financial sector) in raising capital and restructuring balance sheets in the context of adverse economic and financial market conditions, including advising on negotiated investments, "rescue rights issues", restructurings of troubled asset portfolios, debt tender offers, modifications of financing arrangements and modifications of internal corporate governance structures.

Mark has been involved in U.S. capital markets transactions for over 30 years and has been involved in cross-border capital markets transactions for 20 years. During this time, a number of his capital markets and securities matters have been novel and/or innovative, including the first direct listing by a Chinese company on the NYSE; the first issuance by a South African company of high yield debt and the first leveraged acquisition in South Africa using offshore high yield debt; the first issuance by a reinsurance company of stock settled hybrid securities; the first issuance by a reinsurance company of hybrid securities with a principal write-off feature; the first dual listed company to be registered with the Securities and Exchange Commission and listed on the London Stock Exchange; and the CHF 3.0 billion investment by Berkshire Hathaway in Swiss Reinsurance Company Ltd using a novel Convertible Perpetual Capital Instrument.
Mark authors a significant number of the firm's client alerts on disclosure matters and other securities and capital markets topics, as well as corporate governance issues. He is a frequent contributor to professional journals and other publications. Mark regularly serves as a panelist for presentations and seminars on a range of capital markets and other securities law topics, and more recently on subjects related to legislative and regulatory efforts to reform the financial system and address systemic risks.
Mark is recognized for his work in capital markets transaction by The Legal Media Group Guides to the World's Leading Capital Markets Lawyers, Chambers and Legal 500. He is also a member of the Practical Law Company (PLC) Advisory Board for securities matters.
Mark received his B.A. from Bowdoin College in 1978 (magna cum laude), his M.A. from the University of Virginia in 1979 and his J.D. from Washington College of Law, American University, in 1982, where he was editor-in-chief of the Law Review. Mark is admitted to the Bars of the State of New York and the District of Columbia.