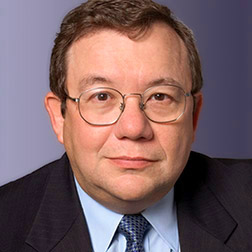 Of counsel in the Litigation Department (which he chaired for six years), Martin Flumenbaum has achieved national recognition as both an outstanding litigator and corporate advisor. He regularly advises U.S. and international clients on a broad range of litigation issues, with an emphasis on securities, mergers and acquisitions, commercial litigation, intellectual property, antitrust and white-collar matters. He is a fellow of the American College of Trial Lawyers.
EXPERIENCE
Significant lead trial counsel representations include:
AIG in a number of high profile matters, including the negotiation of AIG's settlements involving brokerage practices and accounting issues with the U.S. Department of Justice, the U.S. Securities and Exchange Commission, the New York State Attorney General and the New York State Department of Insurance;
Banque Populaire Group and Caisse d'Epargne Group in connection with the final settlement reached by their jointly owned monoline subsidiary, CIFG Holding, Ltd., with credit default swap counterparties and bondholders holding 98 percent of its collateralized debt obligation (CDO) exposure. The agreement successfully resolved approximately $12 billion in potential exposure;
Électricité de France S.A., (EDF), the largest nuclear energy company in the world, at trial and in its settlement with Exelon Corporation and Constellation Energy Group in a regulatory proceeding before the Maryland Public Service Commission (PSC) involving the proposed $8 billion merger of Exelon and Constellation;
Fitch, Inc. in a number of high profile matters including an industry-wide settlement with New York Attorney General Andrew Cuomo, and the dismissal of more than a dozen securities cases involving the rating of non-prime residential mortgage-backed securities;
Hollinger International Inc. in achieving a major victory in a highly publicized trial in Delaware involving a takeover battle with controlling stockholder Conrad Black, and in its £729.5 million ($1.3 billion) sale of London's prestigious Daily Telegraph newspaper. Martin won a battle for corporate control involving Hollinger International, as well as a $30 million verdict against Conrad Black;
Michael Milken in proceedings involving the Department of Justice and the Securities and Exchange Commission;
Skanska USA in a grand jury investigation relating to minority business subcontractors, that resulted in a non-prosecution agreement;
Weight Watchers International in several significant trademark infringement actions, including a false advertising suit against Jenny Craig, Inc. and a trademark infringement lawsuit against Nestlé U.S.A., Inc., the manufacturer of Lean Cuisine products, and Dreyer's Grand Ice Cream, the manufacturer of Skinny Cow products; and
Has won multi-million dollar verdicts in multiple arbitrations, including a three-month international arbitration which was tried in both the United States and Singapore, in which his client recovered nearly $100 million.
Martin regularly serves as trial and litigation counsel on commercial disputes, investigations and various federal securities matters for IBM, Fitch Ratings, Skanska, EDF, Aris Capital, TowerBrook Capital, Banque Populaire, Weight Watchers International, Metromedia, the American Society of Composers, Authors and Publishers (ASCAP), Fimalac, Emmis Communications, Malaysian Broadcast Network Satellite System and others.
In January 2006, Mr. Flumenbaum's representation of Hollinger International and American International Group (AIG) was featured in a cover story in The American Lawyer, "The Lifesavers," in which Paul, Weiss was selected as the best litigation firm in the United States for the period in which Mr. Flumenbaum chaired the department. In 2005, Martin was profiled by the National Law Journal for his work on Hollinger and other key cases, and featured in the publication's special feature, "Winning: 10 Profiles of Successful Strategies From Some of The Nation's Top Litigators." Martin has also been recognized as one of the leading litigators in the United States by Chambers, Benchmark Litigation, Lawdragon, Super Lawyers and Legal 500 and selected by Best Lawyers in America as one of the leading lawyers in the United States in three separate categories, including "Bet The Company" litigation. In the 2011 edition of Chambers USA, he was ranked in Tier 1 for New York general commercial litigation, noted for being "a superb and focused litigator." Mr. Flumenbaum was named National Litigation Star by Benchmark Litigation for Antitrust and General Commercial litigation, as well as a Local Litigation Star for New York. In addition, he was recently recognized by the 2011 Legal 500 as a "top-notch and deeply experienced" white-collar defense lawyer.
Martin is a member of the board of directors and the executive committee of New York Lawyers for the Public Interest, a public interest civil rights organization in New York, and since 1985 has written a monthly column for The New York Law Journal, titled "Second Circuit Review," which discusses significant decisions and legal trends in the federal courts. He has lectured on the attorney-client privilege and on the corporate and individual sentencing guidelines.
From 1979 to 1982, Martin served as an Assistant U.S. Attorney in the Southern District of New York, in which capacity he tried numerous criminal cases, concentrating in matters involving securities fraud, commodities fraud and tax fraud. He was also the lead prosecutor in the successful tax prosecution of Sun Myung Moon in 1982. In 1974, he became law clerk to Judge Whitman Knapp of the U.S. District Court for the Southern District of New York. He joined the firm in 1975 following his clerkship and became partner in 1983.