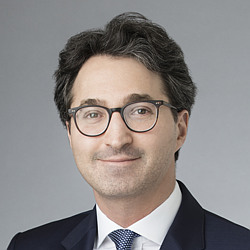 Maury Slevin is a partner in the Corporate Department and a member of the firm's Private Funds Group. Maury's practice focuses on the organization and operation of a wide variety of private investment funds, including private equity funds, credit funds, continuation and other GP-led secondaries funds, hedge funds, hybrid funds, distressed funds, direct lending funds, structured product funds (including CLO-focused funds) and hard asset funds. He also has extensive experience in the formation and operation of funds-of-one and separately managed accounts for a wide array of U.S. and non-U.S. investors. Maury also advises fund sponsors on "upper tier" and management company issues, co-investment arrangements and structures and investment management M&A transactions.
Prior to returning to Paul, Weiss, Maury spent over five years in-house at Oak Hill Advisors, where he most recently was a Principal and Associate General Counsel. During his time at Oak Hill Advisors, Maury oversaw the legal documentation, tax structuring, regulatory considerations and investor negotiations for all private equity-style funds, hedge fund-style funds, funds-of-one and separately managed accounts. During this time, Maury also developed a deep understanding of the inner-workings and day-to-day operations of a credit sponsor, which provides him with a unique commercial and client-focused perspective that he applies with respect to the representation of his clients.
EXPERIENCE
Maury began his legal career as an Associate in the Corporate Department and a member of the firm's Private Funds Group. Maury's clients have included, among others:
Angelo Gordon
Apollo Global Management
Blackstone/Blackstone Credit
EagleTree Capital
General Atlantic
Oak Hill Advisors
Population Health Partners
Reservoir Capital
Roark Capital Group
VärdePartners
Maury regularly participates in industry conferences and forums, including those hosted by Practising Law Institute and the International Bar Association.
He also maintains an active role in various pro bono representations, including recently representing a Ukrainian family seeking asylum in the U.S.