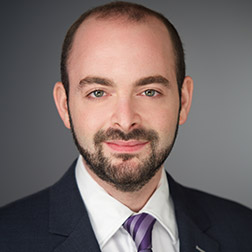 Michael Vogel is a partner in the Corporate Department and a member of the Mergers & Acquisitions practice group. His practice includes a wide range of public and private M&A, joint ventures, leveraged buyouts, minority investments, carve-out and spin-out transactions and restructurings. Michael also advises founders of high-growth startups in a variety of strategic and corporate governance matters.
Michael is recognized by The Legal 500 for his work in Media and Entertainment. He was also recognized in Variety's "Dealmakers List 2019," which spotlights the top lawyers in the entertainment industry. In 2020, Michael's work in connection with the $40 billion merger of CBS with Viacom to form ViacomCBS Inc. was selected by The Deal as "Most Innovative Deal of the Year."
EXPERIENCE
Michael's recent transactions include representing:
Ares Management in connection with investment transactions, including its investments in Infrastructure and Energy Alternatives, Inc. and Savers, a secondhand merchandise retailer
The Blackstone Group in connection with investment transactions
Bowlero Corp in its pending combination with Isos Acquisition Corporation to form a publicly listed entity
The special committee of the CBS Corp. board of directors in CBS's merger with Viacom to form ViacomCBS Inc.
EagleTree Capital in its investments from affiliates of AlpInvest Partners and Alberta Teachers' Retirement Fund Board and in its strategic minority investments from Misland Capital and Bullingham Capital
Ericsson in its global business and technology alliance with Cisco
Harris Corporation in its sale of its government IT services business and in the activist campaign by JANA Partners; the Harris Corporation board of directors in Harris's merger of equals with L3 Technologies to form L3Harris Technologies; and L3Harris Technologies's sale of its airport security and automation business to Leidos Holdings, Inc.
Imagine Entertainment in connection with an investment in the company by The Raine Group
Jeffrey Katzenberg in the sale of DreamWorks Animation to Comcast
KPS Capital Partners in the take private acquisition of Tower International by its portfolio company Autokiniton Global Group; its investment in Electrical Components International; its acquisition of DexKo Global and subsequent add-on transactions for the company
The ad hoc group of secured noteholders of LSC Communications in the sale of substantially all of LSC's assets to an affiliate of Atlas Holdings in connection with the chapter 11 cases of LSC and its minority investment in the purchaser
Nuance Communications in its spin-off of its automotive technology business and its sale of its Document Imaging division to Kofax, Inc.
An ad hoc group of noteholders in the out-of-court restructuring and sale of OmniMax International
The special committee of the Pilgrim's Pride board of directors in Pilgrim's Pride's acquisition of Moy Park from JBS
Randstad Holding in its successful acquisition of Monster Worldwide, which was challenged by an entity affiliated with Alden Global Capital
Simon Property Group, Inc. in its acquisition of an 80% ownership interest in The Taubman Realty Group Limited Partnership, the operating partnership of Taubman Centers, Inc.
South Mountain Merger Corporation in its combination with Billtrust to form a publicly listed entity
Spectrum Brands in its acquisitions of GloFish and PetMatrix
Universal American in its sale to WellCare Health Plans
Wellspring Capital Management in its acquisitions of AdvoServ, Help At Home, Inc., Rohrer and SupplyOne; its sales of its portfolio companies Checkers & Rally Restaurants and Great Lakes Caring; and add-on transactions for SupplyOne
Wiip, the independent studio, in connection with the pending acquisition of a majority interest in the company by JTBC Studios
Michael also maintains an active pro bono practice. He has advised individuals from underprivileged communities in their micro‐entrepreneurial and artistic endeavors, individuals in various matters relating to immigration and citizenship, and individuals seeking to establish or grow non‐profit organizations in the health and wellness sector.