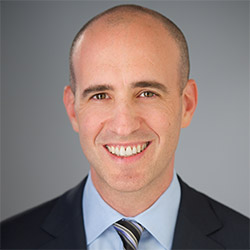 A partner in the Corporate Department, Neil Goldman is a member of the Mergers and Acquisitions Group and the Private Equity Group. Neil has extensive experience with public and private company transactions, including private equity investments, mergers and acquisitions, divestitures, restructuring transactions and joint ventures. Neil is recognized in The Legal 500 for his work on "private equity buyouts" and "mega-deal" mergers, acquisitions and buyouts.
EXPERIENCE
Significant private equity representations include:
General Atlantic:

portfolio company Authentic Brands Group LLC in its $110 million acquisition of Sports Illustrated from Meredith Corporation;
portfolio company Too Faced Cosmetics Holdings, LLC in its $1.45 billion sale to The Estée Lauder Companies Inc.;
portfolio company Aperture New Holdings, Inc. (OptionsHouse) in its $725 million sale to E*TRADE Financial Corporation;
portfolio company Align Networks, Inc. in its acquisition of Universal SmartComp and its sale to Apax Partners;
portfolio company Network Solutions, LLC in its sale to Web.com Group, Inc.;
together with KKR & Co., in their $1.65 billion acquisition of TASC, Inc. from Northrop Grumman Corporation, and in its sale to Engility Holdings, Inc.; and
in various investments, including Adyen, Aimbridge Hospitality Holdings, Airbnb, Alignment Healthcare, AppDynamics, Authentic Brands Group, Avant, Barteca Holdings, Chime, Facebook, Mi9 Retail, Opendoor, Peixe Urbano, Qualicorp Group, Red Ventures, Seismic Software, SigFig, SnapAV, Sonendo, Uber and XP Investimentos.

Crestview Partners:

in its acquisition of DS Waters of America and its $1.25 billion sale of DS Waters to Cott Corporation;
in its investment in WOW! (WideOpenWest);
in its acquisition of NEP Broadcasting, LLC and its affiliates from American Securities, an investment by Carlyle Global Partners in NEP, and in the sale of its stake in NEP to Carlyle Global Partners;
in its investment with other institutional investors of $475 million in Cumulus Media Inc., a Nasdaq-listed company, as part of Cumulus's acquisition of Citadel Broadcasting Corporation; and
in its investment in Camping World/Good Sam Enterprises.

Palladium Equity Partners:

in its acquisition of Kymera International from Platinum Equity and in Kymera's acquisition of AMETEK, Inc.'s Reading Alloys business;
in its acquisition of CircusTrix Holdings, LLC and in CircusTrix's acquisitions of Rockin' Jump Holdings, LLC and Sky Zone, LLC;
in its acquisition of Q'Max Solutions Inc. and in Q'Max's acquisition of Anchor Drilling Fluids USA, LLC from Calumet Specialty Products Partners, L.P.;
portfolio company Prince Minerals in its acquisitions of Grinding and Sizing Company, LLC and the Erachem Manganese Chemicals business of ERAMET Group and in the sale of Prince Minerals to affiliates of American Securities LLC; and
in its investment in HealthSun Health Plans Inc.
Other significant representations include:
Automatic Data Processing, Inc. (ADP):

in its acquisitions of Celergo, WorkMarket and Global Cash Card;
in its $235 million sale of its Consumer Health & Spending Accounts (CHSA) business and its COBRA business to WageWorks, Inc.;
in its $4.9 billion spin-off of CDK Global, Inc.;
in its $400 million acquisition of Cobalt Holding Company, its acquisitions of Workscape, Inc., The RightThing and SHPS Human Resource Solutions, and its sale of AdvancedMD;
in the formation of Open Dealer Exchange, a joint venture with The Reynolds and Reynolds Company; and
in its $975 million sale of its Claims Services Group to GTCR Golder Rauner LLC.

Charter Communications, Inc.'s ad hoc bondholder committee in one of the largest pre-arranged chapter 11 filings in history, including a $2.5 billion investment and a reduction of approximately $8 billion in Charter's total debt.
Major League Baseball:

in its investment in Rawlings Sporting Goods Company, Inc.; and
in the $2.15 billion sale of the Los Angeles Dodgers to Guggenheim Baseball Management.

Oaktree Capital Management:

in its sale, together with Apollo Global Management and Crestview Partners, of a $2.6 billion stake in Charter Communications, Inc. to Liberty Media Corporation;
in its investment in Hess Energy Trading Company LLC (HETCO);
in the $1.3 billion sale of its aircraft leasing company, Jackson Square Aviation, to Mitsubishi UFJ Lease and Finance Co., Ltd.;
in its $5.2 billion sale of Pegasus Aviation Finance Company; and
in its $600 million investment in the preferred stock of EXCO Resources, Inc., an NYSE-listed company.

A government agency in the sale of its stake in a U.S. financial institution.