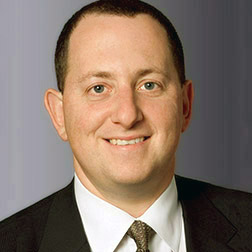 A partner in the Real Estate Department, Peter Fisch regularly represents developers, entrepreneurial investors, institutional investors, lenders and other parties in all aspects of transactional real estate, including acquisitions and dispositions, joint ventures, conventional and securitized financings, workouts, sale-leasebacks, management contracts and leasing, involving a balance of office, retail, hotel, multifamily, industrial and student housing properties.
Peter's work has earned him recognition as a leading Real Estate lawyer by both The Legal 500 and Chambers USA. He has published more than 40 articles regarding new developments in real estate transactional law in prominent trade publications, including the Real Estate Finance Journal and the National Law Journal, and co-authors a regular column on transactional real estate law for the New York Law Journal. Peter has been elected as a Fellow of the American College of Real Estate Lawyers, and has also brought his considerable experience to programs and panels sponsored by the New York City Bar Association and other prestigious organizations. His discussions have covered real estate financings, joint ventures, observations regarding market conditions and other related topics.
Peter recently completed two terms as a member of the Board of Directors of the Yale Law School Fund and is currently a member of the Executive Committee of the Yale Law School Association.
EXPERIENCE
Peter's recent experience in the acquisition, disposition and recapitalization of major real estate assets includes:
Multiple sales, acquisitions and recapitalizations for SL Green Realty Corp., a publicly traded REIT and the largest owner of New York City office buildings, involving 3 Columbus Circle, 110 East 42nd Street, 485 Lexington Avenue, 292 Madison Avenue, 885 Third Avenue, 2 Herald Square, 521 Fifth Avenue and multiple properties on lower Broadway and a development site in Brooklyn, with an aggregate value in excess of $1.5 billion.
For Apollo Global Real Estate, in a joint venture with Chartres Lodging Group, the pending $274 million sale of the Novotel New York Times Square, located at 226 W. 52nd St. in the heart of Manhattan's theatre district, to Millennium & Copthorne Hotels, a publicly traded UK-based hotel operator.
Restructuring and division of a 90-property portfolio of mixed use properties in the New York metropolitan area, with an aggregate value of approximately $4 billion, for a prominent New York real estate family.
For JACK Entertainment, a gaming company owned and controlled by Dan Gilbert, the sale of casino and racino properties in Detroit and Cincinnati and the sale leaseback of a casino in Cleveland, with an aggregate sales price of $2.7 billion.
For members of the Slifka family, the successful defense of a litigation brought by family members over the control of 477 Madison Avenue, and the auction sale of the asset to an affiliate of RFR Holdings for $260 million.
For The Lightstone Group and its publicly traded REIT affiliate, the sale of Dakota Square Mall, a regional mall in Minot, North Dakota, and the $2.3 billion sale of the 24-property Prime Retail outlet center portfolio to Simon Property Group.
Acquisition of the Dream Downtown Hotel, and negotiation of a hotel operating agreement, on behalf of a foreign investor.
Acquisitions of hospitality properties in the Meatpacking District and the Hudson Valley for noted Hotelier Andre Balazs valued in excess of $400 million.
Acquisition of 32 Old Slip, a 1.2 million square foot office building in New York, and a long-term ground lease of the property to affiliates of RXR Realty, for a New York real estate investor.
Acquisition and redevelopment of the Alabama, a 116-unit multifamily property in Greenwich Village for conversion into a student housing property for a Pebb Capital.
Acquisition of mixed-use properties in the Meatpacking District and Chelsea on behalf of The Yucaipa Companies.
Peter also has extensive experience representing developers, operating and capital partners in complex joint ventures, including:
For Loews Hotels Holding Corporation, several matters relating to a series of joint ventures with Universal Theme Parks for the development and operation of eleven hotels connected with the Universal theme parks in Orlando, Florida, with a total of 7,740 rooms currently in operation.
Representation of The Lightstone Group and its affiliate Paragon Retail Partners in a $500 million joint venture with a NYSE-listed shopping center REIT to develop retail outlet centers in Texas and California and a joint venture to develop a retail outlet center in Minnesota.
Representation of Rose Associates as the development partner in several joint ventures with institutional and family office investors, including a joint venture to convert the landmarked former AIG headquarters at 70 Pine Street into a luxury rental building; a joint venture for the ground-up development of Hoyt & Horn, a 360-unit multifamily building on Livingston Street in downtown Brooklyn,; a joint venture transaction to develop an 80/20 multifamily building in the Chelsea neighborhood in Manhattan; and current joint ventures to develop multifamily and mixed-use projects in Long Island City, Yonkers, White Plains and Port Chester, New York.
For SL Green Realty Corp., a $500 million joint venture with The Moinian Group to recapitalize and reposition 3 Columbus Circle in New York, and joint ventures with Capelli Properties and Onyx Equities for investments in office properties in suburban New York.
Representation of Apollo Global Real Estate in platform joint ventures to acquire office and mixed-use properties in the Southeastern United States and to acquire industrial properties nationwide.
MHP Real Estate Services (formerly known as Murray Hill Properties) in a multi-tiered joint venture for the development of a Times Square property into a luxury hotel with a three-floor retail arcade.
Joint ventures for Gemini Real Estate Advisors with partners including The City Investment Fund, The Carlyle Group, Related Companies and a New York based hedge fund to acquire several New York City hotels.
For The Yucaipa Companies, a joint venture to acquire a mixed-use building in the Meatpacking District with the Cayre family.
Peter also focuses a significant portion of his practice on complex financings, debt acquisitions and restructurings and preferred equity transactions involving CMBS and portfolio lenders, including:
HNA Group in the $1.76 billion financing for the $2.21 billion acquisition of 245 Park Avenue, a 1.8 billion square-foot office tower near Grand Central Terminal.
Several acquisition financings and refinancings involving mortgage and mezzanine loans totaling over $2 billion for SL Green Realty Corp. relating to 100 Park Avenue, 28 W. 44th Street, 3 Columbus Circle, 485 Lexington Avenue, 100 Church Street and a land loan and construction loan for 185 Broadway, all in New York City, Landmark Square in Stamford, Connecticut and the Meadows office complex in New Jersey, as well as the acquisition of six tranches of mezzanine debt secured by 280 Park Avenue in New York City.
For Rose Associates, several development financings for the above-referenced multifamily projects in Manhattan, Brooklyn and White Plains.
For Loews Hotels Holding Corporation, mortgage financings secured by the Aventura Hotel and the Cabana Bay Beach Resort in Orlando.
RXR Realty in the origination of a mezzanine loan for a condominium construction project in Greenwich Village.
Alpine Capital in the refinancing of Palmer Square, a residential, retail, office and hotel complex across from the Princeton University main gate in Princeton, New Jersey.
Pebb Capital in the consummation of mortgage and mezzanine loans for the refinancing of two portfolios of student housing properties and development loans for the construction of a student housing project near Columbia University in New York.
Representation of Citigroup Global Realty in the global settlement of multiple litigations with The Pyramid Companies that resulted in the successful restructuring of over $500 million of mortgage and mezzanine debt secured by the Carousel Center mall and DestiNY USA expansion located in Syracuse, New York.
A New York based hedge fund in the origination and restructuring of a mortgage and mezzanine loan secured by a riverfront brownfield development site in Yonkers, New York and a subsequent deed in lieu of foreclosure in satisfaction of the loan.
Apollo Global Real Estate in the acquisition financing of a portfolio of office properties in Ohio.
In addition to the above referenced matters, Peter's experience also includes:
Numerous sale leaseback transactions totaling well in excess of $1 billion for various clients involving industrial properties, a training facility, headquarters campuses, Checkers, Ryan's, Buffets, and Portillo's Hot Dogs restaurants and Chuck E. Cheese entertainment venues, and a portfolio of country clubs.
For Interstate Outdoor Advertising, the sale of signage rights in connection with the redevelopment of the Doubletree Hotel in Times Square, and the sale of a portfolio of signage structures under development in California to Outfront Media, a NYSE-listed outdoor media company.
Representation of Lincoln Center Theater in connection with its long-term lease for the Vivian Beaumont Theater and the Mitzi Newhouse Theater and administrative offices, and in connection with the development of the new Claire Tow Theater on the rooftop of its existing building on the Lincoln Center campus.
Representation of Caesars Entertainment Corporation, the world's most diversified gaming company, in a joint venture with Rock Gaming to finance the construction of casino and related hotel and retail facilities in Cleveland and Cincinnati, Ohio, and in the restructuring its management arrangements and income interests in connection with a transfer in lieu of foreclosure by Westgate Resorts of the timeshare tower located near the Planet Hollywood Hotel and Casino.
Several hotel management agreements for Starwood Hotels and Resorts (for W, Westin and St. Regis hotels), and Las Vegas Sands Corp. (for Four Seasons, Shangri-La, Starwood, Hilton, Fairmont and Intercontinental hotels in Macau) and a foreign investor (for the Dream Downtown Hotel).