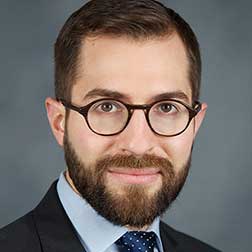 A counsel in the Litigation Department, Pietro Signoracci has litigated a broad range of complex civil and commercial matters, including litigation arising from employment contract disputes, enforcement of restrictive covenants and unfair competition; product liability, consumer fraud and negligence claims; securities-related disputes; antitrust disputes; and distressed sovereign debt. Pietro also has extensive experience representing clients in investigations and enforcement proceedings brought by the Securities and Exchange Commission and state securities regulators.
EXPERIENCE
Pietro advises employers and executives on contract enforcement and litigation risk, with a focus on non-competition, non-solicitation and confidentiality agreements.
Pietro's recent experience includes:
IBM in several litigations including:

in an ongoing lawsuit seeking at least $2.5 billion in damages brought against its former semiconductor chip supplier, GlobalFoundries, asserting claims for fraud and breach of technology, development, manufacturing and supply agreements related to a long-term alliance IBM entered into with GlobalFoundries through which the parties committed to co-develop cutting-edge technology for complex semiconductor chips;
in winning a preliminary injunction after an evidentiary hearing, affirmed on appeal by the 2nd Circuit, prohibiting a former senior executive from commencing a competing leadership position at a competing technology company in breach of a noncompetition agreement. Paul, Weiss previously secured a TRO to prevent the executive from starting in the competitive role and at the evidentiary hearing proved that the former executive was privy to some of IBM's most competitively sensitive trade secrets and, absent an injunction, IBM would suffer irreparable injury; and
in several ongoing non-compete litigations regarding the enforcement of post-employment restrictive covenants.

SAP, a German multinational enterprise software company, in securing summary judgment in favor of SAP, dismissing almost all of the claims brought by business analytics provider Teradata alleging that SAP misappropriated trade secrets and infringed copyrights, in addition to alleging violations of the Sherman Act, related to SAP's product, HANA.
In addition to his commercial practice, Pietro frequently represents clients in state and federal habeas corpus proceedings. He has litigated a number of voting rights cases, including on behalf of the Congressional Black Caucus and on behalf of the Brennan Center for Justice at New York University School of Law as amicus curiae before the Supreme Court of the United States in Evenwel, et al. v. Abbott, et al., No. 14-940.