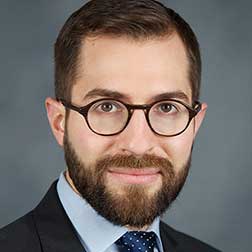 A counsel in the Litigation Department, Pietro Signoracci has litigated a broad range of complex civil and commercial matters, including litigation arising from employment contract disputes, enforcement of restrictive covenants and unfair competition; product liability, consumer fraud and negligence claims; securities-related disputes; antitrust disputes; and distressed sovereign debt. Pietro also has extensive experience representing clients in investigations and enforcement proceedings brought by the Securities and Exchange Commission and state securities regulators.
EXPERIENCE
Pietro advises employers and executives on contract enforcement and litigation risk, with a focus on non-competition, non-solicitation and confidentiality agreements. He has represented IBM in unfair competition litigation.
In addition to his commercial practice, Pietro frequently represents clients in state and federal habeas corpus proceedings. He has litigated a number of voting rights cases, including on behalf of the Congressional Black Caucus and on behalf of the Brennan Center for Justice at New York University School of Law as amicus curiae before the Supreme Court of the United States in Evenwel, et al. v. Abbott, et al., No. 14-940.