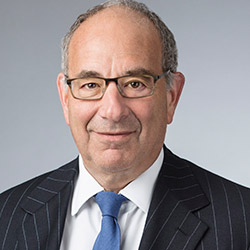 Robert B. Schumer is a member of the Mergers and Acquisitions Group, chair of the Corporate Department and a member of the firm's Management Committee. Bob regularly provides strategic counsel to corporations and their boards of directors and special committees on corporate governance, fiduciary duty, M&A and other corporate matters affecting policy and strategy. Over the past 30 years, Bob has been engaged in many high-profile matters that include the negotiation and structuring of M&A, dispositions, joint ventures, leveraged buyouts and contested matters, including numerous unsolicited offers and proxy contests, on behalf of a diverse range of clients, including public and private companies, private equity funds, financial institutions and other entities. He was previously the Chair of the New York City Bar Association's Committee on Mergers, Acquisitions and Corporate Control Contests. Bob also serves as a Director of New Alternatives for Children, Inc., on the Judicial Selection Committee of Senator Charles Schumer and on the Board of Trustees of The Paley Center for Media.
Awards & Recognition
Bob has been recognized in the top band of the leading M&A lawyers as well as the top band of media & entertainment lawyers in New York by the peer review organizations Chambers USA, The Legal 500, Best Lawyers in America and Law Business Research's International Who's Who of Merger and Acquisition Lawyers. He was named a "Dealmaker of the Year" (2011) by The American Lawyer for his representation of Warner Music in its $3.3 billion acquisition by Access Industries and for his representation of Time Warner Cable in its $3 billion acquisition of cable company Insight Communications Co. He was previously named "Dealmaker of the Year" (2005) for his representation of Time Warner Inc. in its successful $18 billion acquisition of Adelphia Communications Corporation's cable systems alongside Comcast Corporation. Bob's work on behalf of Time Warner Cable in its proposed merger with Comcast was commended by the Financial Times' "US Innovative Lawyers 2014." In 2018, he was selected by The New York Law Journal as a "Distinguished Leader," an award that recognizes attorneys in leadership roles who achieved impressive results in the past year, and was also highlighted by The National Law Journal as an M&A Trailblazer, recognizing his trail-blazing work over many years in the deal-making arena. In 2017, Bob was one of only 10 lawyers named to The Legal 500 Hall of Fame in the M&A: large deals ($1bn+) category. In 2016, Bob was one of only five attorneys named a Mergers & Acquisitions MVP by Law360 and was also featured in Variety's "Dealmakers Impact Report," which spotlights the top lawyers in the entertainment industry. In both 2009 and 2011, he was selected by The Hollywood Reporter as one of its "Power Lawyers." He was featured in The American Lawyer's "Forty-Five under 45 - Forty-five young lawyers who are making their mark today and will lead the profession tomorrow" and in Crain's "40 under 40 - an annual list of New York City's young movers and shakers," both of which were published in 1995. 
EXPERIENCE
Recently, Bob has been the lead lawyer on numerous high-profile transactions, including:
Time Warner Cable in its $78.7 billion merger with Charter Communications;
Time Warner Cable in its $45.2 billion stock-for-stock merger with Comcast Corporation (terminated). As a result of his work on the proposed Comcast transaction, The American Lawyer named Bob "Dealmaker of the Week";
The Special Committee of the Board of Directors of CBS Corp. in its $40 billion merger with Viacom, to form ViacomCBS Inc.;
Agrium Inc. in its merger of equals with Potash Corporation of Saskatchewan Inc. to create an integrated global supplier of crop inputs with an enterprise value of approximately $36 billion;
The Board of Directors of Xerox Corporation in its separation of the company into two public companies, a document technology company and a business process outsourcing company, and its related agreement with Carl Icahn;
Kate Spade & Company in its $2.4 billion acquisition by Coach, Inc.;
The Special Committee of the Board of Directors of Perry Ellis International in connection with its merger with a group led by its founder, George Feldenkreis;
The Special Committee of the Board of Directors of Expedia Group, Inc. in its acquisition of Liberty Expedia Holdings, Inc.;
HCP in the spin-off of its HCR ManorCare portfolio into an independent, publicly-traded REIT;
Warner Music Group in its $3.3 billion sale to Access Industries. The transaction was named 2011 "Transaction M&A Deal of the Year" by The Deal. As a result of his work on this transaction, The American Lawyer named Bob among its "Dealmakers of the Year" for that year;
Oak Hill Capital Partners in the $2.85 billion sale of Firth Rixson, a UK-based aerospace jet engine component provider, to Alcoa;
RSC Holdings in its $4.2 billion sale to United Rentals;
Emdeon Business Services in its $3 billion sale to Blackstone Group;
Time Warner Cable in its multi-billion dollar spin-off from Time Warner Inc. and in its $3 billion acquisition of Insight Communications;
Agrium Inc. in its successful proxy contest with JANA Partners LLC, whereby JANA Partners sought, but ultimately failed, to split Agrium's retail and wholesale businesses and replace five members of Agrium's Board of Directors with its own nominees. All of Jana's nominees were defeated;
Oak Hill Capital Partners in the $1.1 billion sale of Duane Reade Holdings, the iconic New York-based drugstore chain, to Walgreens;
The Lightstone Group in the $2.3 billion sale in 2010 of its portfolio company, Prime Outlets Acquisition Company, to Simon Property, the largest public real estate company in the United States;
Agrium Inc. in its $4.9 billion hostile bid for CF Industries Holdings and in its $2.65 billion acquisition of UAP, creating North America's largest agriculture retailer;
Western Coal in its arrangement agreement with Walter Energy, pursuant to which Walter Energy acquired Western Coal for approximately $3.2 billion; and
Universal American in connection with the $1.25 billion sale of its Medicare Part D business to CVS Caremark, making CVS one of the nation's largest providers of prescription drug services for Medicare Part D beneficiaries, and spin off of its remaining businesses to its public shareholders.
Additional high-profile transactions in which Bob has been the lead lawyer include:
Time Warner Inc. in its $17.9 billion acquisition of the cable properties of Adelphia Communications Corporation. As a result of his work on this complex transaction, The American Lawyer named him among its 2005 "Dealmakers of the Year";
the acquisition of Warner Communications by Time Inc.;
Endeavor Agency in its merger with William Morris Agency;
Farallon Capital Management in its $7.9 billion acquisition, along with Simon Property Group, of Mills Corporation, and its $1.84 billion bid for the manufactured home community business of Affordable Residential Communities;
Time Warner Inc.'s $2.8 billion acquisition of the cable television interests of the Newhouse family;
Wyndham in its $3.24 billion sale to Blackstone;
The Special Committee of Winn-Dixie Stores, Inc. in a merger between Winn-Dixie and BI-LO LLC;
EnCana Corporation, a Canadian oil and gas company, in its $2.7 billion successful tender offer for Tom Brown, Inc.;
Battle Mountain Gold Company in connection with its stock-for-stock acquisition by Newmont Mining Corporation;
Time Warner Inc. in its $58 billion bid for AT&T Broadband and in the $9 billion restructuring of Time Warner Entertainment, with Comcast and AT&T;
the consortium led by Edgar Bronfman, Jr. in its $15 billion bid for the entertainment assets of Vivendi S.A.;
Heinz in its acquisition of the pet food business of Quaker Oats;
the successful hostile acquisition of Rockefeller Center Properties, Inc., by an investment group led by Goldman Sachs, Tishman Speyer and David Rockefeller;
W-Westmont's hostile acquisition of UniHost;
the $2 billion sale of Six Flags Entertainment Corporation to Premier Parks Inc.;
King World Productions, Inc.'s $2.5 billion merger with CBS;
USA Networks, Inc.'s acquisition of Styleclick.com Inc.;
Spear, Leeds & Kellogg's $7.5 billion sale to Goldman Sachs; and
the $2.7 billion merger between Telemundo and NBC.
In the joint venture area, his representations include Time Warner Inc. in the creation of Time Warner Entertainment, a $20 billion joint venture to which Time Warner contributed its Filmed Entertainment, HBO Programming and cable television assets and in which two Japanese companies, Itochu Corporation and Toshiba Corporation, invested an aggregate of $1 billion; Time Warner Inc. in connection with the $2.5 billion investment in Time Warner Entertainment by US WEST, a regional bell operating company, which was one of the first major alliances between companies in the cable and telephone industries; and Time Warner Inc. in its negotiations with Sony Corporation to form the Columbia House Record Club, a 50-50 joint venture between Sony Music Group and Warner Music Group, which is currently the largest direct marketer of music and video products.
Bob has also been involved in numerous other joint venture arrangements ranging from the formation of an international consortium that acquired the phosphate division of W.R. Grace, to the creation of Courtroom Television Network, the venture that owns the cable television channel known as "Court TV" and the $1.2 billion restructuring of the venture owning Six Flags Theme Parks.