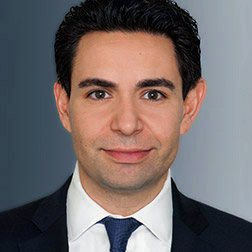 Roberto J. Gonzalez is a litigation partner with government experience spanning OFAC sanctions, anti-money laundering (AML), consumer financial protection, cybersecurity and Dodd-Frank.

As Deputy General Counsel of the U.S. Treasury Department, Roberto supervised more than a hundred lawyers—including the legal offices of OFAC and FinCEN—in the areas of sanctions/AML, cybersecurity, and financial regulation. Previously, he was Principal Deputy General Counsel of the Consumer Financial Protection Bureau (CFPB), where he advised the Director on all rulemakings, enforcement actions, and significant supervisory matters. Before that, he served as Associate White House Counsel and Special Assistant to President Obama, where he counseled on financial reform and homeland security issues and represented the White House in congressional investigations. He previously served as a law clerk on the U.S. Supreme Court.

With his multi-faceted government experience, Roberto helps clients navigate high-stakes government investigations and provides strategic counseling on compliance issues and crisis management. He also represents clients in litigation involving financial services, complex regulatory schemes and novel legal issues.

Roberto speaks and writes frequently on sanctions/AML, cybersecurity, compliance and financial regulation. His publications have appeared in the National Law Journal, the Harvard Law School Forum on Corporate Governance and Financial Regulation, and the Columbia Law School's Blog on Corporations and the Capital Markets. Recently, Roberto was selected to receive the "Law360 Distinguished Writing Award."

Roberto was recognized as one of the "500 Leading Lawyers in America" by Lawdragon. In 2017, he was elected as a member of the American Law Institute. Roberto was named a "D.C. Rising Star" by the National Law Journal, a "Rising Star in Banking" by Law360 and a "Top Lawyer Under 40" by the National Hispanic Bar Association. His joining of Paul, Weiss was covered in The New York Times and Law360. At Treasury, Secretary Jacob J. Lew awarded Roberto the Treasury Medal in recognition of his accomplishments and leadership as Deputy General Counsel.

EXPERIENCE
Roberto's recent representations include:
A former cabinet official in high-profile congressional inquiries regarding Russian interference in the 2016 election;
multiple global financial institutions in sanctions/anti-money laundering investigations by federal and state regulators and with respect to ongoing compliance advice;
a U.S. financial institution in a putative antitrust class action and a related regulatory investigation;
a U.S. equipment manufacturer in a Department of Justice False Claims Act investigation;
a natural resources company in an internal investigation regarding sanctions and bribery allegations;
a non-U.S. industrial conglomerate in advice regarding federal and state sanctions;
multiple asset managers in connection with due diligence and advice on sanctions and consumer regulatory issues in potential transactions;
bank and non-bank providers of consumer financial services regarding novel regulatory and compliance issues and engagement with the CFPB and other regulators;
multiple financial institutions in connection with regulatory advice concerning the marijuana/cannabis industry in the United States and Canada; and
mental health advocacy organizations as amicus curiae in litigation challenging certain New York state commitment practices.
GOVERNMENT EXPERIENCE
Roberto served as Deputy General Counsel of the Treasury Department from September 2013 to September 2015. He advised the Treasury Secretary and senior staff on a range of legal and policy issues, managed major litigations and congressional investigations and supervised more than 100 lawyers in areas including economic sanctions, AML, cybersecurity and Dodd-Frank. His tenure saw significant developments in the sanctions regimes involving Russia/Ukraine, Iran, Cuba and malicious cyber activity, as well as landmark enforcement actions for both sanctions and AML violations. Roberto supervised the legal function for, among others, the Office of Foreign Assets Control (OFAC), the Financial Crimes Enforcement Network (FinCEN), and the Financial Stability Oversight Council (FSOC).
From January 2011 to September 2013, Roberto served at the Consumer Financial Protection Bureau (CFPB), where he was Principal Deputy General Counsel and Deputy Associate Director. He oversaw the legal review of all enforcement actions, rulemakings and significant supervisory matters. In addition to helping develop the CFPB's approach to unfair, deceptive and abusive practices (UDAAPs) and fair lending, Roberto played a lead role in the agency's mortgage rulemakings and its expansion of oversight to nonbank sectors such as payday lending, debt collection and credit reporting.
Roberto served in the White House from January 2009 to January 2011. As Associate White House Counsel and Special Assistant to the President, he advised on financial regulation, homeland security, criminal justice, and energy and environmental regulation, and he represented the White House in investigations by Congress and the Financial Crisis Inquiry Commission. He advised the White House's National Economic Council and served as the White House's primary legal liaison to the Departments of Treasury and Homeland Security, among others. Roberto would collaborate with those agencies' senior lawyers on their most difficult litigation, regulatory and oversight issues.
Roberto clerked for Supreme Court Justice John Paul Stevens and, before that, for Second Circuit Judge Guido Calabresi. He graduated from Stanford Law School, where he was Senior Articles Editor and Managing Board member of the Stanford Law Review and received the Urban A. Sontheimer Third-Year Honor. He received his A.B. from Duke University.