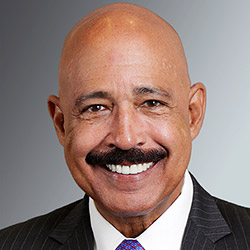 A partner and co-chair of the Litigation Department, Ted Wells has extensive experience in white-collar defense and complex civil and corporate litigation, including SEC investigations, healthcare fraud, FCPA, AML and OFAC investigations, high-profile environmental matters and complex class action litigation. For more than three decades, prominent business figures and politicians, and leading companies in a range of industries have entrusted their gravest legal challenges to him. In particular, Ted is among the nation's best-regarded trial lawyers, having tried numerous multibillion-dollar cases before judges and juries. Clients have recognized Ted as "dean of the bar" and "a superior strategist with unmatched trial experience and judgment" adding that "he commands respect in every venue in which he appears."
Awards and Recognition
The National Law Journal named Ted one of "The Decade's Most Influential Lawyers" in 2010 and over the years has repeatedly recognized him as one of the 100 most influential lawyers in America, including naming him the "Lawyer of the Year" in 2006. Ted has also been recognized as one of the outstanding jury trial lawyers in the United States by numerous publications, including Chambers USA, which has noted that Ted "is considered by many to be 'the best trial lawyer in the country.'" Since 2013, Chambers USA has named Ted a Star Individual in three categories: nationwide trial litigation, New York general commercial litigation and New York white-collar crime and government investigations and was recently recognized in the nationwide spotlight table for crisis management. Benchmark Litigation has named him in similar categories, including winning individual recognition as "Trial Lawyer of the Year" for 2019, and being inducted into the Hall of Fame in 2020. The Legal 500 has recognized him as a Leading Lawyer in white-collar criminal defense and as a Leading Trial Lawyer. Additionally, in 2018 and 2019, Chambers USA named Ted a Recognized Practitioner in sports law, and in 2018 The Legal 500 recommended him in the antitrust-cartel category. Ted has also been named to The National Law Journal's 2015 "Litigation Trailblazers" list, which honors 50 individuals who have changed the practice of litigation through the use of innovative legal strategies. Ted has been named The American Lawyer's "Litigator of the Week" multiple times, including in 2019 for his work on behalf of ExxonMobil in a landmark $1.6 billion climate-change lawsuit brought by the New York Attorney General's office and for his successful defense of New Jersey governor Phil Murphy in a high profile preliminary injunction matter. In 2017, Ted received the New York Law Journal's "Lifetime Achievement" award.
EXPERIENCE
Combining courtroom prowess, business acumen and regulatory expertise, Ted has helped clients achieve exceptional results in a variety of high-stakes matters. Significant representations include:
FINANCIAL SERVICES
Citigroup in multiple matters, including:

successfully defending it in a three-week jury trial in 2010, in which the plaintiff, the London-based private equity firm Terra Firma, alleged it was defrauded in connection with its purchase of the music company EMI, claiming more than $8 billion in damages;
successfully defended it in a five-month jury trial in 2008, in which the plaintiff alleged that Citigroup aided and abetted in the massive fraud at Parmalat, the Italian dairy and food corporation, claiming $2 billion in damages. The jury rejected the claim and awarded Citigroup $364 million on its counterclaim. In April 2019, Italy's Supreme Court ruled that the award in favor of Citigroup—at that point nearly tripled in value to more than $1 billion—is final and enforceable in Italy;
the favorable settlement in January 2016 of a fraud case brought by Allied Irish Banks seeking several hundred million dollars in damages;
the highly favorable resolution in May 2017 of a multi-year Bank Secrecy Act/anti-money laundering federal grand jury investigation; and
in Citigroup's subprime, credit crisis and mortgage-related litigations and regulatory matters;

Bank of America as lead trial counsel in the massive securities class action relating to its acquisition of Merrill Lynch & Co., which was settled on the eve of trial;
Deutsche Bank in multi-regulator, multi-jurisdictional inquiries concerning the setting of numerous Interbank Offered Rates (IBORs) and in related civil litigations. The investigations and the resulting coordinated settlements with U.S. and U.K. authorities in April 2015 covered conduct in multiple bank offices over a decade;
JPMorgan in favorable resolution of the DOJ's and SEC's FCPA inquiry into the firm's Asia hiring practices;
Standard Chartered Bank in resolving a six-year investigation into its historic sanctions violations and control deficiencies by six U.S. federal and state agencies and the UK's Financial Conduct Authority (FCA);
Morgan Stanley in a DOJ/SEC investigation into Morgan Stanley's structured finance transactions with Freddie Mac;
Omega Advisors and Leon Cooperman in SEC proceedings alleging insider trading;
Steven A. Cohen and SAC Capital (now Point72 Asset Management) in criminal and regulatory proceedings and litigations arising out of claims of insider trading;
an international insurance company as co-lead trial counsel in a case in New York Supreme Court that settled in 2017 after the opening statement to the jury;
financier Michael Milken in various criminal and civil securities litigations;
financier Michael Steinhardt in the Salomon Brothers Treasury Investigation; and
hedge fund manager James Regan in the first Wall Street RICO prosecution in U.S. v. Regan;
LIFE SCIENCES
Merck in multiple matters, including:

as lead trial counsel in 2013 in the massive securities fraud class action relating to the drug Vytorin, which was settled on the eve of trial; and
as lead counsel in the SEC and DOJ investigations related to Vioxx, which were successfully settled in 2012;

Johnson & Johnson as lead counsel in federal regulatory investigations into off-label marketing of the prescription drug Risperdal, which were successfully settled in 2013; and
Abbott Laboratories as lead counsel in the federal regulatory investigations relating to Depakote, which were successfully settled in 2012;
ENERGY AND MATERIALS
Exxon Mobil Corporation as lead counsel in multiple matters, including:

in a series of unprecedented climate change-related matters, including a $1.6 billion securities fraud lawsuit brought by the New York Attorney General in a three-week trial that resulted in a complete defense verdict, an SEC investigation concluded with a recommendation for no enforcement action, multiple additional state attorneys general investigations, and several mass tort actions;
in an eight-month bench trial, in which the state of New Jersey sought a precedent-setting $9 billion in damages for environmental injuries, making it one of the largest environmental damage cases ever tried. The case settled for $225 million while awaiting verdict;
numerous FCPA investigations involving numerous countries; and
in U.S. v. Exxon (environmental prosecution).

Alcoa in the defense and resolution of SEC and DOJ and FCPA investigations involving alleged improper payments through a middleman/distributor to officials in Bahrain;
MEDIA, SPORTS AND ENTERTAINMENT
21st Century Fox in the Roger Ailes and Bill O'Reilly investigations;
a special committee of the National Basketball Players Association (NBPA) in internal and governmental investigations concerning the NBPA's leadership and business practices, including the conduct of the NBPA's former executive director, Billy Hunter;
the National Football League in several matters, including:

an investigation concerning workplace conduct at the Miami Dolphins following the departure of offensive lineman Jonathan Martin;
an investigation into alleged tampering of game-day footballs during the 2015 AFC Championship game; 
the defense and settlement of hundreds of lawsuits filed by thousands of former NFL players seeking to hold the league liable for allegedly concealing the risks associated with concussions sustained while the players played professional football; and

the special committee of the board of trustees of Syracuse University in a review of the university's prior response, in 2005, to a report that a former assistant coach of the men's basketball team had sexually abused the complainant. The special committee's report of the review was provided to the university's board of trustees, the university administration and the public.
HIGH-PROFILE INDIVIDUALS
Ted's significant representations of politicians and high-ranking individuals in business and finance include the successful defense of:
former U.S. Secretary of Agriculture Michael Espy in U.S. v. Espy;
former U.S. Secretary of Labor Raymond Donovan and other corporate executives in State v. Schiavone;
former U.S. Senator Robert Torricelli in the Department of Justice's three-year campaign finance investigation;
investment banker Frank Quattrone for obstruction of justice charges;
former New York Governor Eliot Spitzer for possible violations of federal statutes;
former New York Governor David Paterson for possible ethics violations;
Margaret Flake and former U.S. Congressman Floyd Flake in U.S. v. Flake;
Tennessee financier Franklin L. Haney, accused of campaign contribution law violations in connection with the Clinton/Gore 1996 presidential campaign in U.S. v. Haney;
San Francisco investment banker Calvin Grigsby of fraud charges involving the Port of Miami and Dade County, Florida in U.S. v. Grigsby; and
I. Lewis "Scooter" Libby, chief of staff to former Vice President Dick Cheney, on perjury charges in U.S. v. Libby (Presidential Pardon).
Moreover, Ted has represented Carnival Corporation (environmental prosecution), Mitsubishi Corporation (criminal antitrust prosecution), Nippon Chemi-Con Corporation (criminal antitrust prosecution) and Philip Morris Corporation (civil RICO case brought by DOJ) in a variety of high-stakes litigations and investigations. Ted has also successfully defended major law firms in malpractice actions.
With extensive experience in corporate governance issues, Ted previously served on the Board of Directors of CIT Corporation, a New York Stock Exchange company, where he was a member of CIT's audit committee.
Ted is a fellow of the American College of Trial Lawyers. He has served as co-chair of the White-Collar Criminal Section of the National Association of Criminal Defense Lawyers. He has been a faculty member of the Practising Law Institute Trial Advocacy Program, a teaching team member of the Harvard Law School Trial Advocacy Workshop and a lecturer at the Securities Regulation Institute. He has lectured on the use and scope of the RICO statute, the defense of securities, healthcare and environmental criminal and civil matters, federal grand jury procedures and federal sentencing guidelines.
Active in social, political and community affairs, Ted served as national treasurer for Senator Bill Bradley's presidential campaign and is the chairman emeritus of the NAACP Legal Defense and Educational Fund Board of Directors. He previously served, on a pro bono basis, as general counsel to the New Jersey NAACP, New Jersey co-chairperson of the United Negro College Fund and general counsel to the New Jersey Democratic Party. Ted is a member of the American Academy of Arts and Sciences. Ted is a Fellow of the Harvard Corporation, the governing body of Harvard University.
Ted served as an editor of the Harvard Civil Rights-Civil Liberties Law Review.