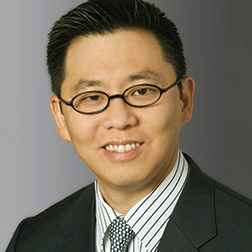 Tokyo
Fukoku Seimei Building 2F, 2-2, Uchisaiwaicho 2-chome
Chiyoda-ku, Tokyo 100-0011, Japan
Fax: +81-3-3597-8120
+ vCard
ADD TO CONTACTS
A partner in the Corporate Department, Tong focuses on representing Japanese and other Asian companies in connection with global capital markets transactions and cross-border mergers and acquisitions transactions. Tong is resident in the firm's Tokyo office and is registered as a gaikokuho jimu bengoshi in Japan.
EXPERIENCE
In the capital markets and securities area, Tong has represented both U.S. and non-U.S. issuers and underwriters in connection with initial public offerings, secondary offerings, debt offerings (investment grade and high-yield debt, and hybrid capital securities), exchange offers and multi-jurisdictional tender offers. He has been involved in transactions relating to issuers in the United States, Canada, Germany, Greece, China, Japan and Korea. Tong's major representations include:
Mitsubishi UFJ Financial Group, Inc. (including its predecessor institutions, Mitsubishi Tokyo Financial Group, Inc. and UFJ Holdings, Inc.) for more than two decades in connection with all of its global offerings of common and preferred equity securities, senior and subordinated debt securities as well as various hybrid securities;
MUFG Bank Ltd. in connection with several offerings of its senior debt securities;
NEC Corporation in connection with global offerings of its common equity securities;
Sumitomo Corporation in connection with a global offering of its common equity securities; and
Tencent Holdings Limited in connection with its initial public offering.
In addition, Tong advises companies listed in the United States on reporting obligations, corporate governance matters and other securities law and stock exchange compliance issues.
In the mergers and acquisitions area, Tong has done work for strategic corporate clients in connection with their cross-border acquisitions, strategic joint ventures and various other forms of equity investment transactions. He has also advised private equity funds and hedge funds in connection with leveraged buyout acquisitions, PIPE investments, pre-IPO minority-position investments and other special situation investments.  In addition, Tong has provided U.S. law advice in connection with business combinations among non-U.S. companies, including SEC-registered business combination transactions. Tong's representative M&A matters include:
Funds affiliated with Apollo Global Management, Inc. in the announced acquisition of the aluminum can and aluminum rolling businesses from Showa Denko K.K. (pending);
Mitsubishi Chemical Corporation in connection with its acquisition of Gelest, Inc.;
Minority-position investments in growth stage companies in Asia region by various private equity funds including those affiliated with General Atlantic, GIC, Goldman Sachs, KKR, Morgan Stanley, SoftBank Vision Fund and Temasek;
Citigroup Inc.'s sale of its retail banking business in Japan;
Citigroup Inc.'s sale of Citi Cards Japan;
Various investments by Tencent Holdings Limited into growth stage companies in Asia region;
Virtu Financial LLC, in its strategic minority investment in SBI Japannext Co., Ltd., a Japan-based proprietary trading system;
Citigroup Inc.'s sale of its controlling interest in Nikko Asset Management, one of Japan's leading asset management companies;
Nissay Dowa Insurance Co., Ltd.'s business combination transaction to form one of the largest non-life insurance companies in the world; and
Mitsubishi Tokyo Financial Group, Inc.'s merger with UFJ Holdings, Inc. to form one of the largest financial institutions in the world.
Tong has also assisted Japanese and other Asian corporate clients in connection with U.S. regulatory and civil litigation matters as well as internal investigations, including matters involving alleged corruption, accounting irregularities and alleged fraudulent conduct.
Tong's work has earned him recognition as a leading lawyer in Japan by Chambers and Partners, Legal 500, IFLR1000, Best Lawyers and Who's Who Legal. He has authored several articles and memoranda, including:
"U.S. Securities Laws in the Context of Business Combinations among Japanese Companies: Q&As on SEC Registration Requirements and Exemptions Thereto (日本企業の組織再編で留意したい米国証券法上の規定~証券の登録義務と その免除規定に関するQ&A~)" which was published in Japanese in Journal of the Japanese Institute of International Business Law, Vol.39, No.12 (December 2011);
"Recent Dodd-Frank Act Developments affecting Whistleblower Programs – Enhancing Internal Compliance Programs to Protect Companies (米国ドッド=フランク法に基づく内部告発プログラムの強化―社内コンプライアンスと企業価値を守るために求められる対応)" which was published in Japanese in NBL (New Business Law), No.983 (August 15, 2012);
"Recent Trends in Class Actions Arising out of Public M&A Transactions in the United States (米国上場企業のM&Aをめぐるクラス・アクションの状況)" which was published in Japanese in Shoji Homu 1996 (April 15, 2013); and
"Practical Tips for Internal Investigations into U.S. Foreign Corrupt Practices Act Related Allegations (米国の海外腐敗行為防止法の違反が疑われる状況での内部調査のポイント)" which was published in Japanese in Business Law Journal (No. 101, August 2016).