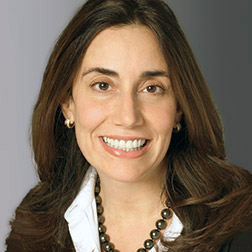 Valerie Radwaner is deputy chair of Paul, Weiss and a partner in the Finance Group of the Corporate Department.
EXPERIENCE
Valerie Radwaner has served as the Deputy Chair of Paul, Weiss since 2014. Valerie is a partner in the Finance Group with decades of experience advising corporate borrowers, leading private equity sponsors and their portfolio companies, and alternative lenders in a broad range of corporate finance transactions, including acquisition financings, bank and bridge loan financings, refinancing transactions, restructurings and other related financings. Who's Who Legal recognized Valerie in 2018 for her "superb work handling a range of related matters across the banking sector," in 2020 for her "invaluable experience advising corporate and financial institutions" and in 2021 for her "top-tier work advising corporate borrowers and private equity sponsors on acquisition finance matters." Lawdragon named Valerie to its 500 Leading Dealmakers in America guide in 2021 for both Corporate Finance and Private Equity. Valerie's clients include Avenue Capital, MacAndrews & Forbes, Michael Kors Holdings, Oak Hill Capital, Ralph Lauren Corporation, Revlon, Silver Point Capital and Virtu Financial, among others.
Valerie has been recognized repeatedly for her leadership in the legal industry and her commitment to diversity and inclusion in the legal profession. In 2018, she was featured as a law firm leader in LEADERS Magazine, and was recognized by Corporate Counsel in its 2018 Women in Law Awards for Law Firm Transformative Leadership. In 2017, she was profiled in Crain's New York Business's inaugural list of "Leading Women Lawyers" in New York City and was recognized by Euromoney in the "Best in Corporate Governance" category of its Americas Women in Business Law Awards.
Valerie is a longtime advocate for diversity throughout the legal profession, and is active in professional organizations devoted to women's leadership. She is a founding member of the Thomson Reuters Women's Transformative Leadership Advisory Board, and is a member of the Global Advisory Board of Women in Law Empowerment Forum, an organization dedicated to the advancement of women in law. Valerie is also a member of the Steering Committee of the 30% Club, an organization comprised of CEOs and other leaders committed to gender balance on boards.
Valerie is involved in numerous community, civic and charitable activities. In October 2020, Valerie was inducted to the Board of Trustees of New York University School of Law. She serves on the board of directors of the Student Leadership Network, which supports students from underserved communities in accessing educational opportunities, and was honored by the organization for her achievements and advocacy in 2018. She also serves on the Northeast board of directors of the Israel Tennis & Education Centers Foundation; is a founding mentor of the Birnbaum Women's Leadership Fellows Program at NYU Law; and is a member of the Board of Trustees of Newark Academy. She previously served on the Advisory Board of Fashion, Arts, Media & Entertainment Center at Cardozo School of Law.
Valerie earned her B.A. from Brandeis University, magna cum laude, and her J.D. from New York University School of Law.