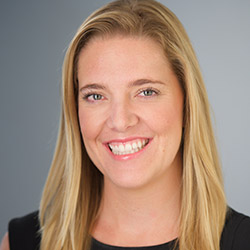 As a partner in the Corporate Department, Victoria S. Forrester is a member of the Private Funds Group. Vicky focuses her practice on the formation and operation of a variety of private investment funds, including private equity funds, distressed and credit funds, venture capital funds, co-investment funds, managed accounts and funds of funds, and their respective management companies. In addition to advising on a wide range of fund formation issues, she also advises fund managers on all aspects of the business of alternative asset management, including regulatory issues, management company "upper-tier" arrangements, investment management M&A transactions, seeding arrangements and GP-led secondary transactions.
EXPERIENCE
Vicky's private investment fund clients have included:
Angel Island Capital
Apollo Global Management
Centerbridge
KKR
MPowered Capital
Oak Hill Advisors
Värde Partners
Viking Global Investors
Wasserstein & Co. (n/k/a EagleTree Capital)
She is actively involved in Environmental, Social and Governance (ESG) Advisory Practice. In 2021, Vicky co-authored a chapter in Refinitiv's 2021 ESG Playbook, "Top ESG Trends for 2021: Stability and Sustainability in the Investment Community." In addition to ESG, Vicky contributes regularly to a number of other thought leadership publications and client memoranda on various private funds topics. Some of her recent articles include "Five Reasons to Become a Private Funds Lawyer" in Vault, "Life After the End of Life of a Private Fund" in The Review of Securities and Commodities Regulation and "Private Equity Fundraising: Notable Trends in 2020" for American Investment Council.
Vicky has been recognized in numerous industry awards and publications for her achievements in the private funds industry. In 2022, Vicky was named a "Rising Star" in fund formation by Law360. She is also named a "Recommended Lawyer" in private equity funds by The Legal 500, and she was also shortlisted as a "Corporate Rising Star" by Euromoney for the 2021 Women in Business Law America Awards, which recognize women at the forefront of legal work in business law and firms that have produced initiatives and programs to support and encourage women and diversity within the industry. Beyond her legal practice, Vicky formally and informally mentors associates, and is the point partner for Paul, Weiss's work on a new pro bono collaboration with 100 Women in Finance and certain of their partner organizations seeking to support women professionals in the funds industry.
Vicky maintains an active role in other various pro bono representations, advising the firm's pro bono clients regarding the formation, governance and regulation of not-for-profit companies. She has also represented pro bono immigration clients, including representing a Peruvian man in his successful asylum, permanent residency and naturalization applications and representing undocumented immigrant mothers and children at the border in their immigration proceedings.