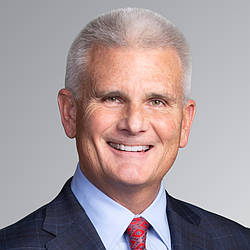 San Francisco
535 Mission Street, 24th Floor
San Francisco, California 94105
Fax: +1-202-204-7379
+ vCard
ADD TO CONTACTS
A partner in the Litigation Department, Walt Brown is among the country's most accomplished trial lawyers and corporate advisors. For nearly three decades, Walt has represented leading public corporations, emerging private companies and individual executives in connection with criminal and regulatory investigations, parallel civil and administrative litigation and proceedings, complex business disputes and high-stakes class actions. He is also highly regarded for his work in crisis management matters and has successfully guided numerous clients through a variety of corporate crises. Clients have described Walt as a "brilliant attorney and strategist who is deeply respected for his investigation and trial skills."
Earlier in his career, Walt served as an Assistant U.S. Attorney in the Criminal Division of the U.S. Attorney's Office for the Central District of California, where he tried 20 felony cases to verdict and handled numerous appeals before the Ninth Circuit.
EXPERIENCE
Walt has represented clients ranging from multinational Fortune 500 corporations to individual founders and executives in significant government enforcement actions, internal and regulatory investigations, high-stakes business litigations and nationwide class actions. His cases have spanned securities fraud, antitrust offenses, the FCPA, health care fraud, government fraud, trade secrets misappropriation, breach of contract claims and other commercial disputes.
Walt has successfully tried numerous civil and criminal cases in federal district courts throughout the country, as well as in federal appellate courts and in California Superior Court. He is also frequently engaged by public and private companies and audit and special committees to conduct internal investigations.
Walt's experience includes representing:
a former tech executive in obtaining the complete acquittal on all charges at trial in the Northern District of California in a high-profile criminal trade secrets case brought by the DOJ against Walt's clients and other employees;
the former CFO of a Fortune 50 healthcare company in obtaining the acquittal on all counts at trial in a criminal securities fraud action arising out of a $9 billion market cap loss following an earnings restatement;
a California-based production and talent management company in the successful settlement of a high-profile breach of contract suit brought by a former executive who was terminated due to workplace misconduct;
a cloud-based communications company in the successful settlement of a high-stakes unfair competition and breach of contract dispute with the largest video communications company arising from a strategic partnership agreement;
the former president of a national mortgage lender in connection with investigations by and litigation with the SEC, the DOJ and the California Attorney General, and related class action and derivative litigation, arising out of the Financial Crisis;
the current and former independent directors of the leading cybersecurity software company in multiple state and federal derivative lawsuits relating to allegations regarding the company's accounting practices, historically and in connection with certain acquisitions;
a multinational technology, e-commerce and cloud computing company in a putative class action brought in the Eastern District of California by a former employee asserting claims of disability discrimination, failure to provide a reasonable accommodation and retaliation;
the former CFO of a publicly-listed biotechnology company in connection with DOJ, SEC and FDA investigations concerning representations to the FDA and public concerning the efficacy of a drug for the treatment of COVID-19;
the independent members of the board of directors of a FinTech company in an internal investigation concerning allegations of executive mismanagement, hostile work environment and gender discrimination;
the COO of a California-based biotechnology company in connection with an investigation conducted by the U.S. Attorney for the Eastern District of New York concerning Medicare billing practices;
a major international accounting firm in connection with an investigation by the PCAOB concerning allegations of academic misconduct arising out of professional certification examinations;
the board of directors of an international semiconductor company in connection with a workplace misconduct investigation concerning a board member;
a national broker-dealer in connection with an investigation by the SEC concerning the firm's AML program;
the General Counsel of a national bank in connection with SEC, DOJ, OCC and Congressional investigations and class action litigation arising out of sales practices misconduct;
a Big Four accounting firm in connection with an SEC investigation of whistleblower allegations;
the Chief Regulatory Officer of a Japanese medical device manufacturer in connection with DOJ and FDA investigations of alleged violations of adverse incident reporting and 510K regulations;
a university health system in connection with an internal investigation involving reimbursement issues;
executives and employees of a biotechnology company in connection with an investigation and prosecution by the San Francisco U.S. Attorney's Office concerning off-label marketing of a pulmonary drug;
the Chief Regulatory Officer of a medical device company in connection with a DOJ/FDA investigation arising out of off-label promotion of a medical device for treatment of abdominal aortic aneurisms;
multiple senior executives of a biotechnology company in connection with a DOJ/FDA investigation arising out of off-label promotion of a drug for treatment of acute decompensated heart failure;
the CEO and other senior corporate officers of Solyndra in connection with investigations by the DOJ and the U.S. Congress;
a Fortune 500 energy company in connection with investigations by the DOJ's Enron Task Force, the SEC, the CFTC and FERC arising out of California's energy crisis;
numerous parties in separate DOJ price-fixing and/or bid-rigging investigations, including an international bridge construction company, executives of a Korean DRAM manufacturer, a Taiwanese automobile lighting manufacturer, a former executive of a Japanese LCD manufacturer, and multiple executives of Japanese auto parts manufacturers; and
numerous parties in DOJ FCPA investigations, including the audit committee of a telecommunications company, the controller of a pharmaceutical company, and the chief compliance officer of a global medical device company.
AWARDS & RECOGNITIONS
Walt has been recognized by numerous legal industry publications and directories. He was named a "Litigation Star" in Benchmark Litigation's 2023 guide. The American Lawyer recognized Walt in 2021 among the inaugural "West Trailblazers" for his achievements as a white collar defense attorney. The Daily Journal named Walt to its 2021 list of Top White Collar Lawyers in California and to its 2020 list of Top Trade Secrets Lawyers in California, while Benchmark Litigation recognized Walt as its "White-Collar Litigator of the Year – California" in 2020; as a California Litigation Star in 2018; and as one of the Top 100 Trial Lawyers in the United States in 2017. Chambers USA has recognized him as a leading lawyer in the white collar and government investigations area since 2005, with interviewees calling him "a real star" and a "brilliant attorney." Walt is also Recommended by The Legal 500 US in the "Corporate Investigations and White Collar Criminal Defense" and "Securities Litigation: Defense" categories, among other recognitions.
BOARD AFFILIATIONS 
Walt currently serves as President of the Association of Business Trial Lawyers – Northern California Chapter and is on the Board of Directors of the Notre Dame Law Association and the Notre Dame Law School Advisory Council. He is a member of the ABA Litigation, Antitrust and Criminal Justice sections, and was previously the co-chair of the ABA White Collar Crime Northern California Regional Subcommittee. He previously served on the Executive Board of the Bar Association of San Francisco Criminal Justice Section.