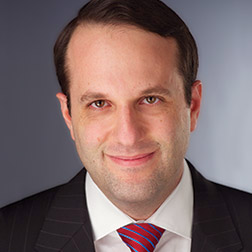 A partner in the Litigation Department, Bill Michael has extensive experience in antitrust litigation and plays a lead role in many of the firm's most consequential antitrust engagements, including business-critical litigation, appellate matters, and government investigations. Clients have described Bill as "a razor-sharp lawyer who . . . can think around corners," "brilliant," "a great writer," "able to handle the most complex legal issues," and "an excellent oral advocate."
EXPERIENCE
Significant representations include:
News Corporation and certain subsidiaries in a putative class action involving claims of exclusive dealing and monopolization, as well as in multiple antitrust actions brought by competitors. Bill co-led a team that successfully defended News Corporation against such claims in a three-week jury trial in the Southern District of New York.
Bard in a competitor antitrust case alleging illegal tying. Bill served as trial counsel in a three-week jury trial in the U.S. District Court for the Northern District of New York, winning a complete defense verdict for Bard.
Becton, Dickinson and Company (BD) in antitrust litigation involving monopolization, exclusive dealing and bundled discount claims. Bill argued and won an appeal in the Seventh Circuit, affirming the dismissal with prejudice of a putative class action claiming that BD conspired with distributors of its products in violation of antitrust laws. Bill also helped BD obtain complete dismissal of a putative antitrust class action in the Northern District of Georgia; defeat a competitor's claims of exclusive dealing and monopolization at a jury trial in the Eastern District of Texas; and reverse a judgment of liability and damages for attempted monopolization by deception in the Fifth Circuit.
Amazon in defense of several putative class actions and an action by the D.C. Attorney General asserting monopolization and restraint of trade claims based on Amazon pricing policies.
SAP AG in defense of an action brought by a business analytics provider seeking more than one billion dollars in damages, alleging that SAP misappropriated trade secrets, infringed copyrights and violated antitrust laws related to its flagship product, HANA. The district court granted summary judgment in favor of SAP dismissing almost all claims.
A Leading Audio and Visual Technology Company in an IP licensing dispute involving antitrust claims based on an alleged breach of FRAND obligations.
Bumble Bee Seafoods in a putative class action and opt-out litigation involving claims of price fixing in the packaged seafood industry.
Tribune Media Company in multidistrict litigation involving claims of price fixing in the market for the sale of local television advertisements.
Pretium Resources in winning a motion to dismiss of a complaint by a putative class of investors alleging securities fraud.
A major energy company in a bid-rigging investigation by the United States Department of Justice.
Bill was recently shortlisted as Litigator of the Year by Global Competition Review's 2023 awards, and recognized in the 2021, 2022 and 2023 editions of Chambers USA in the Antitrust (NY) category, and in the Antitrust: Civil Litigation/Class Actions: Defense category of The Legal 500 USA.
Bill is the co-author of the "United States" chapter in the tenth and eleventh editions of The Public Competition Enforcement Review and the co-author of the chapter titled "Settling an Antitrust Case" in Settlement Agreements in Commercial Disputes: Negotiating, Drafting & Enforcement. Bill has also authored several articles on antitrust-related issues for publications that include the New York Law Journal, Law360 and Competition Policy International. He previously served as Chair of the Editorial Board of The Antitrust Practitioner, a publication of the American Bar Association's Section of Antitrust Law Civil Practice and Procedure Committee.
Prior to joining Paul, Weiss, Bill was a trial attorney in the Antitrust Division of the United States Department of Justice, where he focused on civil merger and non-merger investigations in the telecommunications and media industries.
In law school, Bill was a senior editor of the Yale Law Journal.