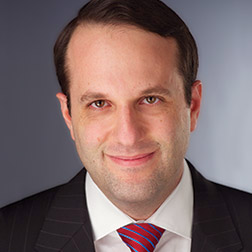 A partner in the Litigation Department, Bill Michael has extensive experience in antitrust litigation, including both civil and criminal government investigations, as well as other complex commercial litigation and appellate matters.
EXPERIENCE
Significant representations include:
Becton Dickinson in antitrust litigation, including competitor actions alleging monopolization, exclusive dealing and bundled discounts;
News Corporation and certain subsidiaries in a putative class action involving claims of exclusive dealing and monopolization, as well as in an antitrust action brought by a competitor;
A major energy company in a bid-rigging investigation by the United States Department of Justice;
Private equity funds in litigation regarding the purchase and sale of portfolio companies;
A law firm in connection with a state-law securities class action; and
A medical device company in breach of contract litigation arising out of a joint venture.
Bill previously served as Chair of the Editorial Board of The Antitrust Practitioner, a publication of the American Bar Association's Section of Antitrust Law Civil Practice and Procedure Committee. Bill also has authored several articles on antitrust-related issues, for publications that include The New York Law Journal, Law360 and Competition Policy International.

Prior to joining Paul, Weiss, Bill was a trial attorney in the Antitrust Division of the United States Department of Justice, where he focused on civil merger and non-merger investigations in the telecommunications and media industries.
In law school, Bill was a senior editor of the Yale Law Journal.