Alumni Spotlight: Randi Adelstein
December 6, 2017
Alumna Randi Adelstein (Litigation, 2004 – 2005), Assistant General Counsel, Regulatory Affairs at Mastercard, practiced in the firm's Litigation Department.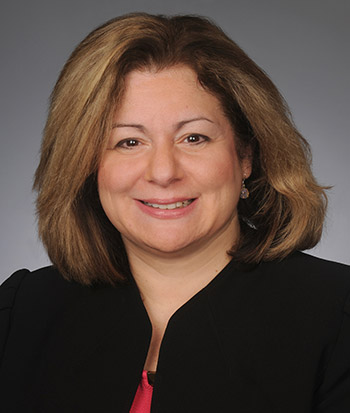 Paul, Weiss: Tell us about your professional experience. How has it led you to what you are doing today? What have you found most fulfilling and why? 
Randi Adelstein: I took a rather unusual path to becoming a lawyer and then to becoming a regulatory attorney. I was working in the fashion industry when I got called for jury duty and was put on the jury for a rape case. At the end of the day, we found the defendant not guilty. It was the standard of "beyond a reasonable doubt" and the gray area between innocence and guilt that made me want to be a lawyer. However, criminal law was not in my future. I chose antitrust and came to Mastercard to work as an antitrust litigator.
Interestingly, I never planned to be a regulatory attorney, but when the U.S. regulatory attorney left the Mastercard Law Department, I offered to assist her manager with some of the work that overlapped with my litigation background. It was about six months later that the manager asked me to apply for that position, and the rest is history. I find that the most fulfilling part of my job is when I am able to explain complex regulations in simple terms that are understandable by people who are not lawyers. 
PW: You have been with Mastercard for nearly 13 years, currently as assistant general counsel, Regulatory Affairs. What is a "day in the life" like at Mastercard?
Randi Adelstein: A typical day at Mastercard is a walk around the world. I start my days speaking with colleagues in Singapore, Europe and South Africa. I then spend my afternoons grounded in North and South America. A global company can have its challenges when dealing with local regulators if it doesn't understand the uniqueness of the markets. However, together with my team situated in regions across the globe, we work to solve issues locally while maintaining focus on impacts globally.
PW: What did you learn at Paul, Weiss that helps you in your practice today?
Randi Adelstein: When I was an associate, I learned a valuable lesson from a Paul, Weiss partner that I use every day in my practice. In essence, he said that the client doesn't pay us to say, "No." What he meant was the easy path to providing legal advice is to tell your client that they just cannot do what they want to do. The better attorney digs into the issues, works closely with the client to understand the motivation, and comes to advice for the client that is enabling rather than limiting. 
PW: What does being a part of the Paul, Weiss Alumni Network mean to you?
Randi Adelstein:I am so proud that I was able to spend time at Paul, Weiss. Being a part of the Alumni Network enables me to keep informed of the terrific work that the firm continues to do. It also lets me see where my colleagues have taken their impressive careers. 
PW: What keeps you busy outside the office?
Randi Adelstein: Spending time with my husband and son. We are a small family unit and are committed to taking advantage of any time that we have together. We love road trips, music, extra-curricular school activities and laughing. 
PW: Tell us about some professional accomplishments and pursuits that you are proudest of.
Randi Adelstein: I am particularly proud of my recent appointment to the Consumer Advisory Board of the Consumer Financial Protection Bureau. This is a highly competitive process, and to be selected based on my expertise is one of the highlights of my career.
Personally, giving back through mentoring is very important to me. I was very lucky to have an older sister who is an attorney. She mentored me in my professional career (and life, for that matter). But for many, that support network does not exist. Being a mentor enables you to make a difference in someone's life through a completely selfless act. I have mentored a high school student and law students and now focus on mentoring military people who are transitioning to civilian life through the American Corporate Partners program. I highly recommend it.