Alumni Spotlight: Sophia Lee
September 24, 2018
Alumna Sophia Lee (Corporate, 1996 – 2000), General Counsel, IEX Group, Inc., practiced in the firm's Corporate Department. A registered U.S. patent attorney and a CFA charterholder, she received her B.S. in Mechanical Engineering from M.I.T. and her J.D. from NYU Law.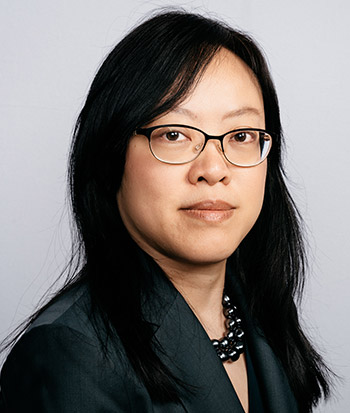 Paul, Weiss: IEX is a new stock exchange. What distinguishes and differentiates it from other exchanges?
Sophia Lee: IEX was founded to level the playing field in the markets. The incumbent exchanges were selling speed advantages that were harming investors, and our founders decided that the best solution would be to build a new exchange that prioritized the interests of investors and companies. Everything we do, from our technology (we're best known for our "speed bump," which delays all order and trade messages in and out of the exchange by 350 microseconds) to our business model (we don't charge for market data or pay conflicted "rebates" to drive business), is in the service of that mission.
PW: What does it take to get a new exchange up and running?
Sophia Lee: Starting a new stock exchange is definitely not something you can just waltz in and do in a month. IEX started as an off-exchange trading venue known as an Alternative Trading System, and we then went through a nearly two-year SEC approval process to become an exchange. That was actually a massive part of what I worked on for the first couple of years I was at IEX—everything from the paperwork to talking to the commission, gathering support and defending what we were doing from critics who didn't want us to have the chance to compete. 
PW: What's the most interesting aspect of the job for you from a legal perspective?
Sophia Lee: The exchange is an incredibly highly-regulated entity. That means that from a legal perspective, I'm not just making sure we're abiding by the letter and spirit of the regulation—I'm also looking at how that regulatory structure impacts other parts of the business. For example, any potential new businesses must be thoroughly vetted so we have a complete understanding about how regulation would affect that business and how that business could potentially affect the exchange.
PW: How would you describe your day-to-day practice at IEX?
Sophia Lee: Every day is different, and I'm involved in a huge range of topics. One day it could be about evaluating a new potential business, looking at contracts with clients, advising on a compliance question, and weighing in on a regulatory filing. I have an excellent team, and so I have the advantage of being able to focus on the items that really need my attention.
PW: How did your work at Paul, Weiss prepare you for a general counsel role? If you could advise your younger self at Paul, Weiss, what would you say?
Sophia Lee: Working at a law firm is invaluable. It gives you so much experience in drafting, negotiation and research, and teaches you to be client-centered, meticulous and responsive. Those are skills and attributes that will serve you well throughout your career.
If I were to advise my younger self at Paul, Weiss, I would say to be proactive about asking for more responsibility. You should take full advantage of the broad range of projects you can get involved in and the smart people you can learn from at the firm.
PW: You've worked and spoken extensively on blockchain and cryptocurrency topics. What do you view as some of the most exciting recent developments in these areas?

Sophia Lee: The legal frameworks around blockchain and cryptocurrency are still in flux, which means you can be part of how it develops. For instance, while there are some players who have set themselves up as "cryptocurrency exchanges," they aren't regulated entities in the way that stock exchanges are. Working in the space, you get to see those legal issues getting worked out in real time.
There's also a huge amount of blockchain innovation these days outside of the crypto world. For instance, in 2016, IEX spun out Tradewind, which is using the blockchain for trading, settlement and management of ownership of precious metals. It's been fascinating watching that business evolve and mature.
PW: After your time at Paul, Weiss, but before you joined IEX, you were deputy general counsel for Liquidnet, a global institutional trading network for asset managers and other like-minded investors to execute large trades with maximum anonymity and minimum market impact. Although different from IEX in many respects, Liquidnet also focuses on efficiency, transparency and investor protection. How did you become interested in this field and these values?

Sophia Lee: I was first introduced to the market structure world at ITG, my first position after Paul, Weiss. That was where I started to learn about the dynamics of hidden, or non-displayed, orders, and how they can be used to help facilitate large buyers and sellers meeting directly—rather than through intermediaries—to trade in large blocks. Then, at Liquidnet, I had the opportunity to work closely with buy-side investors, which meant understanding their needs and priorities. That perspective was what ultimately led me to IEX, where the needs of investors are really our North Star.
PW: Who were some mentors who have inspired you? How have they impacted your work and relationships today?

Sophia Lee: I worked with Howard Meyerson, the GC of Liquidnet at the time, for 10 years. It was watching him expertly launch Liquidnet's markets in Europe that set me up for success when I was tasked with launching our Asian markets, one of the most formative projects of my career. I think most critically, he was the one who showed me how to collaborate productively with regulators and buy-side clients. That's a skill that absolutely makes the difference between success and failure on a regular basis.
PW: What does being a part of the Paul, Weiss Alumni Network mean to you?

Sophia Lee: My peers from Paul, Weiss are now working all around the world in high-level positions. They are an unparalleled network of smart, experienced lawyers who I can turn to for advice or perspective—not to mention how many of my friends I first met during our associate years at the firm!
PW: What keeps you busy outside the office? What do you do for fun?

Sophia Lee: For me, it's not about specific hobbies per se; it's about finding time to relax and recharge with family and friends. For instance, this past weekend, I went clamming at the shore and we had a big seafood dinner straight from the ocean. That's the kind of thing that gets me ready to go on Monday morning!