Awards & Recognition
Paul, Weiss has been widely recognized for its market-leading diversity, equity and inclusion efforts. The firm was:
Ranked among the top 25% of "Most Diverse Law Firms" for 19 consecutive years, with two number one rankings, by The American Lawyer's Diversity Scorecard.
Awarded Gold Standard Certification by the Women in Law Empowerment Forum (WILEF) for our advancement of women lawyers annually since 2015.
In 2021 received the National Asian Pacific American Bar Association's (NAPABA) Law Firm Diversity Award. The annual award recognizes law firms that actively recruit, retain and promote Asian American and Pacific Islander lawyers to equity partnership and firm leadership and celebrates law firm successes in raising the influence of Asian American and Pacific Islander lawyers.
Ranked 11th among large law firms (601+) in the 2021 Law360's Diversity Snapshot Report.
One of the 2021 Top 50 Law Firms for Women according to Seramount, formerly Working Mother Media.
Named by Yale Law Women as one of 2020's "Top Firms for Inclusion Initiatives" and recognized for diverse leadership, training and mentorship in 2021.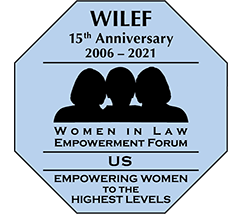 Recognized by the Financial Times' Innovative Lawyers – North America 2020 awards for innovative diversity, equity & inclusion initiatives.
Recognized as "Law Firm of the Year" in 2019 by The American Lawyer in part because the firm "turned an outcry over its new partner class into an opportunity to focus on diversity."
Named the top firm nationally for our percentage of Black attorneys in 2019 by the nonprofit Lawyers of Color in their Black Student's Guide to Law Schools and Law Firms.
Awarded the Law Firm Diversity Award in 2018 by the Asian American Bar Association of New York (AABANY).
Ranked sixth among large law firms on Law360's Best Law Firms for Minority Attorneys list in 2018 – higher than any peer firm.
Ranked 16th (out of 197) in The National Law Journal's 2018 LGBTQ Scorecard.
Ranked fifth on The American Lawyer's "A-List" in 2018, the only firm among peers listed in the top 25 firms for our percentage of female equity partners.