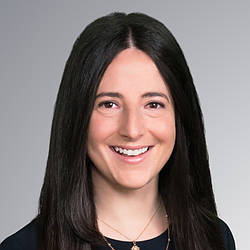 An associate in the Litigation Department, Erica Spevack has significant experience representing technology companies and other corporate clients in complex disputes.
EXPERIENCE
Erica has played a key role in several recent technology-focused litigations, including in:
Representing Uber in the successful defense against a $750 million claim brought by Boston's largest taxi conglomerate claiming Uber's entry into the Boston market amounted to unfair competition, both at trial and on appeal to the First Circuit.
Representing Oracle in finding Rimini in contempt for several violations of a 2018 permanent injunction blocking Rimini from reproducing, preparing derivative works from, or distributing certain Oracle copyright software.
Erica's notable representations include:
Representing and favorably settling class action brought against major technology company for breach of contract relating to manufacturing of consumer electronics.
Representing ridesharing company to win a trial court ruling striking down New York City regulation that impacted ridesharing companies' operations in the city.
Representing and favorably settling an arbitration on behalf of a major technology company in an employment dispute with its former Senior Vice President.
Represent child victims of sex abuse pro bono in a civil lawsuit brought against Washington Hebrew Congregation's preschool for negligently creating an environment in which multiple children could be abused over the course of two years.
Representing national sports league in providing advice relating to potential antitrust dispute.
Erica received her J.D., with highest honors, from The George Washington University Law School in 2018 where she was Order of the Coif and a Managing Editor of The George Washington Law Review.