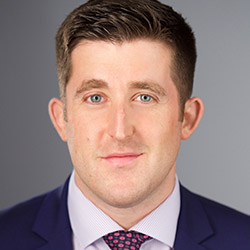 A partner in the Restructuring Department, Chris has broad experience representing companies, ad hoc groups and individual creditors in chapter 11 cases, out-of-court restructurings, cross-border engagements, and other insolvency-relevant transactions.
EXPERIENCE
Chris's company and sponsor-side engagements include:
CHC Group, one of the largest providers of helicopter services, in connection with a comprehensive out-of-court refinancing of its capital structure involving a fully-consensual amendment and restatement of approximately $375 million of outstanding debt under the company's existing first lien credit facility, a $55 million new money investment in the form of second lien term loans, and an exchange offer to uptier approximately $40.5 million of unsecured notes
Diamond Offshore Drilling, a leading provider of offshore drilling services, and 14 of its U.S. and foreign subsidiaries, in their chapter 11 cases in the Southern District of Texas, which provided for the equitization of approximately $2.1 billion in senior unsecured note obligations and the provision of over $625 million of new capital
Bumble Bee Foods, one of the world's largest branded shelf-stable seafood providers, and its affiliates, in the successful going-concern sale of its businesses for $928 million through coordinated chapter 11 cases and Canadian restructuring proceedings
Certain subsidiaries of CGG S.A., a Paris-based global geophysical and geoscience services company serving customers principally in the oil and gas exploration and production industry, in their prenegotiated chapter 11 cases by which the company and its subsidiaries equitized approximately $2 billion of unsecured debt through concurrent restructuring proceedings in France and the United States
Performance Sports Group, a leading developer and manufacturer of sports equipment and apparel with products marketed under the BAUER, MISSION, MAVERIK and EASTON brand names, among others, as U.S. counsel in its complex U.S. and Canadian bankruptcy cases, including the going concern sale of its business to a third party stalking horse bidder
The equity sponsors of software company Sungard Availability Services, a provider of IT production and recovery services, in its prepackaged chapter 11 case, approved by the U.S. Bankruptcy Court for the Southern District of New York less than 24 hours after the company filed for chapter 11 protection
Cumulus Media, the nation's second largest radio company with 446 stations spread across 90 markets, and certain of its affiliates in their chapter 11 cases, including a multi-day chapter 11 plan confirmation trial addressing, among other things, various valuation issues
Noranda Aluminum, a leading U.S. producer of primary aluminum and aluminum foil products, and its wholly owned subsidiaries in all aspects of their chapter 11 cases, including (a) the sales of Noranda's upstream and downstream businesses, (b) the rejection of a burdensome supply contract over the objection of a counterparty who was seeking to assume the same contract in its own chapter 11 case, and (c) a global settlement with various creditor groups
Chris's lender-side engagements include:
An ad hoc group of unsecured noteholders in the prearranged chapter 11 restructuring of Extraction Oil & Gas, one of the largest oil and gas exploration and production companies in the Rocky Mountain region, with approximately $1.7 billion of funded debt obligations
An ad hoc group of senior secured creditors of Oro Negro, a Mexican offshore drilling company, in a restructuring of over $900 million of secured debt obligations issued pursuant to Norwegian law-governed documents that involves contested concurso mercantil proceedings in Mexico, a related chapter 15 proceeding in the Southern District of New York, and litigation in Singapore and Norway
An ad hoc group of FILO term loan lenders in the prearranged chapter 11 cases of GNC Holdings, a leading global specialty retailer of health and wellness products
Silver Point Capital, as postpetition and senior prepetition lender, in the restructuring of TridentUSA and its affiliates, the leading national provider of bedside diagnostic and related health care services, including its chapter 11 cases
An ad hoc committee of cross-holders holding approximately 45% of PetSmart's secured and unsecured debt in challenging certain spin transactions
The ad hoc group of bondholders of SAExploration, an eco-responsible oil and gas surveying services company, in (a) an out-of-court exchange of approximately $138 million of existing senior secured notes, representing approximately 98.7% of the aggregate outstanding principal amount of the issuance, into equity and new senior secured notes and (b) a new senior term loan facility
The Medicines Company, a leading biopharmaceutical company, as one of the largest unsecured creditors in the chapter 11 cases of Melinta Therapeutics, a pharmaceutical company focused on antibiotic medicines
Funds managed by affiliates of Apollo Global Management as lead investors in the $1.75 billion preferred investment in Albertsons Companies, an Idaho-based food and drug retailer
An ad hoc group of noteholders and preferred stockholders in an out-of-court recapitalization of Associated Materials, a North American manufacturer and distributor of exterior building products with over $800 million of debt. The recapitalization transactions included the exchange of 99% of Associated Materials' senior secured notes for new common equity, the purchase of $250 million of new first lien notes by the participating noteholders, and the distribution of new common equity to preferred stockholders
An ad hoc group of unsecured noteholders in the chapter 11 cases of Dean Foods, the largest processor and direct-to-store distributor of fresh fluid milk and other dairy products in the U.S., involving approximately $1.1 billion in secured and unsecured debt
An ad hoc group of prepetition second lien lenders in the chapter 11 cases of FULLBEAUTY Brands, a preferred brand portfolio of plus-size women's clothing, swimsuits, accessories and home goods, and certain affiliates, which restructured more than $1.2 billion of prepetition debt through a prepackaged plan of reorganization that was approved by the U.S. Bankruptcy Court for the Southern District of New York less than 24 hours after the company filed for chapter 11 protection
An indenture trustee and certain noteholders of Algeco Scotsman Global Finance, a global business service provider, in challenging a restructuring transaction proposed by the company and negotiating and closing an improved transaction pursuant to which Algeco's sponsor, TDR Capital, agreed to purchase $125 million of notes held by the group as well as invest $250 million in Algeco on a go-forward basis
An ad hoc committee of debtholders in the chapter 11 cases of Pacific Drilling, a leading international offshore drilling contractor with approximately $3 billion in indebtedness, and its affiliates, including in a plan-related mediation ordered by the Bankruptcy Court
An ad hoc group of certain first lien debtholders of Arch Coal, a leading producer and marketer of coal in the U.S., in Arch Coal's restructuring through a prearranged chapter 11 case and certain related postpetition financing
Chris has been recognized by The Legal 500 for his work in the restructuring space.