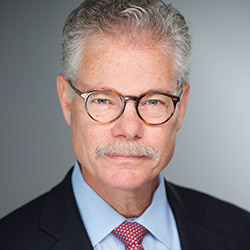 Daniel J. Kramer is a leading trial lawyer and litigator. Called "one of the stars of his generation" by Chambers, and a "quiet giant" by Lawdragon, Dan routinely handles complex litigations for some of the world's largest companies, represents boards of directors on corporate governance issues and leads special committees in internal investigations.
Dan is a senior partner in Paul Weiss' Securities Litigation and Enforcement Group. The Group has been named Securities Litigation Department of the Year by The American Lawyer, The New York Law Journal, Benchmark Litigation, Law360 and U.S. News and World Report. The American Lawyer called the practice "big, powerful and swaggering," noting that "no other firm matched the number and magnitude of headline making securities litigation." Similarly, Chambers ranks the Securities Litigation Department in Band 1, stating that the Group has "a truly enviable securities litigation practice," a "dazzlingly deep bench" and "some of the most cutting-edge securities cases." And Legal 500 gives the Group its highest rating, noting that "its excellent, wise counselors combine deep legal knowledge with a practical and business-like view."
EXPERIENCE
Dan's recent matters include representation of:
Tesla's directors, in investigations and litigation arising out of Elon Musk's

"

going private" tweets.
ExxonMobil, in securities and ERISA litigation regarding the Company's oil reserves.
Kraft Heinz, in its $15 billion write down of its Kraft and Oscar Meyer brands.
21st Century Fox, in the investigation of Bill O'Reilly and Roger Ailes.
Steven A. Cohen and SAC Capital (now Point72 Asset Management), in criminal and regulatory proceedings and litigations arising out of claims of insider trading.
Omega Advisors and Leon Cooperman, in SEC proceedings alleging insider trading.
Bank of America, in litigations by shareholders, the SEC and New York Attorney General arising out of its $50 billion merger with Merrill Lynch. 
AIG, in litigation with its former Chairman and CEO, Hank Greenberg, and in class action, ERISA and derivative lawsuits concerning allegations of accounting fraud and bid rigging.
Merck, in litigation and regulatory investigations relating to Vioxx and Vytorin.
UBS, in the Detroit bankruptcy.
ADT, in class action and derivative lawsuits challenging its decision to increase its debt and buy back the stock of its largest shareholder.
Credit Suisse, in litigation concerning the Hard Rock Hotel in Las Vegas.
Swiss Re, in class action litigation concerning its write down of credit default swaps.
Ericsson, in class action litigation involving its telecom business.
Fannie Mae's Board of Directors' Special Review Committee, in an internal investigation into accounting and governance issues.
JP Morgan Chase's Bank One mutual funds, in litigation arising out of allegations of market timing and late trading in the mutual fund industry.
Hollinger International (now Sun Times Media Group), in the successful prosecution of its former CEO, Conrad Black, for improper self-dealing transactions.
Dan also lectures and writes extensively on securities litigation, corporate governance and regulatory issues. He is the co-editor of Corporate Internal Investigations: An International Guide (Oxford University Press), and co-author of Federal Securities Litigation: A Deskbook for the Practitioner (Data Press) and of Regulation of Market Manipulation (Matthew Bender).
Dan serves as a Trustee of the Kenyon Review, a Director of NYU Law School's Center on Civil Justice, the Hudson Valley Shakespeare Festival, Scenic Hudson, Hudson Highlands Land Trust,Friends of Flutes Foundation and a Fellow of the American Bar Foundation. He received the ADL's Human Relations Award in 2016.
INDUSTRY AWARDS AND RECOGNITIONS
Dan has been selected as one of only three "Star Individual" securities lawyers by Chambers USA. Clients praise his "well-established and well-earned reputation for both ethical and intellectual integrity [that] translates into a deep and instant credibility with regulators, courts and opposing counsel, making his representation of client interests that much more effective and impactful." They go on to say: "He's the best all-around litigator I've ever observed and the counselor I would want at my side in a boardroom battle."
The Legal 500 has recognized Dan as a "Leading Lawyer" in both Securities Litigation Defense and Financial Services Litigation based on his "prodigious work ethic and practical business sense" and his "world class, vast experience acting for financial services entities in litigation and agency investigations."
Dan was also named one of America's leading lawyers handling "Bet-the-Company" Litigation, Securities Litigation, Regulatory Enforcement Litigation, and Commercial Litigation, as well as Corporate Governance Law by Best Lawyers in America. Clients recommend him as a "leader in his field who gives very smart and very practical advice [which] is not only right for the case, but also right for the company. He sees and appreciates the big picture." Dan was named Best Lawyers' "2017 Lawyer of the Year" for Securities Litigation and its "2016 Lawyer of the Year" for his work in the area of Securities Enforcement Litigation.
Multiple other outlets and publications have recognized Dan as a leading trial lawyer and litigator. He was named one of New York's "Top 10 Lawyers" by Super Lawyers, one of the "500 Leading Lawyers in America" by Lawdragon and as "one of the most influential people in corporate governance and the boardroom" by Directorship Magazine. Benchmark Litigation recognized him in three local star categories: Securities, General Commercial, and White Collar Crime. In 2017, The National Law Journal named Dan a "Legal Trailblazer."