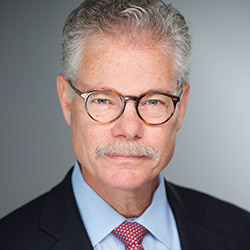 Daniel J. Kramer is a leading trial lawyer and litigator. Called "one of the stars of his generation" by Chambers, and a "quiet giant" by Lawdragon, Dan routinely handles complex litigations and regulatory matters for some of the world's largest companies, represents boards of directors on corporate governance issues and leads special committees in internal investigations.
Dan is a senior partner in Paul, Weiss' Securities Litigation and Enforcement Group. The Group has been named Securities Litigation Department of the Year by The American Lawyer, The New York Law Journal, Benchmark Litigation, Law360 and U.S. News and World Report. The American Lawyer called the practice "big, powerful and swaggering," noting that "no other firm matched the number and magnitude of headline making securities litigation." Similarly, Chambers ranks the Securities Litigation Department in Band 1, stating that the Group has "a truly enviable securities litigation practice," a "dazzlingly deep bench" and "some of the most cutting-edge securities cases." And Legal 500 gives the Group its highest rating, noting that "its excellent, wise counselors combine deep legal knowledge with a practical and business-like view."
Dan is one of only four people selected as a "Star" securities lawyer by Chambers and he is recognized as a "Hall of Fame" securities lawyer by The Legal 500. He has been named one of America's leading lawyers handling "Bet the Company" litigation by Best Lawyers in America, one of New York's "Top 10 Lawyers" by Super Lawyers, one of the "500 Leading Lawyers in America" by Lawdragon and "one of the most influential people in corporate governance and the boardroom" by Directorship Magazine. The National Law Journal named Dan a "Legal Trailblazer." Best Lawyers in America named Dan "2017 Lawyer of the Year" for Securities Litigation and "2016 Lawyer of the Year" for Securities Enforcement Litigation. Dan also lectures and writes extensively on securities litigation, corporate governance and regulatory issues. He is the co-editor of Corporate Internal Investigations: An International Guide (Oxford University Press), and co-author of Federal Securities Litigation: A Deskbook for the Practitioner (Data Press) and of Regulation of Market Manipulation (Matthew Bender).
EXPERIENCE
Dan's matters include representation of:
Apple, in class action litigation involving statements about its business in China.
Amazon, in litigation regarding its alleged improper use of third-party sellers' data.
PayPal, in a securities class action regarding the company's regulatory compliance.
Snap, in a class action and derivative action concerning its preparation for Apple's rollout of new privacy changes.
IBM, in a securities class action alleging that the company improperly characterized revenue. 
Vanguard's independent directors, in a class action filed by shareholders in Vanguard's target retirement funds.
World Wrestling Entertainment, in issues arising out of Vince McMahon's return to WWE and WWE's sale to Endeavor, and in class action and derivative actions concerning its media rights agreements in the Middle East and North Africa.
Alexion Pharmaceuticals, a subsidiary of AstraZeneca, in litigation concerning its marketing of Solaris.
NextEra Energy, the parent of Florida Power & Light, in class action and derivative litigation concerning political contributions.
The Collegiate Churches of New York, in litigation concerning a real estate project adjacent to the site of the Marble Church.
Point72, in litigation arising out of Robinhood's decision to restrict trading in GameStop and other "meme" stocks.
Tesla's independent directors, in investigations and litigation arising out of Elon Musk's "going private" tweets.
ExxonMobil, in securities and ERISA litigation regarding the Company's statements about its oil reserves.
Kraft Heinz, in class action, derivative and ERISA litigation arising from its $15 billion write down of its Kraft and Oscar Meyer brands.
21st Century Fox, in the internal investigations of Bill O'Reilly and Roger Ailes.
Steven A. Cohen and SAC Capital, in criminal and regulatory proceedings and litigations arising out of claims of insider trading.
Omega Advisors and Leon Cooperman, in SEC proceedings alleging insider trading. 
Bank of America, in litigations by shareholders, the SEC and New York Attorney General arising out of its $50 billion merger with Merrill Lynch.
AIG, in litigation with its former Chairman and CEO, Hank Greenberg, and in class action, ERISA and derivative lawsuits concerning allegations of accounting fraud and bid rigging.
Merck, in litigation and regulatory investigations relating to Vioxx and Vytorin.
UBS, in the Detroit bankruptcy.
Credit Suisse, in litigation concerning the Hard Rock Hotel in Las Vegas.
Swiss Re, in class action litigation concerning its write down of credit default swaps.
Ericsson, in class action litigations involving its telecom business.
Fannie Mae's Board of Directors' Special Review Committee, in an internal investigation into accounting and governance issues.
JP Morgan Chase's Bank One mutual funds, in litigation arising out of allegations of market timing and late trading in the mutual fund industry.
Hollinger International (now Sun Times Media Group), in litigation against its former CEO, Conrad Black, for improper self-dealing transactions.
The CEO of Kidder Peabody, in litigation and investigations concerning trader Joe Jett's phony treasury bond trades.
Dan also has an active pro bono practice.  He has teamed up with the Anti-Defamation League and States United Democracy Center in representing Washington, D.C. as it seeks recovery against the Proud Boys and Oath Keepers for harm to police officers during the January 6 attack on the U.S. Capitol; the Lawyers Committee for Civil Rights under Law, in representing the historic Metropolitan AME Church in a case against the Proud Boys for trespass and damage relating to the Church's support of the Black Lives Matter movement, where the court issued a $1 million punitive damages award against the Proud Boys; the Southern Poverty Law Center, on behalf of Tanya Gersh, who was severely harassed by Andrew Anglin, the neo-Nazi publisher of the Daily Stormer; and the Legal Aid Society, in a case that brought relief to all of the blind prisoners in New York State's prisons.

Dan serves a Director of NYU Law School's Center on Civil Justice, the Hudson Valley Shakespeare Festival, Scenic Hudson, and the Hudson Highland's Fjord Trail.  He received the ADL's Human Relations Award in 2016.