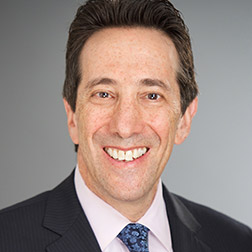 Of counsel in the Corporate Department and a member of the Finance Practice, Eric Goodison represents domestic and international clients in their borrowing and lending and other financing transactions.
EXPERIENCE
Eric has more than 30 years of experience as a financing lawyer representing clients in acquisitions, divestitures, structured financings and work-outs and restructurings.
Eric has significant expertise in structuring, negotiating and consummating leveraged financings for all types of borrowers across many industries from purely domestic companies to multi-national businesses with complex global organizational structures. He has particular strength in complex leveraged transactions. Some of his recent work includes:
WaveDivision Capital and Searchlight Capital Partners in their proposed $1.35 billion acquisition of Frontier Communications' Washington, Oregon, Idaho and Montana operations.
Spectrum Brands Holdings Inc. in:
the $1.25 billion sale of its Global Auto Care business, which manufactures and sells brands including Armor All® and STP®, to Energizer Holdings, Inc., a Missouri-based manufacturer of primary batteries, portable flashlights and lanterns; and
the $2.0 billion sale of Spectrum Brands' Battery and Portable Lighting Business to Energizer Holdings, Inc.
Perry Ellis' special committee of independent directors in the acquisition of Perry Ellis International by George Feldenkreis, Perry Ellis' founder and a member of the company's board of directors, in a transaction valued at $437 million, including in the financing aspects of the deal.
Berlin Packaging L.L.C., an Illinois-based hybrid packaging supplier of plastic, glass and metal containers and closures and a portfolio company of Oak Hill Capital Partners, in its $1.34 billion credit facilities in connection with the refinancing of existing indebtedness.
Oak Hill Capital Partners in connection with:
alongside Pamlico Capital, in its investment in Vast Broadband, a Missouri-based provider of high-speed broadband, video and voice services, and Vast's simultaneous acquisition of NTS;
advising portfolio company Imagine! Print Solutions in its $605 million credit facilities in connection with its restructuring of existing indebtedness;
advising portfolio company Vetcor Group Holdings Corp. in the upsizing of its senior secured credit facilities;
advising portfolio company Metro Fibernet LLC in connection with its senior secured credit facilities;
general financing matters for portfolio company Checkers & Rally's Restaurants;
the $600 million senior secured credit facilities in connection with its acquisition of Safe Fleet Holdings, LLC, a market-leading provider of safety and productivity solutions for fleet vehicles; and
the $525 million acquisition of Tampa-based drive-through restaurant chain Checkers Drive-In Restaurants, Inc. from Sentinel Capital Partners.
TVC Albany (dba FirstLight Fiber) in its $650 million senior secured term loan facilities.
CI Capital Partners LLC, in connection with its leveraged acquisitions of and subsequent add-ons for companies such as Maroon Group LLC, a specialty chemical distributor; AlliedPRA, a destination management company; Summit Companies, a fire and life safety service and installation company; Tech Air, a distributor of industrial, medical, and specialty gases; SavATree, a provider of lawn care services; and Pivot Physical Therapy, a sports medicine and aquatic therapy services provider.
A frequent writer and speaker, Eric spoke at the American Bar Association 2015 Business Law Section Annual Meeting, and participated on a panel about developments in deal financing techniques at the 27th Annual Corporate Law Institute at Tulane University Law School. Eric has also been a presenter on Stratford's webinars on commitment letters and covenant-lite loans. Eric has authored articles published in Lexis Practice Advisor entitled "Market Trends 2018/19: M&A Financing," The Journal of Taxation and Regulation of Financial Institutions entitled "Considerations in Negotiating Closing Conditions in Debt Commitment Letters for Acquisition Transactions" and Practical Law Journal on covenant-lite loans, among others. The Financial Times, in its 2013 annual US Innovative Lawyers report, "highly commended" the firm's work on behalf of Emmis Communications to monetize its local programming and marketing agreement with ESPN.
Eric's work speaks to his strength of practice. He is ranked nationally by Chambers USA and Chambers Global as a leading lawyer in Banking & Finance, and sources say that Eric is the "master of keeping everything simple" and is "very pragmatic, very knowledgeable, very thoughtful and also very responsive."