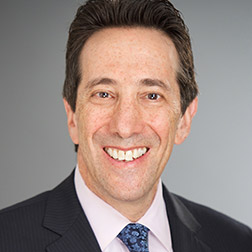 A partner in the Corporate Department and a member of the Finance Practice, Eric Goodison represents domestic and international clients in their borrowing and lending and other financing transactions.
EXPERIENCE
Eric has over 25 years of experience as a financing lawyer representing clients in acquisitions, divestitures, structured financings and work-outs and restructurings.
Eric has significant expertise in structuring, negotiating and consummating leveraged financings for all types of borrowers across many industries from purely domestic companies to multi-national businesses with complex global organizational structures. He has particular strength in complex leveraged transactions.  Some of his recent work includes:
Spectrum Brands in its approximately $2.4 billion multicurrency credit facility used to refinance all of Spectrum's bank debt and to refinance $300 million of its outstanding bonds.
Oak Hill Capital Partners III in its $620 million first-lien credit facility and $220 second-lien credit facility in connection with Oak Hill's acquisition of Berlin Packaging, a leading supplier of rigid packaging products and services.
KIK Custom Products, a portfolio company of CI Capital, in its:

debt refinancing to obtain $715 million of new senior secured credit facilities. The facilities consist of a 5-year asset-backed revolving credit facility with a maximum commitment amount of up to $75 million, a $420 million 6-year first-lien credit facility and a $220 million 6.5-year second-lien credit facility; and
subsequent upsizing of those credit facilities to $1.04 billion, used to finance in part its acquisition of the Consumer Products business of Chemtura Corporation, a manufacturer and marketer of specialty chemicals.

Las Vegas Sands  in its:

$3.5 billion of term B loan and revolving credit facilities used to refinance existing credit facilities;
approximately $5.2 billion senior secured credit facility for Venetian Macau Limited, a subsidiary of Las Vegas Sands Corp., in connection with the funding of certain casino resort developments and the repayment existing indebtedness; and
approximately $3.78 billion senior secured credit facility for its Singapore subsidiary, Marina Bay Sands Pte. Ltd.

Indivior in its $800 million loan in connection with its spin-off from Reckitt Benckiser.
Cable & Wireless Communications Plc, a U.K.-based telecommunications services provider, in its $390 million secured bridge loan credit facility and $300 million unsecured bridge loan credit facility in connection with the pending acquisition of Columbus International Inc., a telecommunications and technology services provider operating in the Caribbean, Central America and Andean region.
KPS Capital Partners, through a newly formed affiliate, in:

its $435 million senior secured credit facilities in connection with the acquisition of Anchor Glass Container Corporation, a manufacturer of premium glass packaging products; and
Anchor Glass Container Corporation's $465 million term loan facility used in part to refinance existing debt. KPS Capital Partners LP subsequent $1 billion-plus sale of Anchor Glass to BA Glass B.V. and funds advised by CVC Capital Partners earned the client a 2017 Buyouts "Deal of the Year" award.

Ply Gem Industries, a North American exterior building products company, in a $430 million term loan credit facility used to refinance existing credit facilities.
Hemisphere Media Holdings, LLC and InterMedia Español, Inc., both subsidiaries of Hemisphere Media Group, Inc., in their $225 million senior secured term loan credit facility.
Emmis Communications Corporation in its $205 million senior secured credit facility in connection with the two-step acquisition of WBLS 107.5 FM, the No. 2 radio station in New York, and its sister station, WLIB 1190 AM.
CI Capital Partners LLC, in connection with its leveraged acquisitions of and subsequent add-ons for companies such as Galls LLC, a leading distributor of public safety, private security and defense products in the U.S., Interactive Health Solutions, Inc., a leading provider of health and wellness solutions, IntraPac Group, a specialty packaging manufacturer, Foundation Building Materials, a leading distributor of drywall and related building products, and Material Handling Services LLC, d/b/a Total Fleet Solutions, a portfolio company of CI Capital Partners.
Eric has also recently been advising clients across the spectrum of investors and borrowers in dealing with the fallout and recovery from the unprecedented market turmoil arising from various economic crises. Some of his recent work includes:
the Bondholders of CIT Group Inc. in the largest prepackaged bankruptcy ever;
Oaktree Capital Management:

in the recapitalization of Pulse Electronics with a $103 million debt and equity investment;
with respect to the secured debt of Excel Maritime and, following an initially contentious chapter 11 case, the negotiation and confirmation of a fully consensual amended plan of reorganization and $300 million term loan bankruptcy exit financing; and
the sale by Excel Maritime of certain of its shipping assets to Ocean Bulk (now Star Bulk) and the related refinancings.

an alternative lender as the lender in refinancing $1.2 billion of a hospitality company's defaulted third party debt, which involved splitting one existing facility into new first and second lien loans, amending and restating an existing credit agreement into a third lien credit agreement, adding a new $210 million fourth lien agreement and leaving in place an existing subordinated loan.
A frequent writer and speaker, Eric recently authored an article in The Journal of Taxation and Regulation of Financial Institutions entitled "Considerations in Negotiating Closing Conditions in Debt Commitment Letters for Acquisition Transactions." Eric participated on a panel about developments in deal financing techniques at the 27th Annual Corporate Law Institute at Tulane University Law School. Eric was also a presenter on Stratford's webinars on commitment letters and covenant-lite loans and authored an article in the Practical Law Journal on covenant-lite loans. The Financial Times, in its 2013 annual US Innovative Lawyers report, "highly commended" the firm's work on behalf of Emmis Communications to monetize its local programming and marketing agreement with ESPN.
Eric's work speaks to his strength of practice. He is ranked nationally by Chambers USA and Chambers Global as a leading lawyer in Banking & Finance, and sources say, Eric is the "master of keeping everything simple" and he is "very pragmatic, very knowledgeable, very thoughtful and also very responsive."