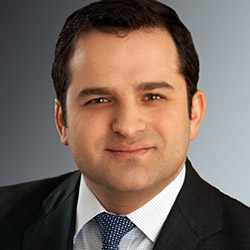 Jarrett R. Hoffman is a partner in the firm's Executive Compensation Group. His practice focuses on the transactional aspects of executive compensation matters in the context of domestic and cross-border mergers, acquisitions, divestitures, public offerings and restructurings.
EXPERIENCE
Jarrett counsels boards of directors, compensation committees, management teams and individual executives in all aspects of CEO and senior executive employment relationships and transitions from employment, including transaction-specific change in control, retention and severance arrangements. Jarrett regularly counsels companies, private equity funds, hedge funds and family offices with respect to executive compensation issues, obligations and strategies arising under tax, securities and employment laws. In addition, Jarrett advises clients on the design and implementation of equity, incentive and non-qualified deferred compensation plans, programs and agreements.
Jarrett has been recognized by Chambers USA as "Up and Coming" for the Employee Benefits & Executive Compensation category. He was also recognized as a "Rising Star" in the Benefits category by Law360 (as one of the country's top five executive compensation lawyers under 40) and a "Leading Corporate Employment Lawyer" by Lawdragon. 
Some of his noteworthy work includes:
Public Company M&A
Apollo Global Management in its $11 billion merger with Athene, its strategic investment in Motive Partners and its acquisition of Griffin Capital's wealth-distribution and asset-management units
Bioverativ in its $11.6 billion sale to Sanofi
The Special Committee of the Board of Directors of CBS in its $40 billion merger with Viacom
CSRA in its $9.6 billion sale to General Dynamics
The Special Committee of independent directors of Duck Creek in its $2.6 billion sale to Vista Equity Partners
The Estée Lauder Companies in its $2.8 billion acquisition of Tom Ford
GE Capital in its sale of PK AirFinance
Goodyear Tire & Rubber Company in its $2.5 billion acquisition of Cooper Tire & Rubber Company
IBM in its $34 billion acquisition of Red Hat, $4.6 billion acquisition of Apptio and its acquisitions of Instana, Neudesic and NS1, its sale of the Sales Performance Management Solutions business and numerous private company acquisitions, global divestitures and outsourcing-related transactions, and Red Hat in its acquisition of StackRox
ILG in its $4.7 billion sale to Marriott Vacations Worldwide
The Kraft Heinz Company in its $3.2 billion sale of its natural, grated, cultured and specialty cheese businesses to Groupe Lactalis
Merck in its $10.8 billion acquisition of Prometheus Biosciences
MGM in its $8.45 billion sale to Amazon
Qualcomm in connection with a $142 billion unsolicited offer from Broadcom and its acquisition of Atheros Communications
Taylor Morrison in its $2.4 billion acquisition of William Lyon Homes
Teladoc Health in its $18.5 billion acquisition of Livongo Health
Spin-Offs
Barnes & Noble in the spin-off of Barnes & Noble Education
General Electric in its spin-off of its healthcare business into GE HealthCare Technologies
Honeywell in the spin-off of its turbochargers business, Garrett Motion Inc.
IBM in its spin-off of its managed infrastructure services business into Kyndryl
Take-Private Transactions
3G Capital in its $7.1 billion acquisition of a control position in Hunter Douglas
Funds affiliated with Apollo Global Management in the $5.2 billion acquisition of Arconic and the $5.2 billion acquisition of Atlas Air Worldwide
Global Infrastructure Partners, alongside KKR, in their $15 billion acquisition of CyrusOne
The Special Committee of independent directors of Pattern Energy Group in its $6.1 billion acquisition by Canada Pension Plan Investment Board
QTS Realty Trust in its $10 billion sale to Blackstone funds
Private Equity M&A
Funds affiliated with Apollo Global Management in the $5 billion acquisition of Verizon Media (Yahoo! and AOL), subsequent spin-off of its portfolio company Edgecast from Yahoo in Edgecast's sale to Limelight Networks, and investment Taboola, and the acquisitions of a majority stake in Novolex Holdings and Phoenix Services
Authentic Brands Group in its acquisition of Sports Illustrated from Meredith Corporation
Funds managed by affiliates of Berkshire Partners in their acquisitions of FoodChain ID and Harvey Performance Company, and the investment and subsequent sale of Mielle Organics to Procter & Gamble
Francisco Partners in its investment in GreenSlate
General Atlantic in more than 40 full, control and minority acquisition transactions, its sale of EN Engineering, sale of OneOcology and its IPO of European Wax Centers
General Atlantic and its climate solutions investing venture BeyondNetZero, alongside other investors, in the $295 million investment in o9 Solutions  
Jet Edge in the sale of its private aviation services platform to Vista Global Holding  
Funds managed by affiliates of KPS in the $4.4 billion sale of Howden to Chart Industries
SVF Investment Corp. 3, a special purpose acquisition company (SPAC) sponsored by an affiliate of SoftBank Investment Advisers, in its $5.5 billion merger with
Symbotic
Viking Global Investors in its investment in Rockefeller Capital Management  
Jarrett has also represented several leading companies in their employment, retention and separation arrangements with senior executives. He also represented dozens of Chief Executive Officers, founders and senior executives in connection with their employment and separation arrangements with various companies.
Jarrett is a member of the Board of Trustees of the University of Florida Levin College of Law.