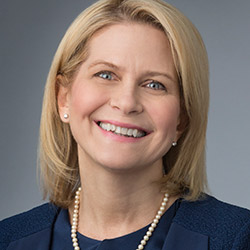 Jean McLoughlin is a partner and co-chair of the Executive Compensation Group. She advises a wide range of corporate, financial services and individual clients and compensation committees on all aspects of executive compensation, employee benefits and governance matters.
EXPERIENCE
Jean counsels clients on issues related to the negotiation of employment incentives and compensation, including management equity arrangements and the associated tax and securities implications. She also advises on matters related to compensation disclosure and oversight of board executive compensation, as well as compensation and benefit issues in transactions and litigation.
Jean's merger and acquisition representations include:
Teladoc Health in its $18.5 billion acquisition of Livongo Health, Inc.
National General Holdings in its $4 billion sale to The Allstate Corporation.
The Medicines Company in its $9.7 billion sale to Novartis AG.
Alexion Pharmaceuticals in its $1.4 billion acquisition of Portola Pharmaceuticals Inc.
L3Harris Technologies in the $1 billion sale of its airport security and automation business to Leidos Holdings, Inc.
The Ferrero Group in several acquisitions, including the $2.8 billion acquisition of the U.S. confectionery business of Nestlé, the $115 million acquisition of Fannie May Confections Brands Inc., and the $1.3 billion acquisition of Kellogg's selected cookie, fruit snack, pie crust and ice cream cone businesses.
An affiliate of the Ferrero Group in connection with the acquisition of the Ferrara Candy Company.
Roche in:

Numerous multibillion dollar acquisitions, including its $46.8 billion acquisition of Genentech, $8.3 billion acquisition of InterMune, $2.4 billion acquisition of Foundation Medicine, $1.6 billion acquisition of Flatiron Health, and its $4.8 billion acquisition of Spark Therapeutics, as well as the acquisitions of Ventana Medical Systems, Adheron and Kapa Biosystems; and
Its collaboration with an option to acquire Janus Biotherapeutics.

Genuine Parts in its proposed merger of S.P. Richards with Essendant.
BATS Global Markets in connection with its merger with Direct Edge, its acquisition of Hotspot FX and merger with CBOE.
Noble in its sales of Noble Americas Corp., Noble Americas Energy Solutions and Noble Americas Gas Power Corp.
CP Foods in its acquisition of Bellisio.
Lockheed Martin in its $9 billion purchase of Sikorksy from United Technologies.
Bio-Reference in its sale to OPKO.
Conagra Foods in its $6.8 billion acquisition of Ralcorp and in its $2.7 billion sale of its private brands business to Treehouse Foods.
Cigna in its $3.8 billion acquisition of Healthspring.
NYSE Euronext in connection with benefits arising in its acquisition by ICE.
BBVA in connection with the sale of its Puerto Rico bank to Oriental Financial Group, Inc., and its acquisition of Spring Studio.
Sodexo in various acquisition and transactions, including the acquisition of the food services business from Marriott.
GP Investments in connection with the purchase of the full ownership of Fogo de Chão and its subsequent disposition to Thomas H. Lee Partners.
MSCI in its acquisition of RiskMetrics and its dispositions of ISS, InvestorForce and Financial Engineering Associates, Inc.
Mercantile Bankshares in its sale to PNC Bank.
Frontpoint in its sale to Morgan Stanley.
Oracle in its acquisitions of PeopleSoft and Siebel.
Domino's Pizza in its sale to Bain.
Various private equity transactions for Goldman Sachs, GP Investments, Greenhill, Lightyear, Metalmark, Francisco Partners, Avista Capital Partners, Crestview and Tailwind.
Jean's capital markets representations include:
Advising on the initial public offerings of Rocket Companies, Rackspace, BATS, Citizens Financial Group, Synchrony Financial, Biotie, C1 Bank, Auris Medical, MSCI, Envestnet, EPAM, Michael Kors, AMI Holdings, UltraClean Holdings, Callidus Software and Np Test Holding, and the proposed IPO of Braeburn.
Jean's other representations include:
Advising SIFMA in its comment letter regarding Dodd Frank Act Section 956 regulations regarding financial institution compensation and a submission to the Department of the Treasury for a report on deregulation.
Various individual CEO and team management representations.
Morgan Stanley in the creation of a transferable stock option program for Google
Mercury Interactive and Barnes & Noble in connection with stock option backdating investigations
Diamond Offshore Drilling, Templar Energy, the term loan lenders to TOMS Shoes, Frontier Airlines and investors of C&J Energy Services with respect to employee benefit issues in bankruptcy proceedings.
And on various "say on pay" campaigns.
Jean has advised a wide range of clients on executive compensation, benefit and equity plan issues, including Banco Santander, Barnes & Noble, BBVA, Chilton, Cigna, Citizens Financial Group, Cobalt, Crestview, Dominos Pizza, EPAM, E-Trade, FedEx, Ferrero, General Electric, Gore, Intuit, J. Jill, Kadmon, Metalmark, Morgan Stanley, MSCI, NYSE Euronext, Oracle, Regions Bank, Revlon, Roche, Royal Bank of Scotland, SIFMA, Signature Bank, Sodexo, Spectrum, Venture Global LNG, Vertiv and Weatherford.
Jean frequently speaks on topics of employee benefits and executive compensation. Jean co-chaired the annual Forum on Executive Compensation, hosted by Cambridge Forums, in 2020, and is a member of the Steering Committee of the Forum on Executive Compensation, where she led a panel in 2019 on "Recent Trends in Employment Arrangements: #MeToo, Restrictive Covenant Developments, MegaGrants and Other Topics du Jour".  Other recent speaking engagements include a PLI panel on "Hot Issues in Executive Compensation 2019";  a webinar on "Restrictive Covenants: Recent Developments, Best Practices and Strategies for Preserving Human Capital" (2018); and presentations at the Forum on Executive Compensation (2017 and 2018); CHRO Board Academy (2016 and 2017); PLI (2003-2014); and the NYSE Governance Program (2013).
Jean has been recognized as one of the leading employee benefits and executive compensation lawyers in America by Chambers USA, The Best Lawyers in America and Super Lawyers. She received her J.D., cum laude, from Harvard Law School, where she served on the Harvard Civil Rights-Civil Liberties Law Journal and was a member of the Board of Student Advisors. Jean has also been a member of the YWCA Academy of Women Leaders, an organization which recognizes women for leadership, achievements in their fields and contributions to the success of other women.