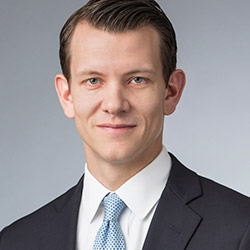 A partner in the Litigation Department, Jeff Recher handles complex commercial litigation, as well as internal and other corporate investigations, across a range of subject matters. Jeff has substantial experience representing clients, including at trial and in arbitrations, in connection with disputes involving antitrust, securities, bankruptcy, M&A and other complex commercial transactions.
Jeff has been named to Benchmark Litigation's 40 & Under Hot List (2020-2023), a list comprised of accomplished young lawyers and emerging talent in litigation.
EXPERIENCE
Jeff's recent representations include:
Mu Sigma, Inc., a global data analytics company, in a complete victory at the Illinois Supreme Court affirming the trial court's dismissal of a high-stakes fraud and breach of fiduciary duty lawsuit filed by a prominent former investor.
Atos SE, a French IT services provider, in a suit brought in the Delaware Court of Chancery against Bharat Desai, the co-founder and chairman of Syntel, asserting claims related to a fraudulent representation in the merger agreement for Atos' $3.57 billion acquisition of Syntel.
DST Systems, Inc. and related entities in the defense of a novel matter involving a representative action, a putative class action, and individual actions brought by current and former DST employees, including more than 500 individual arbitrations, alleging breaches of fiduciary duty and other ERISA violations relating to the management of the company's 401(k) Profit Sharing Plan.
A Special Committee of the Board of Directors of Credit Suisse in an internal investigation and widely anticipated report on the Bank's relationship with Archegos Capital Management following the fund's default and Credit Suisse's related losses.
SS&C Technologies, a leading financial technology and services company, in securing summary judgment in a long-running case brought by investors in a defunct hedge fund for which SS&C served as fund administrator alleging that SS&C was liable for a fraud perpetrated by the hedge fund manager.
News Corporation and its affiliate News America Marketing in an antitrust class action brought by customers of in-store marketing products that sought hundreds of millions of dollars in damages, as well as in a competitor action alleging claims of monopolization and exclusive dealing.
The U.S. broker-dealer industry and its industry organization Securities Industry and Financial Markets Association (SIFMA), in securing a favorable order in an SEC administrative proceeding challenging liability limitations and defeating a related SRO rule proposed by national securities exchanges.
JPMorgan Chase's investment management division in the trials, and subsequent favorable resolution, of multiple lawsuits alleging billions of dollars in damages arising out of fiduciary duty and other claims relating to the decline in value of subprime and other debt securities.
A major investment bank in the trial, and favorable resolution, of securities claims alleging misrepresentations of the bank's financial condition.
An ad hoc group of holders of secured notes issued by the holding company that owns Toys "R" Us's international business in litigation matters relating to the cross-border restructuring of Toys "R" Us and certain affiliates.
The Special Committee of the Board of Directors of Pilgrim's Pride Corporation in the successful defense of shareholder derivative litigation in Delaware relating to an acquisition, leading to the voluntary dismissal of the plaintiffs' claims against the Special Committee members.
The former CFO of Danske Bank in winning the dismissal with prejudice, affirmed by the Second Circuit, of all claims in a securities class action.
Jeff earned his B.A. from Johns Hopkins University, with honors, and his J.D. from Cornell Law School, cum laude, where he was an editor of the Cornell Law Review.