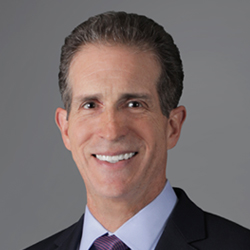 A partner in the Restructuring Department, Ken Ziman represents public and private companies, as well as key creditor groups, asset acquirers and other parties, in a range of high-stakes, complex restructurings including liability management efforts, workouts, the formulation and development of out-of-court restructurings, chapter 11 plans and financings. In his three decades in practice, Ken has played leading roles in high-profile restructurings as legal counsel or investment banker/financial advisor advising clients across industries, including the automotive, health care, industrial, energy, finance and telecommunications sectors, among others. Most recently, Ken served as a managing director in the restructuring practice at Lazard Ltd., a leading financial advisory and asset management firm.
Ken's significant company-side representations include CGG Holdings, Cobalt International, Dendreon Corporation, Exide Technologies, Gavilan Resources, Global Cloud Xchange, Gramercy Capital Corporation, iPayment Holdings, LifeCare Holdings, Marsico Capital Management, MF Global Holdings, Millennium Health, Motor Coach Industries International, PG&E Corporation, Quality Care Properties, Savient Pharmaceuticals, Select Staffing, Stoneway Capital Ltd., Takata Corporation and Vertis Holdings. His noteworthy creditor and lender-side matters include Audio Visual Services Corporation, Centennial Healthcare, Delphi Corporation, Energy Future Holdings, GenTek, Interstate Bakeries, Lear Corporation, ManorCare, Inc., Patriot Coal, Residential Capital, SunEdison, Superior Telecom and Six Flags. Ken has also represented several private equity portfolio companies in their restructurings, and has worked directly with sponsors and their affiliates such as Blackstone, Carlyle and KKR.
AWARDS AND RECOGNITION
Ken has been recognized by Chambers Global, Chambers USA, The Legal 500, IFLR1000, The Best Lawyers in America and Guide to the World's Leading Insolvency and Restructuring Lawyers. He has also been selected by Turnaround & Workouts as one of its "Outstanding Restructuring Lawyers" and by Lawdragon as one of its "500 Leading Lawyers in America." He was named as a worldwide leading lawyer in Euromoney Institutional Investor's 2015 Banking Finance and Transactional Expert Guide.
Ken's matters have also been acknowledged by numerous industry publications and associations, including his work on PG&E's chapter 11 case, which was recognized as "Mega-Company Transaction of the Year" by The Turnaround Management Association in 2021 and Takata's chapter 11 case, which was named "Restructuring of the Year (Over $5B)" by The M&A Advisor in 2018. Ken was also recognized in connection with his work on Select Staffing's prepackaged chapter 11 case—named one of the "Successful Restructurings" in 2014 by Turnarounds & Workouts—and Barclays Bank's $1.45 billion debtor-in-possession credit facility for Residential Capital in ResCap's chapter 11 case, which was recognized by the Financial Times' "U.S. Innovative Lawyers Report," named IFLR's "U.S. Restructuring of the Year" and selected as the "Deal Financing of the Year" by The M&A Advisor in 2012.
Ken has participated in multiple industry events. He has previously led classes for Practising Law Institute, served on the Conference Advisory Board for American Bankruptcy Institute's 17th Annual New York City Bankruptcy Conference and spoke at the Association of the Bar of New York City's 15th Annual New York City Bankruptcy Conference. Ken also serves on the Bankruptcy & Reorganization Leadership Committee of the UJA Federation of New York.
COMPANY EXPERIENCE
Dendreon Corporation and affiliates in their chapter 11 cases
Exide Technologies and affiliates in their chapter 11 cases
GEO Group in its out-of-court restructuring
Gramercy Capital Corporation in the out-of-court restructuring of its subsidiary
Marsico Capital Management in its out-of-court exchange offers and restructurings
MF Global Holdings and affiliates in their chapter 11 cases
Millennium Health in its prepackaged chapter 11 case
Motor Coach Industries International and affiliates in their chapter 11 cases
PG&E Corporation in its chapter 11 case
Select Staffing in its prepackaged chapter 11 case
Takata Corporation and affiliates in their chapter 11 cases
Vertis Holdings. and its subsidiaries in their prepackaged chapter 11 cases
Other company-side engagements include LifeCare Holding and Savient Pharmaceuticals in their chapter 11 cases and iPayment Holdings in its exchange offers
LENDER EXPERIENCE
The successor bond trustee and an ad hoc group of certain holders of Tarrant County Cultural Education Facilities Financial Corporation Retirement Revenue Bonds (The Stayton at Museum Way Project), Series 2020 Bonds, in connection with safeguarding their interests in respect of Series 2020 Bonds and The Stayton, a continuing care retirement community
The pre-bankruptcy lenders and/or debtor-in-possession lenders in connection with the out-of-court restructurings or chapter 11 cases of P.S. Holding, Audio Visual Services Corporation, Axiohm Transaction Solutions, Camelot Music, Centennial Healthcare, Delphi Corporations, Favorite Brands International, FPA Medical Management, GenTek, The Grand Union Company, Interstate Bakeries, Lear Corporation, Long John Silver's, Mariner Post-Acute Network, Mid-American Waste Systems, Patriot Coal, Recoton Corporation, Safelite Glass Corp., Trico Steel Company, Six Flags Inc. and Superior Telecom, among others
Barclays Bank in a $1.45 billion debtor-in-possession facility for Residential Capital in connection with ResCap's chapter 11 filing
INVESTOR AND ACQUIRER EXPERIENCE
DISH Network Corporation in its acquisition of bankrupt satellite operator DBSD North America
Time Warner and AOL, Inc. in connection with their debt and equity interests in the AOLA Inc. chapter 11 case
Walnut Creek Mining Company in connection with Optim Energy's chapter 11 cases
The buyers of distressed assets in the restructurings of Anchor Glass, Bidermann Industries, Comdisco, Consumer Packaging, Fleming, Harnischfeger Industries and Sonic Blue, among others