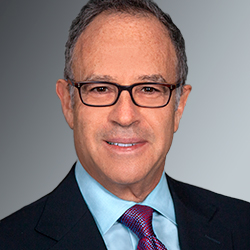 A partner in the Corporate Department, Ken Schneider focuses on mergers and acquisitions. He has substantial experience in restructurings and has developed a significant practice in representing buyers and sellers of financially distressed and bankrupt companies. Ken also has substantial experience in buying and selling interests in alternative investment managers.
EXPERIENCE
Representative clients include Oaktree Capital Management, Oak Hill Capital Partners, Oak Hill Advisors, Avenue Capital Group, Yankee Global Enterprises, Crestview Partners, Varde Partners, Silver Point Capital and the Abu Dhabi Investment Authority.
Recent transactions include:
Tekni-Plex, a global manufacturer of technically-sophisticated products and engineered components and an Oaktree Capital Management portfolio company, in its sale to American Securities
Oaktree Capital Management, as part of a consortium that included Apollo Global Management, LLC and Crestview Partners, in their $2.6 billion sale of a minority stake in Charter Communications to Liberty Media
Crestview Partners in its acquisition of ASP NEP/NCP Holdco, Inc., a leading provider of total broadcast solutions in the live sports and entertainment markets throughout the U.S. and U.K.
The senior secured lenders to Australian-based Nine Entertainment Group in the restructuring of more than AUS $2 billion of debt by means of a scheme of arrangement
Oaktree Capital Management in the $1.3 billion sale of its aircraft leasing company JSA International, which operates as Jackson Square Aviation, to Mitsubishi UFJ Lease and Finance Co., Ltd.
Oaktree Capital Management in the $1.1 billion sale of Mobilitie Investments to SBA Communications and in the formation of Mobilitie Investments
TPG, Oaktree Capital Management and JH Investments in the $1.2 billion acquisition of Taylor Wimpey's North American real estate operations, including Taylor Morrison and Monarch Homes
Oaktree Capital Management in the $1 billion venture and restructuring with Bain Capital and The Related Companies to form International Market Centers
Oak Hill Advisors in connection with the sale of a minority interest to General Atlantic and repurchase of iStar Financial's interest
Crestview Partners in its investment in Cumulus Media, as part of Cumulus's acquisition of Citadel Broadcasting Corporation
Crestview Partners in its investment in Camping World/Good Sam Enterprises
Oaktree Capital Management in its acquisition of control of Aleris International through a $2.7 billion restructuring pursuant to a Chapter 11 plan of reorganization
Oaktree Capital Management, Apollo Global Management, Crestview Partners and other members of a committee of bondholders of Charter Communications in the $22 billion restructuring of Charter Communications pursuant to a Chapter 11 plan of reorganization
Avenue Capital Group in connection with a minority investment by Morgan Stanley in Avenue
Abu Dhabi Investment Authority in connection with its investment in Apollo Global Management
Yankee Global Enterprises LLC in the formation of the YES Network and in the  restructuring of the ownership of the New York Yankees, New Jersey Nets and New Jersey Devils
Oaktree Capital Management in the $5.2 billion sale of Pegasus Aviation Finance Company
Oaktree Capital Management in the $600 million investment in the preferred stock of EXCO Resources
Oak Hill Capital Partners in the acquisition of Wide Open West and sale of WideOpenWest to Avista Capital Partners
Oak Hill Capital Partners and General Atlantic in the  acquisition of GenPact from GE
The Special Committee of the Board of Directors of Kerzner International Limited in connection with the $3.8 billion sale of Kerzner to an investment group that included Istithmar, Whitehall Street Global Real Estate, Colony Capital, Providence Equity Partners and The Related Companies
Ken has been recognized by The Legal 500 for his work in private equity buyouts.