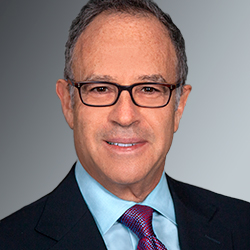 A partner in the Corporate Department, Ken Schneider is go-to counsel to top asset managers and public and private companies in their most significant M&A and other corporate transactions. Over nearly four decades, all spent at Paul, Weiss, he has also amassed substantial experience in restructurings and has developed a significant practice representing buyers and sellers of financially distressed and bankrupt companies. Ken also has considerable experience in buying and selling interests in alternative investment managers, as well as particular expertise in sports and entertainment transactions.
EXPERIENCE
Representative clients include Oaktree Capital Management, Ares Management, Oak Hill Advisors, Avenue Capital Group, Crestview Partners, Värde Partners, Silver Point Capital and affiliates of Ray Chambers.
Ken's experience advising clients in M&A transactions includes:
Oaktree Capital Management in a variety of transactions involving Aleris Corporation, Ashford Hospitality Trust, Azorra Aviation, Charter Communications, Exantas Capital Management, EXCO Resources, Hess Energy Trading Company, JSA International, Mobilitie Investments, Ocwen Financial Corporation, Pegasus Aviation Finance Company, Pulse Electronics, TechStyle and United Mortgage; portfolio company matters including on behalf of IEA Energy Services, Oceanbulk Shipping and Oceanbulk Carriers, Pulse Electronics, Tekni-Plex and Thomas James Homes, among others
Ares Management in a variety of transactions involving Dynacast, FTAI Infrastructure, Hornbeck Offshore Services, Infrastructure and Energy Alternatives, Insightful Science, Integrated Power Services, OUTFRONT Media, Savers and Virtus Industries, as well as a number of portfolio company transactions and corporate restructurings
Crestview Partners in a variety of transactions involving ASP NEP/NCP Holdco, Camping World/Good Sam Enterprises, Cumulus Media and WOW!; and portfolio company matters including on behalf of DS Services Holdings, among others
Churchill Capital Corp. II in its combined $1.5 billion acquisition of Software Luxembourg Holding S.A. (Skillsoft) from funds affiliated with Rhône Capital
Tops Markets in its merger with Price Chopper/Market 32
Dan Doctoroff in connection with Intersection Holdings' acquisitions of Titan Outdoor Holdings and Control Group Media. Intersection Holdings is a consortium of technology and civic leaders led by Dan Doctoroff and Sidewalk Labs
Excel Maritime Carriers in its $635 million cash and stock sale of 34 vessels to Star Bulk Carriers Corp.
Oak Hill Capital in the acquisition of Wide Open West and sale of WideOpenWest to Avista Capital Partners
Sundance Cinemas in its acquisition by Carmike Cinemas
TPG, Oaktree Capital Management and JH Investments in the $1.2 billion acquisition of Taylor Wimpey's North American real estate operations, including Taylor Morrison and Monarch Homes
Thom Browne, head designer and equity holder of his eponymous menswear and womenswear brand, in connection with:

the acquisition of the company by Ermenegildo Zegna Group, an Italy-based menswear and womenswear brand
the acquisition of a majority stake in the company by Sandbridge Capital, a New York-based private equity investment firm, from Stripe International, a Japan-based apparel company
Ken's experience representing clients in matters related to corporate restructuring includes:
Salem Harbor Power Development LP and certain of its affiliates in their prearranged chapter 11 cases
An ad hoc group of first lien lenders in the chapter 11 restructuring of Windstream with over $5 billion in funded debt obligations
Silver Point Capital as lenders to Tailored Brands
An ad hoc committee of unsecured noteholders in the prearranged chapter 11 cases of Gulfport Energy
David's Bridal in an out-of-court recapitalization transaction which provided for $55 million of new capital from existing lenders and the exchange of more than $275 million in existing term loan debt into new preferred and common equity securities
An ad hoc committee of PIK loan lenders to EB Holdings II, the parent company of Eco-Bat Technologies Limited, in the restructuring of approximately $2.5 billion in funded debt obligations through the company's prepackaged chapter 11 case
An ad hoc group led by The Baupost Group in acquiring more than $7.5 billion in claims against Westinghouse Electric Company and its affiliates and subsequently negotiating the Westinghouse plan that centered on a $4 billion asset sale
The senior secured lenders to Australian-based Nine Entertainment Group in the restructuring of more than AUS$2 billion of debt by means of a scheme of arrangement
Oaktree Capital Management:

alongside its portfolio company, Azorra Aviation, in its acquisition and recapitalization of certain aircraft owning silos of Nordic Aviation Capital pursuant to a prearranged chapter 11 plan process
in the successful restructuring and elimination of the approximately $3 billion long-term debt held by Acosta, Inc. as well as acquisition of its new investor funds of
$325 million equity capital
in the $1 billion venture and restructuring with Bain Capital and The Related Companies to form International Market Centers
in its acquisition of control of Aleris International through a $2.7 billion restructuring pursuant to a chapter 11 plan of reorganization

The unofficial committee of bondholders of Charter Communications in Charter's unprecedented "reinstatement" plan under chapter 11, permitting the fourth largest cable television operator to emerge from chapter 11 with $8 billion less debt on its balance sheet and $2.5 billion of capital newly invested by our clients
An ad hoc committee of certain unsecured noteholders of Sequa Corporation, in connection with the company's out-of-court recapitalization and exchange offer transactions
An ad hoc group of holders of prepetition secured notes and DIP notes issued by the holding company that owned Toys "R" Us's international business in (a) the restructuring of Toys "R" Us and certain of its subsidiaries through concurrent proceedings in the U.S. and multiple foreign jurisdictions and (b) the provision of $455 million of debtor-in-possession financing, the proceeds of which were used to fund the company's international businesses
The first lien lender in Willbros in connection with the company's out-of-court restructuring and sale
Ken's experience advising clients in asset management M&A transactions includes:
Abu Dhabi Investment Authority in connection with its investment in Apollo Global Management
Avenue Capital Group in connection with a minority investment by Morgan Stanley in Avenue
Oak Hill Advisors in numerous transactions, including:

its $4.2 billion sale to T. Rowe Price Group
in the sale of a minority interest to General Atlantic
the sale of General Atlantic's interest to WAFRA
repurchase of iStar Financial's interest

Ore Hill Partners in connection with its acquisition by Man Group
Ken's experience advising clients in the sports and entertainment industry includes:
Meadowlands Basketball Company, Inc. and Basketball Investors, Inc. in connection with the sale of the majority of the partnership interests of the New Jersey Nets to a group led by Ray Chambers
The New Jersey Nets in connection with the formation of a joint venture with the New York Yankees to form a new entity, YankeeNets LLC (n/k/a Yankee Global Enterprises)
YankeeNets LLC (n/k/a Yankee Global Enterprises) in the launch of the Yankees Entertainment & Sports Network (YES Network)
Puck Holdings LLC, an entity affiliated with YankeeNets LLC, in connection with its acquisition of the New Jersey Devils
YankeeNets LLC (n/k/a Yankee Global Enterprises) in connection with the restructuring of the ownership of the New York Yankees, New Jersey Nets and New Jersey Devils. Immediately after the restructuring, the Nets were sold to Brooklyn Basketball LLC in anticipation of a move to Brooklyn; YankeeNets LLC was renamed YankeeGlobal Enterprises LLC and continues to own the Yankees; and the parties retained their ownership of the YES Network
Marc Lasry, chairman, chief executive officer and a co-founder of Avenue Capital Group, and Wesley R. Edens, a founder and co-chairman of the Board of Directors of Fortress Investment Group, in their $550 million purchase of the Milwaukee Bucks of the National Basketball Association from Senator Herbert H. Kohl
Fear the Deer, the ownership group of the Milwaukee Bucks, in connection with ongoing general representation and counsel on corporate matters
Helios Fairfax Partners, alongside other investors including the National Basketball Association, in the formation of NBA Africa, a new entity that will conduct the league's business in Africa, including the Basketball Africa League
Matters for Bolt Ventures, an entity led by David Blitzer, in connection with its investments in Harris Blitzer Sports & Entertainment (HBSE)
Ken has been recognized by The Legal 500 for his work in private equity buyouts.