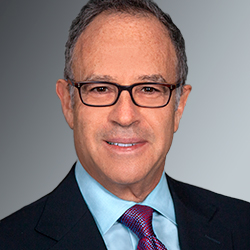 A partner in the Corporate Department, Ken Schneider focuses on mergers and acquisitions. He has substantial experience in restructurings and has developed a significant practice in representing buyers and sellers of financially distressed and bankrupt companies. Ken also has considerable experience in buying and selling interests in alternative investment managers.
EXPERIENCE
Representative clients include Oaktree Capital Management, Ares Management, Crestview Partners, Oak Hill Advisors, Avenue Capital Group, Värde Partners, Silver Point Capital and affiliates of Ray Chambers.
Ken's experience representing clients in matters related to corporate restructuring includes:
David's Bridal, the nation's leading bridal and special occasion retailer, in an out-of-court recapitalization transaction which provided for $55 million of new capital from existing lenders and the exchange of more than $275 million in existing term loan debt into new preferred and common equity securities.
An ad hoc committee of PIK loan lenders to EB Holdings II, Inc., the parent company of Eco-Bat Technologies Limited, the world's largest producer of lead and lead alloys, with production facilities throughout Europe, the United States and South Africa.
An ad hoc group led by The Baupost Group, L.L.C. in acquiring more than $7.5 billion in claims against Westinghouse Electric Company LLC and its affiliates and subsequently negotiating the Westinghouse plan that centered on a $4 billion asset sale. Pursuant to the Plan, the ad hoc group took ownership of W Wind Down Co, the entity responsible for resolving all claims in the Westinghouse chapter 11 cases.
The senior secured lenders to Australian-based Nine Entertainment Group in the restructuring of more than AUS $2 billion of debt by means of a scheme of arrangement.
Oaktree Capital Management:

in the successful restructuring and elimination of the approximately $3 billion long-term debt held by Acosta, Inc. as well as acquisition of its new investor funds of $325 million equity capital;
in the $1 billion venture and restructuring with Bain Capital and The Related Companies to form International Market Centers; and
in its acquisition of control of Aleris International through a $2.7 billion restructuring pursuant to a chapter 11 plan of reorganization.

The unofficial committee of bondholders of Charter Communications, one of the largest cable service providers, in Charter's unprecedented "reinstatement" plan under chapter 11, permitting the fourth largest cable television operator to emerge from chapter 11 with $8 billion less debt on its balance sheet and $2.5 billion of capital newly invested by our clients.
An ad hoc committee of certain unsecured noteholders of Sequa Corporation, in connection with the company's out-of-court recapitalization and exchange offer transactions.
An ad hoc group of holders of prepetition secured notes and DIP notes issued by the holding company that owned Toys "R" Us's international business in (a) the restructuring of Toys "R" Us and certain of its subsidiaries through concurrent proceedings in the U.S. and multiple foreign jurisdictions and (b) the provision of $455 million of debtor-in-possession financing, the proceeds of which were used to fund the company's international businesses.
The first lien lender in Willbros, a specialty energy infrastructure contractor serving the oil and gas and power industries, in connection with the company's out-of-court restructuring and sale.
Ken's experience advising clients in M&A transactions includes:
Oaktree Capital Management

its pending $2.6 billion sale of Aleris Corporation, an Ohio-based producer and seller of aluminum rolled products and a portfolio company of Oaktree, to Novelis Inc., a Georgia-based producer of aluminum rolled products;
its acquisition of 100 percent of the outstanding shares of Pulse Electronics Corporation, a California-based provider of electronic components;
the acquisition of Hess Corporation's stake in Hess Energy Trading Company LLC (HETCO), a leading global marketer and trader of energy commodities;
a consortium that included Apollo Global Management, LLC and Crestview Partners, in their $2.6 billion sale of a minority stake in Charter Communications to Liberty Media;
the $1.3 billion sale of its aircraft leasing company JSA International, which operates as Jackson Square Aviation, to Mitsubishi UFJ Lease and Finance Co., Ltd;
the $1.1 billion sale of Mobilitie Investments to SBA Communications and in the formation of Mobilitie Investments;
the $5.2 billion sale of Pegasus Aviation Finance Company;
the $600 million investment in the preferred stock of EXCO Resources;
IEA Energy Services, an Indiana-based engineering, procurement and construction company in the renewable energy sector and a portfolio company of Oaktree Capital Management, in its $255 million acquisition by M III Acquisition Corp., a New York-based special purpose acquisition company;
Oceanbulk Shipping and Oceanbulk Carriers, international dry bulk shipping companies and portfolio companies of Oaktree Capital Management, in a stock-for-stock sale to Star Bulk Carriers Corp., a Greece-based dry bulk shipping company;
Pulse Electronics Corp., a California-based manufacturer of a mobile terminal components and a portfolio company of Oaktree Capital Management, in its $740 million sale to Yageo Corp., a Taiwan-based electronic components manufacturer; and
Tekni-Plex, a global manufacturer of technically-sophisticated products and engineered components and an Oaktree Capital Management portfolio company, in its sale to American Securities.

Ares Management in connection with:

its $50 million acquisition of preferred and common stock of Infrastructure and Energy Alternatives, Inc., an Indiana-based infrastructure construction company, bringing Ares' aggregate investment in the company to approximately $200 million;
its $590 million investment, alongside Crescent Capital Corp., in Savers, a Washington-based secondhand merchandise retailer; and
its combined $180 million investment, with Oaktree Capital, in Infrastructure and Energy Alternatives, Inc., an Indiana-based infrastructure construction company with specialized energy and heavy civil expertise and a focus on renewable energy projects.

Crestview Partners in connection with:

its acquisition of ASP NEP/NCP Holdco, Inc., a leading provider of total broadcast solutions in the live sports and entertainment markets throughout the U.S. and U.K.;
its investment in Cumulus Media, as part of Cumulus's acquisition of Citadel Broadcasting Corporation;
its investment in Camping World/Good Sam Enterprises;
its acquisition of a significant stake in WOW!, a Colorado-based broadband provider, from Avista Capital Partners and other unit holders and a $125 million primary investment in WOW!; and
DS Services Holdings, Inc., Georgia-based bottled beverage services company and portfolio company of Crestview Partners, in its $1.25 billion sale to Cott Corporation, a Canada-based private label soft drink distributor.

Dan Doctoroff in connection with Intersection Holdings', a consortium of technology and civic leaders led by Dan Doctoroff and Sidewalk Labs, a recently launched partnership between Dan and Google, in the acquisitions of Titan Outdoor Holdings and Control Group Media.
Excel Maritime Carriers, a Greece-based dry bulk shipping company, in its $635 million cash and stock sale of 34 vessels to Star Bulk Carriers Corp., a Greece-based dry bulk shipping company, a Greece-based dry bulk shipping company, in its $635 million cash and stock sale of 34 vessels to Star Bulk Carriers Corp., a Greece-based dry bulk shipping company.
Sundance Cinemas, a California-based movie theater chain, in its acquisition by Carmike Cinemas, Inc.
Thom Browne, head designer and equity holder of his eponymous New York-based menswear and womenswear brand, in connection with:

the acquisition of the company by Ermenegildo Zegna Group, an Italy-based menswear and womenswear brand; and
the acquisition of a majority stake in the company by Sandbridge Capital, a New York-based private equity investment firm, from Stripe International, a Japan-based apparel company.

Wesley R. Edens, a Founder and Co-Chairman of the Board of Directors of Fortress Investment Group LLC and Marc Lasry, Chairman, Chief Executive Officer and a Co-Founder of Avenue Capital Group, in their $550 million purchase of the Milwaukee Bucks of the National Basketball Association from Senator Herbert H. Kohl.
Yankee Global Enterprises in the formation of the YES Network and in the restructuring of the ownership of the New York Yankees, New Jersey Nets and New Jersey Devils.
Ken's experience advising clients in asset management M&A transactions includes
Abu Dhabi Investment Authority in connection with its investment in Apollo Global Management.
Avenue Capital Group in connection with a minority investment by Morgan Stanley in Avenue.
Oak Hill Advisors in connection with the sale of a minority interest to General Atlantic and repurchase of iStar Financial's interest.
Oak Hill Advisors in the sale of General Atlantic's minority interest in Oak Hill to WAFRA.
Oak Hill Capital Partners in the acquisition of Wide Open West and sale of WideOpenWest to Avista Capital Partners.
Ore Hill Partners in connection with its acquisition by Man Group.
TPG, Oaktree Capital Management and JH Investments in the $1.2 billion acquisition of  Taylor Wimpey's North American real estate operations, including Taylor Morrison and Monarch Homes.
Ken has been recognized by The Legal 500 for his work in private equity buyouts.