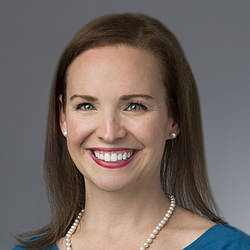 A partner in the Corporate Department and member of the Mergers & Acquisitions and Private Equity groups, Megan Spelman advises private equity sponsors and their portfolio companies in all types of transactions, including acquisitions, divestitures, investments, joint ventures, financings, restructurings and other corporate matters.
EXPERIENCE
Megan's recent engagements include:
Accenture in its acquisition of Meredith Xcelerated Marketing (MXM)
Altas Partners and its portfolio companies in various transactions, including in connection with its investment in PADI and its portfolio company Unified Women's Healthcare in its acquisition of Women's Health USA
American Securities and its portfolio companies in numerous transactions, including, among others, its acquisitions of Trace3, United PF Holdings, Grede Holdings, Aspen Dental and Royal Adhesives and Sealants and its portfolio company North American Partners in Anethesia (NAPA) in its acquisition of American Anethesia
Affiliates of AR Global in connection with the internalization of management as part of the merger agreement between Global Net Lease and The Necessity Retail REIT
Clearlake Capital Group in its growth investment in Crash Champions
The special committee of Duck Creek Technologies' board of directors in connection with Duck Creek's $2.6 billion take-private sale to Vista Equity Partners
EQT Infrastructure VI Fund in its acquisition of Lazer Logistics from Harvest Partners
Fortive Corporation in its acquisition of Landauer, Inc.
Hg Saturn 2 as a majority investor in the recapitalization of Sovos 
Information Resources, Inc. in its acquisition of Retail Solutions, Inc.
The Jordan Company in numerous transactions, including its acquisitions of Potters Industries and TransImpact
Monomoy Capital Partners in its acquisition of West Marine
New Mountain Capital in its acquisition of Classic Collision and, along with TRC Companies, in TRC Companies' acquisition by Warburg Pincus
Opportunity Partners B.V in its acquisition of BrandLoyalty
Orangewood Partners in its acquisition of Pacific Bells, Inc.
Patient Square Capital in its acquisition of Summit Behavioral Healthcare
SDC Capital Partners in its investment in Effectual
Good Sportsman Marketing in its acquisition by Gridiron Capital
TPG Capital in its acquisition of Transplace
TPG Growth and HotSchedules in the sale of HotSchedules to Marlin Equity Partners 
Warburg Pincus in its investment in Procare Software Holdings
Megan has also represented a number of other private equity clients, portfolio companies and financial institutions, including Barclays, Centerbridge Partners, EQT Partners and EQT Infrastructure, J.P. Morgan and Morgan Stanley, to name a few.
In 2023, Megan received The M&A Advisor's Emerging Leaders Award.