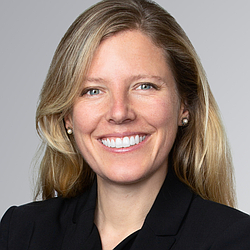 San Francisco
535 Mission Street, 24th Floor
San Francisco, California 94105
A partner in the Litigation Department, Meredith Dearborn has significant experience trying high-stakes commercial disputes for leading technology companies.
Meredith has taken ten cases to trial, winning favorable outcomes on behalf of several of the largest tech firms in Northern California. Her matters involve a variety of substantive areas, including intellectual property, contract, antitrust, and California state statutory and common law issues.
Meredith has long been recognized for her talent and dynamism. In 2023, she was named a "Top Women Lawyer" by the Daily Journal for her achievements in antitrust and other commercial litigations. In 2022, Meredith was recognized by Law360 as an MVP in the "Technology" category, named an Insider "Rising Star of the Courtroom," recognized by the Daily Journal as a "Top Antitrust Lawyer," and was included in Benchmark Litigation's "40 & Under Hot List." In 2021, Bloomberg Law named Meredith an Antitrust Rising Star in its "They've Got Next" series, Law360 named her a Rising Star in the "Technology" category, and the Daily Journal recognized her as a "Top 40 Under 40" lawyer. The American Lawyer previously named Meredith a "Litigator of the Week" for a high-stakes trial win on behalf of a large technology company in federal court in Boston. In 2018, Meredith was recognized as one of Silicon Valley's "40 Under 40" by Silicon Valley Business Journal and as a Next Generation Honoree in The Recorder's "Women Leaders in Tech Law." Meredith is also recognized by Lawdragon as one of the "500 Leading Litigators in America" and by Benchmark Litigation as a "Future Star." She was previously named a "Rising Star" by Super Lawyers for eight consecutive years.
EXPERIENCE
Meredith has played a key role in several of the most high-profile matters in California in recent years, bringing efficiency, attention to detail and a trial-ready instinct to her cases. Meredith approaches each matter as if it is going to trial by crafting winning strategies from the outset; clients trust her to prepare their most important witnesses to testify.
Meredith's recent engagements and achievements include:
serving as co-lead trial counsel for two online pharmacies in a high-stakes defamation and unfair competition dispute with a pharmacy benefit manager.
serving as trial counsel for a leading technology company concerning a dispute with a major video game and software developer that asserted antitrust claims related to the mobile app distribution and payment markets.
securing the dismissal of a putative antitrust class action brought against a leading technology company in the Northern District of California related to subscription streaming game services.
winning a defense victory at trial on behalf of a major technology company in a $750 million unfair competition lawsuit in Boston federal court. The court rejected nearly every one of plaintiffs' arguments, including all damages claims, delivering a complete defense verdict.
securing the favorable settlement of a high-profile trade secrets matter concerning self-driving cars, which resolved after four days of evidence at trial.
successfully obtaining summary judgment in favor of an audio technology company in a fraud, tort and statutory securities suit brought in California state court.
representing a major software and technology company in various matters concerning intellectual property and contracts, including a major patent and copyright trial in the Northern District of California.
winning a complete defense verdict as a member of the trial team that represented a top technology company in a high-profile billion-dollar federal antitrust class action concerning the portable music industry.
securing a favorable outcome as a member of the trial team that represented a Bay Area-based medical device and technology startup in a patent inventorship dispute in the Northern District of California.
winning a favorable appellate decision as a member of the appellate team in Perry v. Schwarzenegger, which upheld the trial court's opinion that established a constitutional right to marry for gay and lesbian citizens in California.
Meredith is a leader in the Bay Area legal community. In 2022, she was selected for a three-year term as a Lawyer Representative to the Ninth Circuit Judicial Conference. She also is member of the Board of Directors of The Justice & Diversity Center of the Bar Association of San Francisco and sits on the Advisory Board of the East Bay Community Law Center, one of the largest non-profit organizations offering free legal services in the San Francisco Bay Area. Meredith previously served as a Lecturer in Law at Stanford Law School, where she taught Federal Litigation in a Global Context for three years. She regularly presents on intellectual property and trial practice issues for legal industry, educational and trade groups.
While at the University of California, Berkeley School of Law, Meredith served as an extern at the U.S. Department of Justice Antitrust Division in San Francisco. She was Senior Supervising Editor of the California Law Review and received the Thelen, Marrin Prize for Law Journal Writing in 2009. Meredith previously clerked for the Hon. John C. Coughenour of the U.S. District Court for the Western District of Washington.