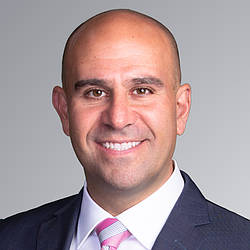 San Francisco
535 Mission Street, 24th Floor
San Francisco, California 94105
Fax: +1-202-204-7391
+ vCard
ADD TO CONTACTS
Randy Luskey, a partner in the Litigation Department, is a dynamic and accomplished trial lawyer with experience in a wide range of litigation, white collar and investigations matters. A former prosecutor, Randy was recently recognized by the Daily Journal as one of the Top 100 lawyers in California and as both a Top Health Care Lawyer and a Top Trade Secrets Lawyer in California for the key courtroom roles he has played in some of the Bay Area's highest-profile cases. Randy is also recognized by Chambers USA in White Collar Crime & Government Investigations – California, where clients have described him as a "thoughtful tactician in how he approaches cases" and "a strategic thinker who knows how to run and try a case."
EXPERIENCE
Randy has extensive experience litigating high-stakes class actions, conducting internal investigations, and representing clients in white collar criminal cases, health care fraud and abuse matters, and cases brought under the False Claims Act.
Randy previously served as an Assistant U.S. Attorney in the U.S. Attorney's Office for the Northern District of California, where he managed complex government investigations and prosecuted a wide variety of criminal cases involving offenses such as mail/wire fraud, health care fraud, money laundering, RICO, and trade secrets misappropriation. 
Randy has secured a number of impressive defense verdicts and favorable resolutions in high-profile white collar cases in the Bay Area, and is undefeated in the nine cases he has tried to verdict. In 2022, Randy won a summary judgment in a long running False Claims Act litigation on behalf of Carolina Liquid Chemistries. Additionally, he won an acquittal, on all counts, of a former Fitbit executive in one of the most closely watched criminal trade secrets jury trials in the Northern District of California; and the dismissal, with prejudice, of a significant federal False Claims Act lawsuit brought against the UCSF Medical Center and eight individuals regarding alleged Medicare fraud. Randy also defended the former general counsel of Wells Fargo in an enforcement action brought by the OCC relating to sales practice misconduct and the CFO of a Fortune 500 software company in connection with an SEC enforcement action alleging accounting fraud. Randy has recently represented Atlassian, Xoom, PayPal, the Regents of the University of California and Andreesen Horowitz.
Randy has significant experience representing life sciences companies and hospitals in investigations and litigation matters involving allegations of health care fraud. His clients and engagements include Gilead Sciences in a federal False Claims Act lawsuit; Carolina Liquid Chemistries in a federal False Claims Act lawsuit; a Fortune 100 pharmaceutical company in a confidential federal Anti-Kickback lawsuit and related State Attorney General investigation; and UC Health in a wide variety of litigation matters and investigations.
Randy also dedicates a substantial portion of his practice to handling matters for academic institutions. He is one of the Regents of the University of California's go-to lawyers for some of the university system's most sensitive and important investigations and disputes, including nine class actions recently brought by students in federal and state courts throughout California seeking a return of tuition and student fees due to COVID-related school closures.
A class action specialist, Randy has co-led the defense of a number of consumer class actions brought in federal courts throughout California, including, among others, representing Ocwen Financial Corporation in a nationwide civil RICO class action regarding the company's property valuation services; SolarCity in a consumer class action in the Northern District of California; and a senior mortgage lending executive in multiple class actions relating to the performance of mortgage-backed securities during the financial crisis.
As an Assistant U.S. Attorney, Randy secured guilty verdicts in a month-long health care fraud jury trial against the owners of two medical device companies, and played a key role in the bank fraud investigation and prosecution of the president of the Bay Area's largest home builder. He received awards and commendations from the FBI, the Bureau of Alcohol, Tobacco, Firearms and Explosives, the U.S. Secret Service, and the U.S. Department of State for exceptional prosecutorial assistance.
AWARDS & RECOGNITIONS
Randy has been repeatedly recognized for his trial accomplishments and litigation achievements by leading publications and legal directories. In 2022, Randy was twice recognized in The American Lawyer's "Litigation Daily" column for winning summary judgment in a False Claims Act case in the Northern District of California, and for winning a class decertification motion in a significant RICO consumer class action in the Eastern District of California. He was also recognized by the Daily Journal as a "Top Healthcare Lawyer" for his significant work representing health care, hospital and pharmaceutical companies in litigation and government investigations, and as a "Top Trade Secrets Lawyer" for a second consecutive year for his successful defenses of high-profile civil and criminal trade secrets matters. In 2020, the Daily Journal named Randy to its annual list of the Top 100 lawyers in California for his key role in a major federal trade secrets trial win, and his work for the University of California on several high-profile litigations. Randy is recognized by Chambers USA in the Litigation: White-Collar Crime & Government Investigations (California) category, with the directory noting his "considerable experience conducting internal investigations and advising corporate clients on governmental investigations and DOJ enforcement matters, as well as handling False Claims Act disputes." Randy was also recently named to the Lawdragon 500 Leading Litigators in America guide.