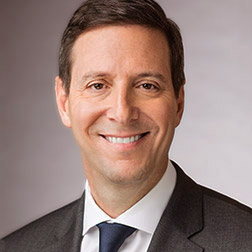 Scott A. Barshay is a partner in the Corporate Department and Global Head of the firm's Mergers & Acquisitions Practice. His practice focuses on advising clients on mergers and acquisitions, activist defense and other significant corporate matters. Scott also regularly counsels corporations and their directors on securities law, corporate governance and crisis management issues.

Scott has represented clients in many of the largest and most important M&A transactions and activist defense matters in recent years, including ADP in its successful proxy contest against Pershing Square; Anheuser-Busch InBev in its $107 billion acquisition of SABMiller; BHP Billiton plc in the activist campaign by Elliott Management; Burlington Northern Santa Fe in its $44 billion sale to Berkshire Hathaway; Chevron in its proposed $50 billion acquisition of Anadarko Petroleum; General Electric in the $21.4 billion sale of its BioPharma business to Danaher Corporation; the Board of Directors of Harris Corporation in its proposed $37 billion merger of equals with L3 Technologies; Honeywell in its $90 billion proposal to acquire United Technologies and in the activist campaign by Third Point LLC; IBM in its proposed $34 billion acquisition of Red Hat; Ingersoll Rand in the proposed $15 billion merger of its Industrial Segment with Gardner Denver; The Kraft Heinz Company in its proposed $143 billion acquisition of Unilever; Mylan Pharmaceuticals in its successful takeover defense against Teva's $40 billion hostile bid and in Mylan's $35 billion hostile offer to acquire Perrigo; Qualcomm in connection with a $130 billion unsolicited offer from Broadcom, its proposed $47 billion acquisition of NXP and the activist campaign by JANA Partners; Starwood Hotels in its $13.6 billion sale to Marriott International which was contested by Anbang Insurance Group; United Airlines in its $7 billion merger of equals with Continental Airlines; and 3G Capital and H.J. Heinz in the $60 billion Kraft/Heinz merger.
Awards and Recognitions
Scott has been repeatedly recognized as one of the country's leading M&A lawyers. In 2018, he was featured in a Wall Street Journal article profiling the seven top bankers and lawyers involved in the most important M&A deals of the year, noting that Scott advised on deals worth more than $300 billion in 2018, including IBM/Red Hat and Harris Corp./L3 Technologies. He was similarly profiled in a 2016 Wall Street Journal article profiling seven top dealmakers from 2015 and citing specifically his work on major M&A transactions, including AB InBev/SABMiller, Kraft/Heinz, Marriott/Starwood and Schlumberger/Cameron, as well as activist defense on behalf of Avon, Cheniere, Qualcomm and Xerox. In 2018, Scott was also recognized by The Deal as "Dealmaker of the Year." In 2015, he was included in The National Law Journal's list of M&A Trailblazers. In 2011, he was recognized by the Financial Times as one of the ten most innovative lawyers in North America for his role in defending Barnes & Noble from a series of hostile activist attacks by Ron Burkle and Yucaipa. A 2010 Wall Street Journal article profiled his practice and discussed his representation of United Airlines in its merger with Continental Airlines and Burlington Northern Santa Fe in its sale to Berkshire Hathaway. In 2007, The New York Times included Scott on its list of most important dealmakers in recent years, citing specifically his work on behalf of Chevron in its contested acquisition of Unocal.
Other publications that consistently place Scott in their highest level M&A rankings include Chambers Global: The World's Leading Lawyers for Business; Chambers USA: America's Leading Lawyers for Business; The Legal 500; IFLR1000; Legal Media Group's Guide to the World's Leading M&A Lawyers; Lawdragon's 500 Leading Lawyers in America; Lawdragon's 500 Leading Dealmakers in America; The American Lawyer: Dealmaker of the Year; The Best Lawyers in America; The International Who's Who of Corporate Governance Lawyers; and The International Who's Who of Merger & Acquisition Lawyers.
EXPERIENCE
Scott has broad mergers and acquisitions experience spanning numerous industries. Notable transactions include representing:
AEROSPACE AND DEFENSE

CSRA in its $9.7 billion sale to General Dynamics
The Board of Directors of Harris Corporation in its proposed $37 billion merger of equals with L3 Technologies
Honeywell in connection with Third Point's unsuccessful proposal for Honeywell to spin-off its aerospace division

CONSUMER
Anheuser‑Busch InBev in its $107 billion acquisition of SABMiller and its $12 billion sale of SABMiller's U.S. business and global Miller beer business to Molson Coors
Avon in the sale of 80% of its North America business to Cerberus Capital Management and in the PIPE investment by Cerberus in Avon's international business
H.J. Heinz and 3G Capital in Heinz's $60 billion merger with Kraft to form The Kraft Heinz Company
The Kraft Heinz Company in its proposed $143 billion acquisition of Unilever
The special committee of the Pilgrim's Pride board of directors in its $1.3 billion acquisition of Moy Park from JBS
Restaurant Brands International in its $1.8 billion acquisition of Popeyes Louisiana Kitchen


ENERGY
Cameron International in its $15 billion sale to Schlumberger and in the creation of the OneSubsea joint venture with Schlumberger
Chevron in its successful takeover battle with CNOOC to acquire Unocal for $18 billion and in its proposed $50 billion acquisition of Anadarko Petroleum
Delta Air Lines in its acquisition of the Trainer refinery from ConocoPhillips
Grant Prideco in its $7.4 billion merger with National Oilwell Varco

FINANCIAL INSTITUTIONS
AerCap in its $7.6 billion acquisition of International Lease Finance Corporation (ILFC) from AIG
The special committee of the Delphi Financial Group board of directors in the $2.7 billion sale of Delphi to Tokio Marine Holdings
Deutsche Börse in its proposed $10 billion merger of equals with NYSE Euronext and in the competing offer from Nasdaq OMX and Intercontinental Exchange
Paine Webber in its sale to UBS for $15 billion

HEALTHCARE
Alere in its $5.3 billion sale to Abbott Laboratories
ARIAD Pharmaceuticals in its $5.2 billion sale to Takeda Pharmaceutical Company Limited
Biogen in the $5 billion spin-off of Bioverativ

Bioverativ in its $11.6 billion sale to Sanofi
General Electric in the $21.4 billion sale of its BioPharma business to Danaher Corporation
King Pharmaceuticals in its proposed $4 billion merger with Mylan
Mylan in its successful takeover defense against Teva's $40 billion hostile bid, its proposal to acquire Perrigo Company plc in a transaction valued at approximately $35 billion and in its $5.6 billion inversion acquisition of Abbott Laboratories' non‑U.S. developed markets specialty and branded generics business
The independent directors of Par Pharmaceuticals in the $2 billion leveraged buyout of Par by TPG

INDUSTRIALS
Alcoa in the $2.7 billion sale of its packaging and consumer business to Rank Group
Hertz in its successful $2.6 billion offer for Dollar Thrifty Group and in Avis's competing interest in acquiring Dollar Thrifty
Honeywell in its $90 billion proposal to acquire United Technologies and in the spin-off of its turbochargers business into Garrett Motion
Ingersoll Rand in the proposed $15 billion merger of its Industrial Segment with Gardner Denver
Martin Marietta in its $3.2 billion acquisition of Texas Industries
Minerals Technologies in its successful unsolicited $1.7 billion offer for AMCOL International and in the unsuccessful competing offers to acquire AMCOL made by Imerys S.A.
Nalco in its $8 billion merger with Ecolab

LODGING AND REAL ESTATE
ILG in its $4.7 billion sale to Marriott Vacations Worldwide
Mandalay Resort Group in its sale to MGM Mirage for $8 billion
Regal Cinemas in its leveraged buyout by KKR and other private equity firms for $2 billion
Starwood Hotels in its contested $13.6 billion sale to Marriott International

MEDIA AND TELECOMMUNICATIONS
CBS in its $70 billion merger with Viacom
Gannett in its $2.2 billion acquisition of Belo
The independent directors of MCI in the takeover battle between Verizon and Qwest, which resulted in Verizon's acquisition of MCI for $8.5 billion
NTT DoCoMo in restructuring its $10 billion strategic investment in AT&T
SNET in its $5 billion sale to AT&T

RETAIL
Barnes & Noble in the spin‑off of its college bookstores business, its publicly announced exploration of strategic alternatives, the strategic investment by Microsoft in its NOOK business and the PIPE investment made by Liberty Media
The special committee of the J.Crew board of directors in the leveraged buyout by TPG and Leonard Green for $3 billion
Jones Group in its $2.2 billion sale to Sycamore Partners, its acquisitions of Barneys New York, Nine West Group, LEI Jeans and Gloria Vanderbilt and its hostile takeover of Maxwell Shoe Company

TECHNOLOGY
IBM in acquisitions and dispositions aggregating more than $75 billion in value, including the proposed $34 billion acquisition of Red Hat
The independent directors of JDA Software Group in the $2 billion leveraged buyout of JDA by New Mountain Capital
Nuance Communications in the announced spin-off of its automotive software business
Qualcomm in connection with a $130 billion unsolicited offer from Broadcom, its proposed acquisition of NXP Semiconductors for $47 billion and its acquisition of Atheros Communications for $3.2 billion
Xerox in its separation into two independent publicly traded companies, the $1 billion sale of its information technology outsourcing business to Atos and its acquisitions of Affiliated Computer Services for $8.4 billion and Global Imaging Systems for $1.5 billion

TRANSPORTATION
Air Methods Corporation in its $2.5 billion acquisition by affiliates of American Securities
Burlington Northern Santa Fe in its $44 billion sale to Berkshire Hathaway
Delta Air Lines in its acquisition of 49% of Virgin Atlantic from Singapore Airlines and in Delta's related trans‑Atlantic joint venture with Virgin
United Airlines in its $7 billion merger of equals with Continental Airlines as well as numerous other acquisitions and joint ventures

Scott has advised numerous companies and boards in defending against activist hedge funds, including:
ADP in its successful proxy contest against Pershing Square
Air Methods Corporation in the activist campaign by Voce Capital Management
ARIAD Pharmaceuticals in the adoption of its shareholder rights plan and in the activist campaign by Sarissa Capital
Avon in the activist campaign by Barington Capital
Barnes & Noble in the adoption of its shareholder rights plan (which was upheld by the Delaware Chancery Court and the Delaware Supreme Court), in its successful proxy contest against Ron Burkle and Yucaipa, and in activist campaigns by Pershing Square and Sandell Asset Management
BHP Billiton in the activist campaign by Elliott Management
Cameron International in the activist defense against JANA Partners and Elliott Management
Cheniere Energy in the activist campaign by Carl Icahn
Chico's FAS in its successful proxy contest against Barington Capital
Commvault in the activist campaign by Elliott Management
Gannett in its successful acquisition of Belo, which was challenged by various arbitrageurs and hedge funds
Harris Corporation in the activist campaign by JANA Partners
Helix Energy Solutions in the activist defense against Greenlight Capital
Hertz in the adoption of its shareholder rights plan, in its settlement agreement with Carl Icahn, and in share accumulations by Corvex Management, Third Point and JANA Partners
Hologic in the adoption of its shareholder rights plan and in activist campaigns by Carl Icahn and Relational Partners
Honeywell in the activist campaign by Third Point LLC
Jones Apparel in the activist campaign by Barington Capital and in share accumulations by Greenlight Capital
King Pharmaceuticals in share accumulations by Perry Capital
NCR in the activist campaign by Marcato Capital and in share accumulations by JANA Partners and Corvex Management
Par Pharmaceuticals in the activist campaign by Relational Partners
Qualcomm in the activist campaign by JANA Partners
Randstad Holding in its successful acquisition of Monster Worldwide, which was challenged by an entity affiliated with Alden Global Capital
Sara Lee in the activist campaign by ValueAct Capital
Starwood Hotels in share accumulations by JANA Partners and Third Point
Web.com in the activist campaign by Okumus Fund Management