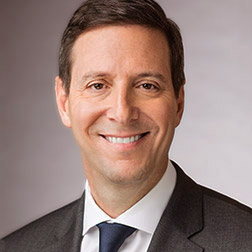 Scott A. Barshay is Chair of the Paul, Weiss Corporate Department. His practice focuses on advising clients and their boards on mergers and acquisitions, activist defense and other significant corporate matters. Scott also regularly counsels corporations and their directors on securities law, corporate governance, crisis management and internal investigations.

Scott has represented clients in many of the largest and most important M&A transactions and activist defense and corporate matters in recent years, including ADP in its successful proxy contest against Pershing Square; Anheuser-Busch InBev in its $107 billion acquisition of SABMiller; BHP Billiton in the activist campaign by Elliott Management; Burlington Northern Santa Fe in its $44 billion sale to Berkshire Hathaway; Chevron in its $13 billion acquisition of Noble Energy and its proposed $50 billion acquisition of Anadarko Petroleum; Emerson Electric in the activist campaign by D.E. Shaw; General Electric in the $21.4 billion sale of its biopharma business to Danaher, in the more than $30 billion combination of its jet leasing unit, GE Capital Aviation Services (GECAS), with AerCap Holdings and in its reorganization through spin-offs into three separately traded public companies; the independent directors of Harris Corporation in its $37 billion merger of equals with L3 Technologies; Honeywell International in its unsolicited $90 billion offer to acquire United Technologies and in the activist campaign by Third Point; IBM in its $34 billion acquisition of Red Hat; Intel Corporation in the activist investment by Third Point; Kraft Heinz in its proposed $143 billion acquisition of Unilever; McDonald's in its successful proxy contest against Carl Icahn; Mylan in its successful defense against a $40 billion hostile takeover offer from Teva and in its $35 billion hostile offer to acquire Perrigo; Nuance Communications in its $19.7 billion sale to Microsoft; Qualcomm in its successful defense against a $142 billion hostile takeover offer from Broadcom, its proposed $47 billion acquisition of NXP Semiconductors, and in the activist campaign by JANA Partners; Rocket Companies (the parent company of Quicken Loans) in its initial public offering, resulting in a first day $43 billion market capitalization; Starwood Hotels in its $13.6 billion sale to Marriott International and in Anbang's competing offers to acquire Starwood; Teladoc Health in its $18.5 billion acquisition of Livongo Health; Trane Technologies in the $15 billion Reverse Morris Trust spin-off and merger of its industrial business with Gardner Denver Holdings; United Airlines in its merger of equals with Continental Airlines; World Wrestling Entertainment in its $21 billion merger transaction with Endeavor Group and UFC; and 3G Capital and H.J. Heinz in Heinz's $60 billion merger with Kraft Foods.
Awards and Recognitions
Scott is widely recognized as one of the country's leading M&A lawyers. He has been described by the Financial Times as "one of Wall Street's most prolific dealmakers." In 2019, the American Lawyer named Scott "Dealmaker of The Year" for his role advising IBM in its $34 billion acquisition of Red Hat. The Wall Street Journal profiled Scott as one of six top dealmakers who "made the year in M&A" in 2019, highlighting his work on the largest and most important transactions of the year, including Chevron/Anadarko Petroleum and GE BioPharma/Danaher. Scott was similarly recognized by the Wall Street Journal in 2018 for advising on more than $300 billion in M&A that year, including IBM/Red Hat and Harris/L3 Technologies; and in 2015 for advising on many of that year's biggest deals, including AB InBev/SABMiller, Kraft/Heinz, Marriott/Starwood and Schlumberger/Cameron, and for his defense of clients Qualcomm, Xerox, Avon and Cheniere Energy against activist hedge funds. In 2015, Scott was recognized as an "M&A Trailblazer" by the National Law Journal. In 2011, the Financial Times named Scott one of the "Ten Most Innovative Lawyers" in North America. In 2007, the New York Times included Scott in its list of most important dealmakers in recent years, highlighting his work on behalf of Chevron in its successful $18 billion takeover battle for Unocal.
Scott is consistently ranked as a top-tier M&A practitioner by peer review organizations, including Chambers Global; Chambers USA; The Legal 500 US; IFLR1000; Legal Media Group's Guide to the World's Leading Mergers and Acquisitions Lawyers; The Lawdragon 500 Leading Lawyers in America; The Lawdragon 500 Leading Dealmakers in America; The Best Lawyers in America; The International Who's Who of Mergers & Acquisitions Lawyers; and The International Who's Who of Corporate Governance Lawyers.
EXPERIENCE
Scott has extensive M&A experience in a broad range of industries. Notable representations have included:
AEROSPACE AND DEFENSE

CSRA in its $9.7 billion sale to General Dynamics
The independent directors of Harris Corporation in its $37 billion merger of equals with L3 Technologies, and Harris in the sale of its government IT services business to Veritas Capital
Honeywell International in connection with Third Point's unsuccessful proposal for Honeywell to spin off its aerospace business
L3Harris Technologies in the $1 billion sale of its airport security business to Leidos Holdings
Perspecta in its $7.1 billion sale to Peraton and Veritas Capital
CONSUMER AND RETAIL 
3G Capital in its $7.1 billion acquisition of Hunter Douglas
Anheuser‑Busch InBev in its $107 billion acquisition of SABMiller and the $12 billion sale of SABMiller's U.S. and Global Miller Beer businesses to Molson Coors
The independent directors of Avon in its $3.7 billion sale to Natura & Co., and Avon in the sale of an 80% stake in its North America business to Cerberus Capital Management and in Cerberus' PIPE investment in Avon's international business
Barnes & Noble in its exploration of strategic alternatives and the resulting sale to an affiliate of Elliott Management, and previously in the spin‑off of its college business into a separate publicly traded company (Barnes & Noble Education), the strategic investment by Microsoft in Barnes & Noble's NOOK business, and the PIPE investment by Liberty Media
H.J. Heinz and 3G Capital in Heinz's $60 billion merger with Kraft Foods Group to form The Kraft Heinz Company
The special committee of the J.Crew board of directors in its $3 billion leveraged buyout by TPG and Leonard Green
The Jones Group in its $2.2 billion sale to Sycamore Partners; its acquisitions of Barneys New York, Gloria Vanderbilt Apparel and Nine West Group; and its successful hostile acquisition of Maxwell Shoe Co. 
The Kraft Heinz Company in its proposed $143 billion acquisition of Unilever and the $3.2 billion sale of its cheese businesses to Groupe Lactalis
The special committee of the Pilgrim's Pride board of directors in its $1.3 billion acquisition of Moy Park from JBS
Restaurant Brands International in its $1.8 billion acquisition of Popeyes Louisiana Kitchen and its $1 billion acquisition of Firehouse Restaurant Group
ENERGY AND NATURAL RESOURCES
Cameron International in its $15 billion sale to Schlumberger and previously in the formation of its OneSubsea joint venture with Schlumberger
Chevron in its $7.6 billion acquisition of PDC Energy, its $3.15 billion acquisition of Renewable Energy Group, its $13 billion acquisition of Noble Energy, its proposed $50 billion acquisition of Anadarko Petroleum, and its successful $18 billion offer to acquire Unocal and in CNOOC's competing offer to acquire Unocal
Delta Air Lines in its acquisition of ConocoPhillips' Trainer refinery 
Grant Prideco in its $7.4 billion sale to National Oilwell Varco
Minerals Technologies in its successful $1.7 billion unsolicited offer to acquire AMCOL International and in Imerys' competing offers to acquire AMCOL
FINANCIAL INSTITUTIONS
AerCap Holdings in its $7.6 billion acquisition of International Lease Finance Corporation (ILFC) from AIG
The special committee of the Delphi Financial board of directors in its $2.7 billion sale to Tokio Marine Holdings
Deutsche Börse in its proposed $10 billion merger of equals with NYSE Euronext and in Nasdaq OMX and Intercontinental Exchange's competing offer to acquire NYSE Euronext
General Electric in the more than $30 billion combination of its jet leasing unit, GE Capital Aviation Services (GECAS), with AerCap Holdings
Paine Webber in its $15 billion sale to UBS
HEALTHCARE
Alere in its $5.3 billion sale to Abbott Laboratories
Alexion Pharmaceuticals in its $1.4 billion acquisition of Portola Pharmaceuticals
ARIAD Pharmaceuticals in its $5.2 billion sale to Takeda Pharmaceutical Co.
Biogen in the $5 billion spin-off of its global hemophilia business into a separate publicly traded company (Bioverativ)

Bioverativ in its $11.6 billion sale to Sanofi
General Electric in the $21.4 billion sale of its biopharma business to Danaher
The Medicines Company in its $9.7 billion sale to Novartis
Merck & Co. in its $11.5 billion acquisition of Acceleron Pharma and its $10.8 billion acquisition of Prometheus Biosciences
Mylan in its successful defense against a $40 billion hostile takeover offer from Teva Pharmaceutical Industries, its $35 billion hostile offer to acquire Perrigo, and its $5.6 billion inversion acquisition of Abbott Laboratories' non-U.S. developed markets specialty and branded generics business 
The independent directors of Par Pharmaceutical Co. in its $2 billion leveraged buyout by TPG
Teladoc Health in its $18.5 billion acquisition of Livongo Health
INDUSTRIALS
Alcoa in the $2.7 billion sale of its packaging and consumer businesses to Rank Group
Carrier in its €12 billion acquisition of Viessmann Climate Solutions and the $3.1 billion sale of its Chubb fire and security business to APi Group Corporation
General Electric in its reorganization through spin-offs into three separately traded companies
General Motors Co. in its $3.45 billion acquisition of SoftBank Vision Fund's equity ownership stake and assumption of Softbank's investment obligation in the autonomous vehicle joint venture Cruise
The Goodyear Tire & Rubber Company in its $2.5 billion acquisition of Cooper Tire & Rubber Company
Hertz Global Holdings in its successful $2.6 billion unsolicited offer to acquire Dollar Thrifty Group and in Avis Budget Group's competing offers to acquire Dollar Thrifty
Honeywell International in the spin-off of its resins and chemicals business into a separate publicly traded company (AdvanSix), the spin-off of its turbochargers business into a separate publicly traded company (Garrett Motion), and its unsolicited $90 billion offer to acquire United Technologies
Intertape Polymer Group in its $2.6 billion sale to Clearlake Capital 
Martin Marietta Materials in its $3.2 billion acquisition of Texas Industries
Nalco Holding Co. in its $8 billion sale to Ecolab
Trane Technologies in the $15 billion Reverse Morris Trust spin-off and merger of its industrial business with Gardner Denver Holdings
WestRock in its $20 billion combination with Smurfit Kapp
LODGING, REAL ESTATE AND REITS
Global Infrastructure Partners in its $15 billion acquisition (together with KKR) of CyrusOne
ILG in its $4.7 billion sale to Marriott Vacations Worldwide
QTS Realty Trust in its $10 billion sale to Blackstone
Starwood Hotels & Resorts in its $13.6 billion sale to Marriott International and in Anbang Insurance Group's competing offers to acquire Starwood

Taylor Morrison in its $2.4 billion acquisition of William Lyon Homes and its $1 billion acquisition of AV Homes
MEDIA AND ENTERTAINMENT
CBS in its $70 billion merger with Viacom
Gannett in its $2.2 billion acquisition of Belo
JACK Entertainment in transactions aggregating more than $2.5 billion in value, including the sale of Greektown Casino-Hotel to Penn National Gaming and VICI Properties; the sale of JACK Cincinnati Casino to Hard Rock International and VICI Properties; the sale Turfway Park to Churchill Downs; and the sale of JACK Cleveland Casino and JACK Thistledown Racino to VICI Properties
Mandalay Resort Group in its $8 billion sale to MGM Mirage
Regal Cinemas in its $2.3 billion leveraged buyout by KKR and Hicks, Muse, Tate & Furst
World Wrestling Entertainment in its agreement with Endeavor Group Holdings to merge WWE with UFC to form a new publicly listed company with an enterprise value of $21.4 billion
TECHNOLOGY AND TELECOMMUNICATIONS 
Aptiv in the formation of a $4 billion autonomous-driving joint venture with Hyundai Motor Group and its $4.3 billion acquisition of Wind River from TPG Capital
CDK Global in its $8.3 billion sale to Brookfield Business Partners
The special committee of Duck Creek Technologies' board of directors in connection with Duck Creek's $2.6 billion take-private sale to Vista Equity Partners
IBM in acquisitions and dispositions aggregating more than $75 billion in value, including its $34 billion acquisition of Red Hat, its
$4.6 billion acquisition of Apptio and its spin-off of its managed infrastructure services business into a separate publicly traded company (Kyndryl)
The independent directors of JDA Software Group in its $2 billion leveraged buyout by New Mountain Capital
The independent directors of MCI in its $8.5 billion sale to Verizon and in Qwest Communications' competing offers to acquire MCI
NTT DoCoMo in restructuring its $10 billion strategic investment in AT&T
Nuance Communications in the spin-off of its automotive software business into a separate publicly traded company (Cerence) and its $19.7 billion sale to Microsoft
Qualcomm in its successful defense against a $142 billion hostile takeover offer from Broadcom, its proposed $47 billion acquisition of NXP Semiconductors, its $4.5 billion topping bid, alongside SSW Partners, for Veoneer, and its $3.2 billion acquisition of Atheros Communications
Xerox in the spin-off of its services business into a separate publicly traded company (Conduent), its $8.4 billion acquisition of Affiliated Computer Services, its $1.5 billion acquisition of Global Imaging Systems, and the $1 billion sale of its information technology outsourcing business to Atos
TRANSPORTATION
Air Methods in its $2.5 billion sale to affiliates of American Securities
Burlington Northern Santa Fe (BNSF) in its $44 billion sale to Berkshire Hathaway
Delta Air Lines in its acquisition of 49% of Virgin Atlantic from Singapore Airlines and in Delta's related trans‑Atlantic joint venture with Virgin
United Airlines in its $7 billion merger of equals with Continental Airlines and in numerous other acquisitions and joint ventures
Scott is a trusted advisor to many of the largest public companies and their boards of directors defending against hedge fund activism. His representations in this area have included:
ADP in its successful proxy contest against Pershing Square Capital Management
Air Methods in the activist campaign by Voce Capital Management
Apple in the activist campaign by JANA Partners
ARIAD Pharmaceuticals in the adoption of its shareholder rights plan and in the activist campaign by Sarissa Capital
Avon in the activist campaign by Barington Capital
Barnes & Noble in the adoption of its shareholder rights plan (upheld by the Delaware Chancery Court and the Delaware Supreme Court), its successful proxy contest against Ron Burkle and The Yucaipa Companies, and in separate activist campaigns by Pershing Square Capital Management and Sandell Asset Management
BHP Billiton in the activist campaign by Elliott Management
Cameron International in activist defense against JANA Partners and Elliott Management
CDK Global in the activist campaign by Elliott Management
Cheniere Energy in the activist campaign by Carl Icahn
Chico's FAS in its successful proxy contest against Barington Capital and in connection with unsolicited takeover offers from Sycamore Partners
Commvault Systems in the activist campaigns by, and settlement agreements with, Elliott Management and Starboard Value
Dana Incorporated in the share accumulation by, and settlement agreement with, Icahn Capital
Emerson Electric in the activist campaign by D.E. Shaw to split Emerson's industrial automation business from its climate technology business
Exelixis in its proxy contest against Farallon Capital Partners
Gannett in its successful acquisition of Belo, which was challenged by various arbitrageurs and hedge funds
Goodyear in the activist campaign by Elliott Management
Harris Corporation in the activist campaign by JANA Partners
Helix Energy Solutions in activist defense against Greenlight Capital
Hertz Global Holdings in the adoption of its shareholder rights plan, its settlement agreement with Carl Icahn, and in share accumulations by Corvex Management, Third Point and JANA Partners
Hologic in the adoption of its shareholder rights plan and in activist campaigns by Carl Icahn and Relational Partners
Honeywell International in the activist campaign by Third Point

Intel Corporation

in the activist investment by Third Point

The Jones Group in the activist campaign by Barington Capital and in share accumulations by Greenlight Capital
King Pharmaceuticals in share accumulations by Perry Capital
Masimo in its proxy contest against Politan Capital Management
McDonald's in its successful proxy contest against Carl Icahn
Merck & Co. in its successful acquisition of Acceleron Pharma, which was challenged by Avoro Capital
NCR in the activist campaign by Marcato Capital Management and in share accumulations by JANA Partners and Corvex Management
Par Pharmaceutical Co. in the activist campaign by Relational Partners
Perspecta in the activist investment by JANA Partners
Qualcomm in the activist campaign by JANA Partners
Randstad in its successful acquisition of Monster Worldwide, which was challenged by an entity controlled by Alden Global Capital
Red Robin Gourmet Burgers in connection with an unsolicited takeover offer from Vintage Capital Management, the adoption of its shareholder rights plan, its proxy contest against and settlement agreement with Vintage, and the activist campaign by VIEX Capital Advisors
Sara Lee in the activist campaign by ValueAct Capital
Starwood Hotels & Resorts Worldwide in share accumulations by JANA Partners and Third Point
Suncor Energy in the activist campaign by, and settlement agreement with, Elliott Management
Web.com in the activist campaign by Okumus Fund Management