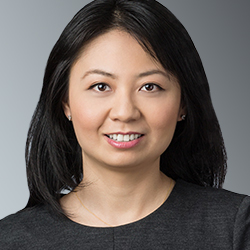 Yuni Yan Sobel is a counsel in the Mergers & Acquisition Group of the Corporate Department. Her practice focuses on analyzing competition issues in the U.S. and cross-border mergers, acquisitions, and joint ventures and counseling clients through the Hart-Scott-Rodino Act and global merger control review process.
Yuni is an Executive Committee member of the Antitrust Section of the New York State Bar Association and a member of the American Bar Association.
During her time at University of Pennsylvania Law School, she was elected to Order of the Coif and was a recipient of the Bernard A. Chertcoff Prize for excellence in taxation and the Frank H. Gelman Prize for excellence in real estate. She served as a member of the University of Pennsylvania Law Review, and an articles editor for the East Asia Law Review. Yuni was also a recipient of Nelson A. Rockefeller Prize for excellence in Economics from Dartmouth College.
Publications
Domestic-to-Domestic Transactions (2014-2015) - A Narrowing Gap in China's Merger Control Regime, The Antitrust Source, February 2016
Non-Reportable Domestic Megamergers in China's Red-Hot Internet Industry, The Antitrust Source, Volume 15 Issue 1, October 2015
Domestic-to-Domestic Transactions--A Gap in China's Merger Control Regime?, The Antitrust Source, February 2014
Minimizing Potential Privilege Implications Caused by Schedule UTP, 3 Colum. J. Tax L. Tax Matters 17 (2012)