Paul, Weiss, Mandela: A Proud Collaboration
July 20, 2018
In 1993, as Nelson Mandela barnstormed through the United States to champion South Africa's first post-apartheid, democratic elections, he turned to Paul, Weiss, and to partner Ted Sorensen, to organize the South Africa Free Election Fund (SAFE). With the firm's support, this crucial voter education initiative would reach millions of first-time voters in one of the most important elections of the 20th century. July 2018 marks the 25-year anniversary of the firm's work on behalf of SAFE.
"Our pro bono effort on behalf of SAFE and the democratic cause was one of the most impactful and rewarding assignments in firm history," recalls Paul, Weiss corporate partner Marco V. Masotti. "SAFE was one of my first assignments when I arrived at the firm in 1993, and it meant a lot to me personally, having grown up in South Africa. The firm's full support of SAFE said a lot about the DNA of Paul, Weiss, which persists to this day."
Enfranchising South Africa's black majority for the first time, the 1994 election had the potential to end decades of rule by the National Party, the dominant political power of the apartheid era. But given their historic exclusion, many black South Africans lacked understanding of how elections worked. Illiteracy and misinformation—sometimes deliberately sown—were common.
Mandela realized that a genuinely democratic election required an educated and mobilized electorate. As he commented to The New York Times, "What we want is to have the capacity on the day of the election to bring our people from their homes, from their places of work, to the voting booth. If we don't have that capacity, we may lose the election even though we may be the most popular party." Together, Mandela and Sorensen would conceive SAFE, a non-partisan organization that would raise money from U.S. corporations and foundations to support voter education efforts. Paul, Weiss alumnus Christian Merkling (PW 1990) acted as Sorensen's lieutenant, coordinating pro bono legal services and plunging into an unfamiliar world of charitable fundraising. He recalls, "Mandela knew that the ANC would win a free and fair election—and so his interest, when seeking help in the United States, was in raising resources to that 'neutral' end. This was buttressed by Ted Sorensen's knowledge and advice concerning American 501(c)(3) requirements, and so SAFE was born. Ted's inimitable love (and gift) for wordplay provided an acronym (and, working backwards, a name) suited to the emphasis on fair process rather than electoral outcome. I think this project stood out as among the more enjoyable of his career, which is no small thing."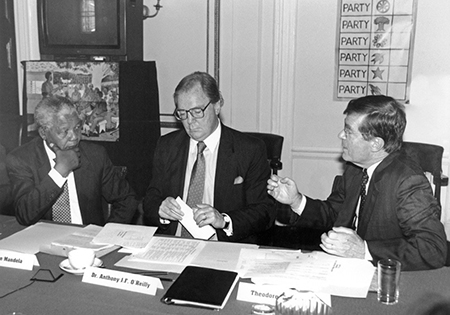 Paul, Weiss's A. Leon Higginbotham, formerly Chief Judge of the U.S. Court of Appeals for the Third Circuit, was tapped to serve as co-chairman of SAFE together with Tony O'Reilly, chairman of H.J. Heinz Co. SAFE's Board included prominent figures from government and the private sector, including former Ugandan Minister of Foreign Affairs and Permanent Representative to the United Nations Olara Otunnu, former Secretary of State Cyrus R. Vance, former Chief of the Cherokee Nation Wilma Pearl Mankiller, former World Bank president and Defense Department Secretary Robert S. McNamara, and chairman of the Harlem Globetrotters Mannie Jackson. In 1993, when Mandela's two-week tour of the U.S. coincided with SAFE's official launch, he visited Paul, Weiss's New York office to attend the first meeting of its Board of Directors.
SAFE raised more than $6.5 million, with Paul, Weiss attorneys contributing many hours of pro bono work. With the funds, SAFE supported a range of creative education efforts designed to reach people who had never before voted. As the New York Law Journal reported, "Paul, Weiss has become the first law firm to partially underwrite a radio soap opera, a rap group's concert tour and a comic book." SAFE funded more than 50 such programs that reached an estimated seven million of South Africa's 22 million eligible voters before the 1994 election.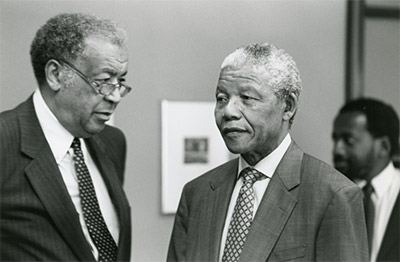 In a letter preserved in the firm's archives (see below), Mandela wrote to Sorensen: "Ted, thank you for responding to our request to establish a mechanism for supporting voter education initiatives in South Africa. Your generosity in taking our challenge a step further by becoming a pro bono lawyer for the South Africa Free Election Fund (SAFE) was obviously prompted by your legendary commitment to the democratic cause. We are truly honored and grateful to have you on our side."
Paul, Weiss alumna Loren Braithwaite Kabosha (PW 1990) helped coordinate Mandela's first visit to the U.S. in 1990 and would later co-chair a conference on international investment opportunities in South Africa. In 1992, Thabo Mbeki, the future president of South Africa, would accompany Kabosha to Paul, Weiss's New York office to meet Sorensen; out of conversations like these, SAFE would grow from the seed of an idea into what Kabosha describes as a "flagship project" for both herself and the firm. "It is telling that in his autobiography, Ted Sorensen calls SAFE one of the most meaningful projects of his career," she recalls. "I feel much the same way. Working on SAFE changed the trajectory of my life and allowed me to make an impact for a cause that had long been important to me." By 1993, she moved to South Africa full time to develop SAFE initiatives in the lead-up to the election; today, Kabosha is CEO of the South African Communications Forum. Considering the passage of 25 years, Merkling, also now resident in South Africa, notes, "In truth it's hard to place myself back in the context of South Africa's first post-apartheid elections, not because of failing memory but because I've lived in the country for 22 of the ensuing 24 years. The excitement of that time has long been surpassed by the consciousness of just how difficult it is to build an enduring and vibrant democracy." He credits SAFE with contributing to South Africans' continuing faith in legal and electoral due process, a commitment that persists today.
To learn more about SAFE and the legacy of Ted Sorensen, visit the Sorensen Center for International Peace and Justice.