Paul, Weiss is committed to providing impactful pro bono legal assistance to individuals and organizations in need. Our program is all-encompassing, spanning the core issues facing our society.
Paul, Weiss 2022 Summer Associates Contribute to High-Impact Pro Bono Work
August 1, 2022
The Paul, Weiss 2022 summer program offered our summer associates opportunities to build on their substantive legal skills by working on impactful matters for our pro bono clients. This year's 10-week, in-person program allowed our summer associates to work closely with attorney teams and make meaningful contributions on a broad range of public interest matters that touch on the core issues society currently faces.

Members of our Pro Bono team and a group of summer associates provided legal assistance through New York Legal Assistance Group's Mobile Legal Help Center.
During their time at Paul, Weiss, nearly 85% of summer associates worked on a pro bono matter. They assisted on matters ranging from working with our Reproductive Rights Task Force to launch a hotline providing abortion access resources to individuals and health care providers in New York in the wake of the recent Supreme Court decision on abortion in Dobbs, to assisting with temporary protective status applications for Ukrainian refugees impacted by the war. Other crucial work included assisting in the firm's efforts to stop gun violence alongside the Giffords Law Center to Prevent Gun Violence and the Brady Center to Prevent Gun Violence; researching anti-LGBTQIA+ and anti-critical race theory laws that threaten the provision of mental health and suicide prevention support in schools; securing transgender name changes alongside the Transgender Legal Defense and Education Fund; supporting poverty-fighting nonprofits during our transactional clinic with the Robin Hood Foundation; conducting in-person legal screenings in low-income communities throughout New York City with NYLAG's Mobile Legal Help Center; and working as poll monitors in critical primary elections to help support free and fair elections.
Summer associates also attended pro bono lunch-and-learn sessions hosted by attorneys, which highlighted key pro bono efforts like the recent Dobbs decision, gun violence prevention efforts, and Paul, Weiss's economic empowerment initiative supporting New York communities and low-income small business owners.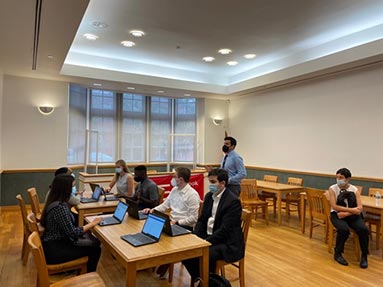 Members of the Paul, Weiss team join a NYLAG training at the Red Hook Community Justice Center.
Substantive pro bono assignments were memorable skill-building tools for both transactional and litigation summer associates. "In the wake of the Dobbs v. Jackson Women's Health Organization decision, substantively contributing to Paul, Weiss's efforts to protect reproductive rights has been nothing short of a defining professional experience," says Lauren Heide, a New York summer associate who participated in the Reproductive Rights Task Force. "I worked on several fascinating constitutional research assignments with my fellow summer associates, listened to calls with concerned physicians and third parties, and presented my research to partners and associates at weekly task force meetings."
With so many pro bono opportunities to choose from, summer associates were encouraged to choose the matters that spoke to them the most. "I participated in remote election monitoring both prior to and on election day in South Carolina. Voter suppression is one of the most important issues of the day. I was grateful to be able to work with the Legal Defense Fund to make a real difference by helping to protect our elections," says corporate summer associate Robert Quelch. "The pro bono opportunities at Paul, Weiss are endless, and the firm found the perfect project that aligned with my interests."
Pro bono work has provided our summer associates with opportunities to meaningfully interact with clients who rely on us to guide them through what are often life-changing matters for them. "I was given the chance to interact with and interview clients one-on-one and gain exposure to a variety of legal issues that I otherwise would not have seen through work on billable matters," says summer associate Irini Tsounakas, who participated in the transgender name change clinic, the Robin Hood Foundation Nonprofit Legal Health Check-Up and the NYLAG Mobile Legal Help Center. "Much of this work, especially the transgender name change clinic, felt incredibly fulfilling, because I was working directly with someone for whom my work was making a real difference. If I could do my summer again, I would take on even more pro bono projects."