Paul, Weiss in Beijing: A New Chapter
October 19, 2018
In August 2018, Paul, Weiss's Beijing office moved to Fortune Financial Center, the second-tallest office tower in the metropolis. The firm's relocation provided an opportunity to reflect on the office's storied history and future plans. One of mainland China's first foreign law firms, Paul, Weiss first opened its office in Beijing in 1981 when Jerome A. Cohen, widely acknowledged as a leading expert on Chinese legal systems, joined the firm as a partner. Thirty-seven years later, Paul, Weiss continues to thrive in China, standing as one of the longest continuous presences of any foreign law firm in mainland China.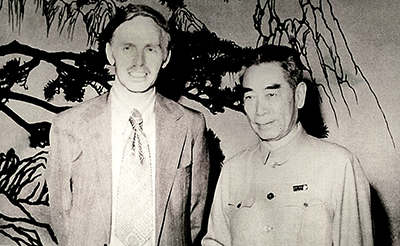 Cohen's path to the firm was unusual. In 1964 he had founded the East Asian Legal Studies Center at Harvard Law School, where he also served as professor of law and associate dean. At the time, Cohen recalls, his wife, Joan Lebold Cohen, a budding art historian and mother of three, informed him that, though Chinese legal studies were a worthy area of study, the field "is unlikely to have much practical application. We'll have to live off our academic salary."
By 1981, however, China was experiencing a political and economic transformation, and Cohen perceived an opportune moment to transition to legal practice. Paul, Weiss, meanwhile, acknowledged that market forces were increasingly driving international work and engaged Cohen to launch its Asia presence. His legal scholarship, recent experience practicing in China and ability to recruit talented former students proved a powerful combination for the firm, which was quickly growing and gaining a reputation for handling landmark transactions.
Recently, Cohen and other Paul, Weiss alumni shared reflections on the firm's early days in China.
Jerry Cohen: Cohen, now Of Counsel at Paul, Weiss and professor and faculty director of the U.S.-Asia Law Institute at NYU School of Law, recalls the early growth of the firm. "When I joined Paul, Weiss, I only brought with me one colleague, my able former Harvard Law School student Steve Orlins, later a successful investment banker and now president of the National Committee on U.S.-China Relations. We also couldn't have launched successfully in Beijing without persuading another of my former Harvard Law students, Jamie Horsley, to represent us there. At first, my most important China client at the time expressed doubts about a woman lawyer as their China counsel. Three years later, the same client was very sorry to see her reassigned to our New York office, as she had done an outstanding job for them!"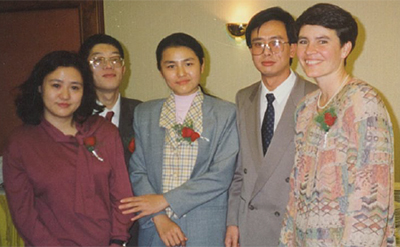 Jamie Horsley (PW 1981): As a resident attorney, Jamie Horsley operated out of Room 1636 of the Beijing Hotel from October 1981 to March 1984, later serving as managing partner for the firm's China practice in Beijing, Shanghai and Hong Kong in the late 1980s. Now a Visiting Lecturer in Law at Yale Law School, Senior Fellow at Yale's Paul Tsai China Center and a Visiting Fellow at The Brookings Institution John L. Thornton China Center, she recalls, "Since the early days of China's 'Reform and Opening' and throughout the vagaries of the U.S.-China relationship, Paul, Weiss lawyers have helped clients navigate the twists and turns of law, the economy and politics. It was an honor and an adventure to be part of Paul, Weiss's first decade in China, working with Jerry and so many others.
"I am proud to see how the practice has endured and flourished. In today's rapidly changing world and legal landscape, I have no doubt that Paul, Weiss will continue to lead at the cutting edges of the law and to serve as a bridge connecting businesses, individuals and other clients in the U.S., China and elsewhere."
Larry Bates (PW 1986): "I joined Paul, Weiss in New York after graduation from Harvard Law School in 1986, primarily because of its pre-eminent China practice, led by Jerry Cohen. I had majored in Chinese studies at Yale and been assigned to Wuhan University in 1980-1982 as a Yale-China teaching fellow. I hoped to be able to pursue my professional and academic interest in China, while developing my career at one of the best New York law firms. I was nonetheless surprised when Jerry asked me, barely into my second year at the firm, to go to Beijing to head the office there, under the direct supervision of Jamie Horsley in Hong Kong. I of course jumped at the opportunity—and what an opportunity it was! I participated directly in negotiations with and on behalf of clients from the U.S., Japan and Europe, and interfaced directly with a myriad of Chinese government agencies on complex regulatory questions on which there were often no precedents.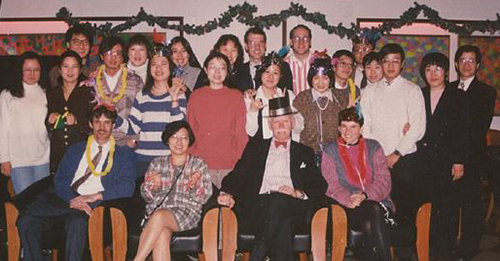 "The lawyering skills I learned in my first year at New York were put into practice in high gear in Beijing, and have no doubt contributed immeasurably to my professional and personal life trajectory. And some of my best friends in the world are those who were, or are still, engaged in the Paul, Weiss China Practice.
"On a personal note, I met my Chinese life partner Paul Ma during my Beijing sojourn. We later moved to Japan, where I undertook a Fulbright Professional Research Grant at Tokyo University, which in turn launched me on my in-house career with GE in Japan and Hong Kong (22 years), LIXIL Group Corporation (four years), and now as Executive Board Member and General Counsel at Panasonic Corporation since April 2018."
Libin Zhang (PW 1997): Broad & Bright Partner Libin Zhang was an associate in Paul, Weiss's Beijing office from 1997-2000. "My legal career started in Paul, Weiss in 1989 when I was recruited as a paralegal in Paul, Weiss's Beijing office," he recalls. "My mentor at that time was Larry Bates, who then left for Tokyo. I remember assisting Jerry Cohen and Tim Gelatt and other lawyers in Paul, Weiss, representing foreign clients in negotiating joint ventures projects and handling arbitration cases in China. These Paul, Weiss colleagues helped me grow and guided me in the early years of my legal career. Soon, however, Jerry Cohen would tell me, 'You cannot be a paralegal forever. Go to law school.' Jerry personally wrote a recommendation letter for me. Without him, and my mentor Helena Kolenda and other colleagues from the Beijing office, I would not have been able to graduate from the University of Texas at Austin Law School.
"Today, I maintain a working relationship with Paul, Weiss. My practice is corporate/M&A and dispute resolution in China, with a focus on the energy sector (oil and gas and renewable power projects). As a partner with Broad & Bright, a prestigious local Chinese law firm, I have advised clients on projects for both foreign and Chinese clients. I also hear arbitration cases in CIETAC and the Beijing Arbitration Commission, sometimes attending arbitrations in Singapore and London as a Chinese energy law expert witness or as PRC counsel. I also teach in Chinese law schools as an adjunct professor and am the deputy director of the Peking University Energy Law & Policy Research Institute. In the years ahead, I look forward to working with Paul, Weiss as an alumnus and colleague in legal practice."
As in years past, the China Practice continues to work on historic, cutting-edge business transactions in China, says partner Xiaoyu Greg Liu. "We have played a role in a number of precedent-setting transactions in China over the years, including one of the largest buyouts in China; one of the largest private financings of a Chinese company; and several ground-breaking media, theme parks and other joint ventures," he notes.
One thing remains constant, notes partner Judie Ng Shortell: the firm's peerless reputation in the region. "Paul, Weiss has a tremendous reputation in the market in these areas and continues to operate as an extension of our U.S. team," Judie notes. "In addition to assisting foreign investors entering China, which was our core practice in the eighties and nineties, we have expanded our expertise on assisting Chinese corporates and investors in their ambitions globally."