Programs & Networks
We have a comprehensive approach to helping our women lawyers thrive and grow.
The Women's Network creates community and opportunities for mentoring through its programming. Highlights include:
Career chats with women partners and clients, including Deputy Chair Valerie Radwaner, Loretta Lynch and Jeannie Rhee, that are candid conversations about their career journeys. As one associate noted, "It reminded me that there is no single path – I need to forge my own path for success."
Book Club that includes hundreds of women, all reading the same book and gathering to create meaningful friendships across the firm.
Gender Bias and Women's Rights programming on such issues as the Equal Rights Amendment (ERA) and the firm's amicus brief on behalf of the business community, reproductive rights and the firm's amicus brief in June Medical, and gender bias in the courtroom with Legal Momentum.
Informal Mentoring through small group gatherings like Women in M&A bi-monthly get-togethers, fun activites hosted by partners, and community service events such as the Making Strides for Breast Cancer walk.
Virtual Lounges: To keep women connected and informal mentoring relationships to continue during time apart, the Network launched a bi-weekly virtual lounge series over the shared experiences of 2020. Each lounge is hosted by a partner and has a theme related to pandemic living – from becoming a pet owner to favorite TV recommendations.
Transforming Women's Leadership in the Law
Paul, Weiss has been involved with Thomson Reuters' Transforming Women's Leadership in the Law Initiative (TWLL) since its formation. Our Deputy Chair, Valerie Radwaner, is a founding member of the TWLL Advisory Board. Paul, Weiss partners have participated with Thomson Reuters leadership and others on several D&I related panels and conferences facilitated through TWLL, including:
TWLL Rising Stars
In addition, four of our women partners have participated in the TWLL Rising Star program connecting law firm partners with in-house counsel for relationship building and mentoring: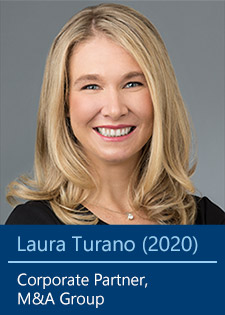 To nurture the next generation of talented women in-house and law firm leaders, we needed a forum for women lawyers to share their stories and support each other. TWLL provides that crucially important forum. 
Valerie Radwaner, TWLL Advisory Board member
Strategic External Partnerships
In addition to TWLL, the Women's Network has key partnerships with organizations that promote networking and skill building for women in law and business, including:
100 Women in Finance
Diversity & Flexibility Alliance
The National Association of Women Lawyers (NAWL)
The National Women's Law Center
The Women's Bar Association in DC
Women's Leadership Edge at UC Hastings