The Operations Team contributes to the success of Paul, Weiss by using our talents to inspire one another, work collaboratively, and develop innovative solutions that deliver exceptional service to our clients.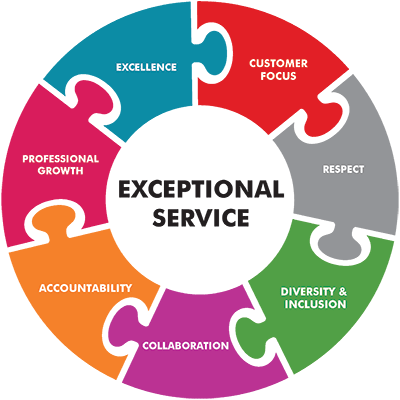 Our Values
Excellence. We plan, execute and innovate effectively to deliver performance and results that far surpass the ordinary in everything we do.
Produce high quality, error free and timely work
Go above and beyond to determine the best way to achieve desired outcomes and results
Look for opportunities, offer suggestions and implement appropriate improvements
Be passionate about our jobs and the support and services we deliver
Be willing to fail and allow failure as part of the innovation process
Customer Focus. We treat every interaction with clients and colleagues as a priority, regardless of position, status or title.
Help our clients exceed the expectations of their clients
Anticipate client needs
Keep the best interests of our clients in mind when defining our goals
Set and manage client expectations
Be thoughtful and appreciate the demands and constraints under which our clients are operating
Respect. We treat each other in a professional and courteous manner.
Be thoughtful, considerate and supportive of our colleagues
Actively listen to what the others are saying
Be open to different ideas and viewpoints – value and embrace the concepts, opinions and ideas of others
Engage in open and honest communication
Address issues directly and forthrightly with each other
Diversity & Inclusion. We are committed to creating a supportive and inclusive environment of people with diverse backgrounds and experiences.
Respect the varied cultures and traditions of the individuals who comprise our organization
Embrace the value of different backgrounds and points of view
Create and support an inclusive environment
Treat others the way they want to be treated
Be committed to the hiring, development and success of people from a wide variety of backgrounds
Collaboration. We demonstrate and encourage working together within and across functions.
Work together to achieve common goals
Create an environment where everyone is comfortable contributing and seeking ideas, regardless of their role in the organization
Include all stakeholders in the decision making process
Work effectively with individuals and teams outside of our own and to break down silos
Develop and maintain relationships across departments
Accountability. We accept responsibility for our actions and our outcomes.
Deliver agreed-upon results within the agreed-upon time frame
Act with integrity, honesty & ethics
Hold each other to our commitments
Recognize the actions & contributions of others
Own up to mistakes, offer corrective measures and use the experience as a learning opportunity
Professional Growth. We are committed to the continuous learning, coaching & mentoring of our colleagues, as well as taking responsibility for our own growth and development.
Recognize that to be the best, we need to continually learn and grow
As managers and leaders, actively coach and mentor staff; as individuals, be open to coaching
Share knowledge with each other
Encourage and participate in professional development opportunities at the individual, team and firm level
Proactively seek development both in our areas of subject matter expertise and competencies, such as problem solving and communication