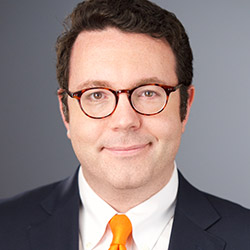 Wilmington
500 Delaware Avenue, Suite 200, Post Office Box 32
Wilmington, DE 19899-0032
Fax: +1-302-397-2758
+ vCard
ADD TO CONTACTS
As counsel in the Corporate Department and a member of the Mergers & Acquisitions Group, Jason Tyler focuses his practice on transactional and corporate-governance related issues, including public and private company M&A, restructurings and other significant transactions, takeover defenses and stockholder activism and other governance and fiduciary duty issues. Jason has significant experience advising boards of directors, special committees, sponsors and other investors and corporate clients in a broad range of matters in both specific M&A transactions and on-going, non-transactional bases.
Experience
Jason' s transactional experience includes representing:
Apollo Global Management, Inc. in its $11 billion merger with Athene
Apollo Strategic Growth Capital in its $5 billion business combination with American Express Global Business Travel, to form a publicly listed company
Churchill Capital Corp II in its combined $1.5 billion acquisition of Software Luxembourg Holding S.A. (Skillsoft) and Global Knowledge Training LLC from funds affiliated with Rhône Capital, to create a digital learning company
D1 Capital Partners, alongside entrepreneur Nat Turner and Cohen Private Ventures, in its $700 million acquisition of Collectors Universe
EarthLink Holdings Corp. in its approximately $1.1 billion merger with Windstream Holdings
The special committee of the board of directors of Empire Resorts in its sale to Kien Huat Realty III and Genting Malaysis Berhad
The independent directors of Far Peak Acquisition Corporation in its $9 billion combination with Bullish
IBM in the spin-off of its managed infrastructure services business into a separate publicly traded company
The Karfunkel-Zyskind Family, alongside a unit of Stone Point Capital LLC, in their take-private of AmTrust Financial Services, Inc., valuing AmTrust at approximately $2.95 billion and in connection with the associated settlement and support agreement with affiliates of Carl C. Icahn
Mosaic Acquisition Corp. in its merger with Vivint Smart Home, Inc. to form a publicly listed company with an enterprise value of approximately $4.2 billion
Nutraceutical International Corporation in its approximately $446 million sale to an affiliate of HGGC
The special committee of the board of directors of Perry Ellis International in connection with its merger with a group led by its founder, George Feldenkreis
SVF Investment Corp. 3, sponsored by an affiliate of SoftBank Investment Advisers, in its merger with Symbotic, to form a publicly listed company with a pro-forma equity value of $5.5 billion
UCP, Inc. in its merger with Century Communities, Inc.
Jason regularly writes on emerging issues in Delaware corporate law, including two pieces co-authored with retired Vice Chancellor Donald F. Parsons, Jr. of the Delaware Court of Chancery, a chapter in Research Handbook on Mergers and Acquisitions entitled "Activist stockholders, corporate governance challenges, and Delaware law" and an article in the Washington and Lee Law Review entitled "Docket Dividends: Growth in Shareholder Litigation Leads to Refinements in Chancery Procedures."
Jason is a member of the Corporation Law and LGBTQ+ sections of the Delaware State Bar Association.  From 2015 to 2022, Jason also served as an associate member of the Delaware Supreme Court's Board of Bar Examiners.