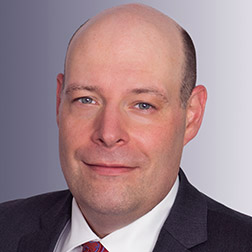 An Associate in the Litigation Department, David Cole focuses his practice on patent litigation matters. David has been extensively involved in all aspects of patent litigation, including proceedings before the Patent Trial and Appeal Board, the U.S. International Trade Commission and various federal district courts, and appeals to the U.S. Court of Appeals for the Federal Circuit.
David has litigated patents in a wide variety of areas, including therapeutic antibodies, recombinant DNA, drug delivery systems, medical devices and histology equipment, surgical imaging software, light-emitting diodes, safety equipment, and software related to financial services networks and online teaching platforms.
David was recently invited to speak at the IDA Science and Technology Institute where he gave a presentation entitled "Overview of the U.S. Patent System".
EXPERIENCE
Recent significant cases illustrating David's patent litigation experience include his representations of:
Genentech in litigations involving the bispecific antibody HEMLIBRA® (emicizumab-kxwh), approved to treat hemophilia A, as well as the anti-PD-L1 antibody TECENTRIQ® (atezolizumab);
Edwards Lifesciences in a case involving transcatheter heart valve repair systems; and
Nichia Corporation in the enforcement of its patent rights to white LEDs in nationwide litigations against multiple alleged infringers. In related USPTO challenges, the PTAB declined to institute IPR proceedings on four petitions brought by one of the alleged infringers.