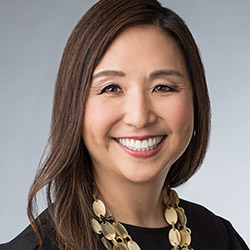 Jeannie Rhee is a dynamic litigator and former prosecutor with extensive trial and investigations experience who leads significant civil, white-collar and regulatory matters, oversees sensitive internal investigations, and advises clients on threatening cybersecurity and data-privacy matters. Jeannie serves as co-chair of the firm's Cybersecurity & Data Protection practice, deputy managing partner of the Washington, D.C. office and a member of the firm's Management Committee. Clients quoted in Chambers USA call Jeannie "a true professional" who "handles high-profile matters with care and ease." "Her passion is delivering for her clients, each and every time. Her ability to quickly assess the issues and marshal her network, and her amazing intellect in service of her clients, make her an amazing attorney."
EXPERIENCE
From May 2017 to 2019, Jeannie worked with Robert Mueller in the Special Counsel's Office, where she led the team investigating Russian cyber, social media and intelligence efforts to influence the 2016 presidential election. Jeannie's team was responsible for many of the office's significant accomplishments: the two Russia-related indictments, the prosecution of Trump associate Roger Stone, and the guilty pleas of attorney Michael Cohen and campaign advisor George Papadopoulos. Jeannie also helped secure the guilty plea of former campaign manager Paul Manafort. She served as Deputy Assistant Attorney General in the U.S. Department of Justice's Office of Legal Counsel between 2009 and 2011 and as an Assistant U.S. Attorney in the District of Columbia between 2000 and 2006. As an AUSA she handled more than 30 jury and bench trials involving public corruption, health care fraud, national security violations and other issues, and served as lead counsel in a congressional corruption investigation.
Jeannie has been recognized as one of the Top 250 Women in Litigation by Benchmark Litigation (2020-2023); as a "South Trailblazer" by The American Lawyer (2022); as one of the 500 Leading Litigators in America by Lawdragon (2022-2024); as "Woman Lawyer of the Year" by the Women's Bar Association of the District of Columbia (2020); and as a leading lawyer by Chambers in the Litigation: White-Collar Crime & Government Investigations (District of Columbia) category (2022-2023). She received the National Asian Pacific American Bar Association's Pro Bono Award in 2021.
Jeannie's representations include:
Litigation
An American multinational conglomerate in the successful settlement of a billion-dollar trade secrets misappropriation lawsuit against a direct competitor in the gas turbine industry.
An automotive technology leader in the development of both affirmative and defensive claims in potential litigation associated with the constrained supply of automotive chips.
A leading telecommunications service provider in the favorable settlement, on the eve of trial, of an expedited material adverse event litigation in the Delaware Chancery Court arising from the client's termination of a merger agreement.
A leading optical networking technology company in litigation in the Delaware Court of Chancery arising from its termination of a merger agreement for failure to obtain required regulatory approval, resulting in a successful revision of the merger agreement in which the client won an additional $2 billion in consideration.
A large defense contractor in the defense of fraud and misrepresentation claims made in an arbitration stemming from a failed joint venture, resulting in an award of attorney's fees and denial of all claims.
Investigations
A multinational technology company in an independent equity audit to address issues concerning its U.S. hourly workforce.
A multinational technology company in its response to an investigation by the Federal Trade Commission in connection with protecting sensitive consumer data against internal and external unauthorized access.
A multinational technology company in its response to a Consumer Financial Protection Bureau inquiry into the business practices of large technology companies operating payments systems in the U.S.
A prominent U.S. trade association in connection with a House Oversight and Reform Committee investigation and CEO-level hearing on climate change.
A prominent online company in internal investigations related to violations of conduct on the platform.
A parent multinational company in its response to federal criminal and civil investigations of a former subsidiary's marketing and sales practices of an opioid drug.
A major national sports league in an internal investigation of disciplinary practices for player misconduct.
A major multinational bank in its response to federal criminal cross-border money laundering and tax evasion investigations.
A major financial institution and several employees in their response to multiple agency investigations and prosecutions of potential mismarking and internal controls violations in the aftermath of significant losses.
A financial lender in its response to federal criminal and civil investigations and prosecution of fraudulent practices involving government guaranteed loans.
Cybersecurity
A prominent online company in a holistic review of the company's compliance program, including policies, procedures, systems and personnel regarding areas of key enterprise-wide risk.
A leading online company in a holistic redesign of the company's approach to compliance across key areas of regulatory focus.
A large defense contractor in its response to multiple federal agency investigations in connection with a headline cybersecurity/insider threat incident and the leak of classified information.
A major retailer and financial institutions in connection with numerous serious data breach incidents involving personally identifiable information and payment card data, including notice to millions of customers, PCI DSS forensic investigations, and related regulatory inquiries.
Customers and providers in connection with payment card breaches involving e-commerce sites, PCI DSS forensic investigations, national and international notice, third party liability issues and related regulatory and law enforcement inquiries.
Professional service providers in connection with cyber intrusions, ransom demands, related forensic investigation and law enforcement inquiries.