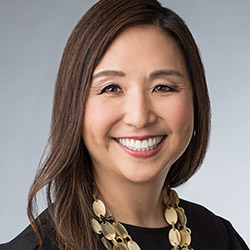 A partner in the Litigation Department, Jeannie Rhee is a versatile litigator and former prosecutor who tries significant civil, white-collar and regulatory matters, handles complex anti-corruption and other sensitive internal investigations, and advises clients in cybersecurity and data-privacy matters.
EXPERIENCE
Ms. Rhee's career includes senior national roles in public service as well as nearly a decade in private practice.
In May 2017, Ms. Rhee was asked by Robert Mueller to join the Special Counsel's Office, where she led the team investigating Russian cyber, social media and intelligence efforts to influence the 2016 presidential election. Ms. Rhee's team was responsible for many of the office's significant accomplishments: the two Russia-related indictments, the prosecution of Trump associate Roger Stone, and the guilty pleas of attorney Michael Cohen and campaign advisor George Papadopoulos. Ms. Rhee also helped secure the guilty plea of former campaign manager Paul Manafort.
Between 2009 and 2011, Ms. Rhee served as Deputy Assistant Attorney General in the U.S. Department of Justice's Office of Legal Counsel. There, she advised the Attorney General, the White House and senior agency officials on constitutional, statutory and regulatory issues regarding criminal law, criminal procedure, executive privilege, civil rights and national security.
From 2000 to 2006, Ms. Rhee served as an Assistant U.S. Attorney in the District of Columbia. In that capacity, she handled more than 30 jury and bench trials involving public corruption, healthcare fraud, national security violations and other issues, and served as lead counsel in a congressional corruption investigation. 
Over nearly a decade in private practice, Ms. Rhee represented a wide variety of companies and individuals, including at trial, favorably resolving criminal and civil fraud matters involving issues such as government-guaranteed loans, national security and cybersecurity breaches, tax shelter transactions, stock options backdating, public corruption, off-label drug promotion and environmental contamination.
Ms. Rhee served as a clerk for Judge Stanley Sporkin on the District Court for the District of Columbia and then for Judge Judith Rogers on the Court of Appeals for the District of Columbia Circuit.
SELECT PREVIOUS EXPERIENCE
Litigation
Represented the former Chief Accounting Officer of a national homebuilder at federal district court trial for conspiracy to commit securities fraud and obstruction of justice;
Represented a large defense contractor in arbitration trial for fraud and misrepresentation;
Represented a major government contractor in various claims disputes and whistleblower litigation over nuclear waste cleanup efforts; and
Defended a major financial institution and employees in litigation brought by the bankruptcy trustee of a collapsed money management firm involving claims of fraud and commercial bribery in connection with the purchase of collateralized debt obligations.
Investigations
Represented a parent multinational company in federal criminal and civil investigations of former subsidiary's marketing and sales practices of an opioid drug;
Represented a major national sports league in internal investigation of disciplinary practices for player misconduct;
Represented a major multinational bank in federal criminal cross-border money laundering and tax evasion investigations;
Represented a major financial institution and several employees in multiple agency investigations and prosecutions of potential mismarking and internal controls violations in the aftermath of significant losses;
Represented a financial lender in federal criminal and civil investigations and prosecution of fraudulent practices involving government guaranteed loans;
Represented a former federal agent in federal criminal investigation and prosecution of conspiracy, immigration fraud, and improper access to classified information;
Represented a former employee of a financial services company in federal criminal tax shelter investigation and prosecution;
Conducted an internal investigation for the special committee of a technology company regarding allegations of stock options backdating;
Defended a major pharmaceutical company in federal criminal and civil investigations into alleged off-label drug promotion; and
Represented a private secondary institution in an internal investigation of its handling of sexual misconduct and harassment claims.
Cybersecurity
Represented a large defense contractor in multiple federal agency investigations in connection with a headline cybersecurity/insider threat incident and the leak of classified information;
Represented major retailer and financial institutions in connection with numerous serious data breach incidents involving personally identifiable information and payment card data, including notice to millions of customers, PCI DSS forensic investigations, and related regulatory inquiries;
Represented customers and providers in payment card breaches involving e-commerce sites, PCI DSS forensic investigations, national and international notice, third party liability issues and related regulatory and law enforcement inquiries; and
Represented professional service providers in connection with cyber intrusions, ransom demands, related forensic investigation and law enforcement inquiries.