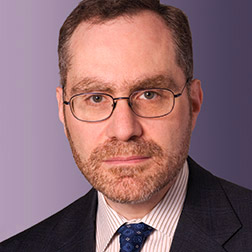 As counsel in the Litigation Department, Jonathan Hurwitz has handled complex litigation in a variety of substantive areas, including criminal and civil antitrust, securities, commodities, and general commercial disputes. He has handled all phases of pre-trial, trial and appellate work in state and federal courts throughout the country, including arguing multiple appeals, as well as in arbitration and before administrative agencies.
EXPERIENCE
Matters in which Jonathan has had extensive involvement include:
Representation of Fresenius Kabi AG at trial in successful action to terminate $4.3 billion merger with Akorn Pharmaceuticals Inc. on "material adverse change" and other grounds.
Representation of Cumulus Media Inc. in successful bankruptcy court trial approving confirmation of chapter 11 plan.
Representation of developer in dispute with electric utility regarding oil leak.
Representation of ExxonMobil Corp. in securities and ERISA litigation involving alleged nondisclosures relating to climate change risks.
Representation of Caesars Entertainment Corp. in bankruptcy proceedings, bankruptcy examiner investigation involving alleged fraudulent conveyances and breach of fiduciary duty, and related federal and state court litigation guarantees under bond indentures.
Defense of JPMorgan Chase Bank, N.A. in nationwide class actions and other cases commenced by pension funds involving bank's securities lending program, see, e.g., Bd. of Trustees of AFTRA Ret. Fund v. JPMorgan Chase Bank, N.A., 806 F. Supp. 2d 662 (S.D.N.Y. 2011).
Defense of Bear Stearns Companies Inc. in federal securities and derivative actions involving its near collapse and sale to JPMorgan Chase & Co. 
Representation of private equity funds in contract action against seller of call center operator, see Diamond Castle Partners v. IAC/Interactive Corp., 82 A.D.3d 421 (1st Dep't 2011).
Representation of Citigroup Global Markets Realty Corp. in litigation with borrower concerning mall development, see Destiny USA Holdings v. Citigroup Global Markets Realty Corp., 69 A.D.3d 212 (4th Dep't 2009).
Defense of Israel Aerospace Industries Ltd. in federal and state litigation with minority investors in satellite joint venture, e.g., Wilson v. Eckhaus, 2009 WL 3377922 (2d Cir.).
Representation of Citigroup Inc. in investor lawsuits arising from the bankruptcy of Enron corporation, see, e.g., In re Enron Corp. Securities, Derivative & ERISA Litigation, 235 F. Supp. 2d 549 (S.D. Tex. 2002).
Representation of Sumitomo Corporation in matters arising from alleged copper market manipulation, see, e.g., Loeb Industries, Inc. v. Sumitomo Corp., 306 F.3d 469 (7th Cir. 2002).