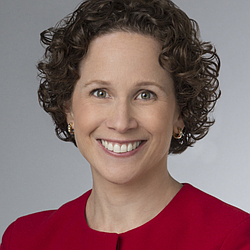 A partner in the Litigation Department, Karen Dunn is widely recognized as one of the nation's top trial lawyers. Karen has repeatedly secured courtroom victories in difficult cases on behalf of some of the world's most prominent companies, including leading technology companies. In addition to her trial experience, she is highly skilled at crisis management, helping companies, high-profile individuals and executives navigate reputation-threatening government investigations, congressional inquiries and media scrutiny.

Chambers USA reports that Karen's clients call her "one of the best lawyers on the planet," "a passionate advocate" with "a great ability to think on her feet" and that she has "attained an 'amazing reputation' for her role assisting corporate clients with some of their most high-profile crises." She was recently named a "Litigator of the Year" by The American Lawyer for her role in "high-stakes, high-profile and hard-fought" cases.

In addition to her private practice, Karen has served in all three branches of government, including as an Assistant U.S. Attorney in the Eastern District of Virginia; Associate White House Counsel under President Barack Obama; and Senior Advisor and Communications Director to former Sen. Hillary Clinton. In a recent profile on her crisis management practice, The American Lawyer noted that Karen's invaluable experience in the "upper echelons of the federal government" complemented her skills as a litigator. Karen also led presidential debate prep for President Obama in 2012 and Hillary Clinton in 2016. Earlier, she served as a law clerk to Judge Merrick B. Garland of the D.C. Circuit Court of Appeals and to Justice Stephen G. Breyer of the U.S. Supreme Court.

Karen dedicates significant time to public interest work, recently winning a legal battle to secure budget autonomy for the District of Columbia, and serving as co-lead counsel in a lawsuit against the leadership of the neo-Nazi and white supremacist movement responsible for violence in Charlottesville, Virginia, in August 2017.
EXPERIENCE
Recent examples of Karen's representations as lead or co-lead counsel include:
winning a complete defense victory in a $750 million case for a major technology company where she was brought in to lead the trial team just six weeks before trial;
securing a multi-billion dollar summary judgment win in one of the world's highest profile disputes between two major technology companies involving IP and antitrust;
securing a decision that struck down New York City's so-called cruising cap regulation, which would have changed the nature of ridesharing in New York;
winning a complete defense verdict for a top technology company in the portable music industry in a high-profile antitrust class action seeking $1 billion;
leading the defense of a major technology company in the most high-profile and hotly-contested trade secrets case ever taken to trial, resulting in a favorable settlement after four days of trial;
winning a $50 million verdict – later increased to $124 million in a judgment – in a three-and-a-half week jury trial for the plaintiff, a major technology company, in a suit alleging copyright infringement and state law computer fraud violations;
winning summary judgment in a fraud and securities in a dispute between two high profile technology companies;
assisting a high-profile technology company in an effort to counsel individuals affected by President Trump's first immigration Executive Order, resulting in numerous family reunions;
providing strategic and legal counsel to C-suite executives and in-house counsel at large multinational companies confronting simultaneous government investigations, litigation, congressional inquiries and media scrutiny;
preparing top executives of major U.S. companies for testimony before Congress, and providing strategic guidance and counsel to companies navigating congressional inquiries;
representing a high-profile witness in the course of simultaneous investigations by the Department of Justice, an agency Inspector General and a congressional committee; and
securing budget autonomy for the District of Columbia, following a two-year legal battle spanning local and federal courts, which resolved a longtime civil rights issue in the District.
AWARDS & RECOGNITIONS
Karen is ranked in Band 1 by Chambers and Partners in General Commercial Litigation and in the "Spotlight Table" for Crisis Management. She has been named one of the National Law Journal's "Outstanding Women Lawyers"; a "Litigator of the Week" three times by The American Lawyer as well as "Litigator of the Year"; one of Elle Magazine's "Most Compelling Women in Washington Now"; and one of Benchmark Litigation's "Top-10 Women in Litigation" and a "Top 100 Trial Lawyers." Additionally she has been recognized by Law 360 as both a "Trials MVP" and a "Technology MVP."