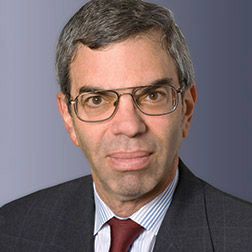 A partner in the Litigation Department and co-chair of the Securities Litigation and Enforcement group, Richard A. Rosen has extensive experience in civil litigation in the state and federal courts in the fields of securities, directors' and officers' liability, mergers and acquisitions, derivatives, banking, commodity futures and other complex business disputes.
EXPERIENCE
Richard has frequently represented public companies and underwriting syndicates in securities fraud class action litigations, as well as both issuers and investment banking firms in a wide variety of other securities matters. He has also defended many class actions involving open and closed-end funds and limited partnerships. Richard also often appears on behalf of directors and officers in derivative suits alleging breaches of fiduciary duty and as counsel for Special Litigation Committees.

Richard is listed for the twelfth consecutive year in the 2016 edition of Chambers USA: America's Leading Business Lawyers. Earlier this year, he was awarded "Lawyer of the Year" for Bet-the-Company Litigation by Best Lawyers and recognized as a "New York and National Litigation Star" in General Commercial and Securities Litigation by Benchmark Litigation. He is "Highly Recommended" in New York for both Dispute Resolution and Securities Litigation by PLC Which Lawyer? Yearbook 2007-2012 and has been selected by Lawdragon as one of the 500 leading litigators in America. He is listed in the 2007-2016 editions of The Legal 500, the 2006-2015 editions of New York Super Lawyers, the 2006-2014 editions of the New York Area's Best Lawyers, the 2007-2012 editions of Who's Who in American Law, and the 2007-2015 editions of Benchmark Litigation. Richard was singled out as the "Litigator of the Week" by The American Lawyer in February 2009 for his "huge victory for corporate directors" in obtaining dismissal by the Delaware Chancery Court of a derivative suit against the directors of Citigroup.

Representative clients for which he has handled significant litigations are: Morgan Stanley, Citigroup, JP Morgan Chase, Goldman Sachs, UBS, Thomas H. Lee Partners, Van Kampen Investments, Turquoise Hill, Teco Energy, Warner Chilcott, Ltd., Hotels.com, Continental Grain Company and Carnival Corporation. He has filed amicus curiae briefs in both the United States Supreme Court and the United States Court of Appeals for the Second Circuit on behalf of the Securities Industry Association in cases raising issues of particular concern to the securities industry.

He has frequently represented major money center banks, as well as other financial institutions and major bank customers, in a wide variety of litigation matters and potential litigation, ranging from borrower bankruptcies and workouts to lender liability actions, age discrimination claims, letter of credit disputes and other commercial controversies. Representative clients for which he has handled significant matters include Citibank, Chase Manhattan Bank, N.A., DEPFA Bank, Mitsubishi Bank, Bank One, Korea First Bank, Bankers Trust Company and Marine Midland Bank.

Richard has also been defense counsel in the two most significant commodity futures manipulation class actions of recent decades: the silver market cases and the copper market cases.

Richard's recent experience includes:
Representation of the outside directors of a shipping company in Securities Act class actions arising out of financial restatements and the subsequent bankruptcy of the company; actions were settled with no payment by our clients.
Defense of a Canadian mining company and several of its officers arising out of an earnings restatement. The federal district court dismissed the action with prejudice and plaintiffs declined to appeal.
Representation of officers of major bank in derivative suit involving robo - signing and other retail mortgage practices; district court dismissed the complaint and Second Circuit affirmed.
Defense of major financial services firm in 10b-5 and 33 Act class actions filed by its shareholders and note holders based on losses in subprime mortgage market.
Representation of investment adviser in ERISA litigation claiming that the pension fund assets of the hospital should not have been invested in mortgage-backed securities. District court dismissed with prejudice and Second Circuit affirmed.
Defense of investment advisers and distributors of mutual fund complex in derivative suit alleging breach of duties and violations of Investment Company Act and Investment Advisers Act arising out of alleged market timing and late trading in the funds; motion to dismiss with prejudice granted and plaintiffs did not appeal.
Defense of two parallel actions in New York federal court challenging the independence of directors and the magnitude of advisory and 12b-1 fees under Section 36(b) of the Investment Company Act; the court dismissed both complaints with prejudice and Second Circuit affirmed.
Representation of all underwriters of over $20 billion in debt and equity securities of American International Group sold in 2006-2008; action was settled with no payment by our clients.
Defense of principals of real estate limited partnerships in action for fraud and breach of duty arising out of purchase of real estate assets that have declined in value; district court dismissed action with prejudice and Second Circuit affirmed.
Representation of an investment advisor and its officers in derivative suits and special litigation committee investigations arising out of the decisions by the trustee of two different mutual fund complexes to redeem auction rate preferred securities and issue tender option bonds; both Boards of trustees adopted the Special Litigation Committees recommendation to decline to pursue actions and court rejected challenge to those decisions.
Defense of a mutual fund sponsor, adviser and distributor in two Securities Act class actions alleging that trust investment decisions for technology funds were influenced by improper considerations; district court dismissed complaints with prejudice, accepting our argument that there was no duty to disclose the information at issue. Second Circuit unanimously affirmed.
Defense of three lead underwriters in a Section 11 class action arising out of an initial public offering by a fast food chain; action was settled with no payment by our clients.
Defense of a syndicate of underwriters in a class action arising out of an initial public offering of tracking stock by an international telecommunications company; the plaintiffs voluntarily dismissed the action against our clients without prejudice.
Defense of U.S.-listed mainland China jewelry manufacturer and its officers in SEC investigation and class action under 33 and 34 Acts arising out of restatements.
Defense of mortgage insurer, its CEO and CFO, in securities fraud class action arising out of adverse financial performance of the company; court dismissed the complaint with prejudice.
Defense of pharmaceuticals company in securities class action arising out of its initial public offering; action was settled, with vast bulk of consideration paid by D&O insurance.
Defense of real estate investment firm and its senior management in series of 10b-5 class actions arising out of its decision to sell certain assets and cut its dividend; actions were dismissed for failure to plead scienter or any duty to disclose and Second Circuit affirmed.
Defense of private equity firm that conducted LBO of a major derivatives dealer, took it public, and shortly thereafter discovered a major financial fraud at the company. One major class action was dismissed and Second Circuit affirmed; balance of actions settled.
Defense of financial services firm in securities fraud class action alleging that public filings concealed risks associated with its banking and securities businesses; district court dismissed complaint with prejudice and Second Circuit Court of Appeals affirmed.
Richard has frequently published articles on corporate and securities law issues. These include articles on the Private Securities Litigation Reform Act and a series of articles on liability for soft information and projections. He is the general editor of the only comprehensive book on the law of settlement agreements and the settlement process, Settlement Agreements in Commercial Disputes: Negotiating, Drafting and Enforcement, published by Wolters Kluwer. Most recently, Richard was selected among the finest law firm writers of 2016, along with corporate partner Udi Grofman, with a Burton Award for their article, "Political Intelligence and U.S. Insider Trading Regulations," published in Bloomberg BNA's Securities Regulation & Law Report. This is the second time Richard has won a Burton Award.

Richard was a visiting Professor of Law in May 2013 at the National University, Odessa Law Academy in Odessa, Ukraine, where he taught a course on civil litigation in the United States. While in the Ukraine, Richard also lectured at the International Humanitarian University.