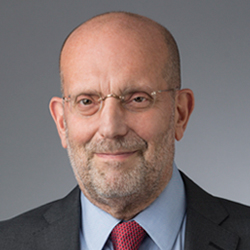 Steven Banks is special counsel in the firm's Pro Bono practice, where he manages and oversees Paul, Weiss's broader pro bono strategy and leverages firm partnerships with legal services organizations and clients to increase societal impact.
EXPERIENCE
From 2014 through 2022, Steve served as commissioner of the New York City Department of Social Services (DSS), the largest social services agency in the United States, managing approximately 16,000 staff serving over three million New Yorkers per year with an annual budget of $12 billion.
In that role, he established and led reforms for many robust and high-impact DSS programs, including the first-in-the-nation Right to Counsel program for low-income tenants, expanded legal assistance for immigrants, Cash and Rental Assistance, Food Assistance, Medicaid and other programs that address income inequality, modernize and streamline access to public benefits, and prevent and ameliorate homelessness.
In April 2016, following a comprehensive review of the city's homelessness policies, former New York City Mayor Bill de Blasio appointed Steve to lead the Department of Homeless Services, in addition to the Human Resources Administration, as head of a joint management structure under the DSS. During his tenure, the DSS decreased evictions, reduced the number of families experiencing homelessness and residing in shelters, and dramatically enhanced and expanded assistance for low-income families and individuals.
Prior to serving in city government, Steve spent over three decades at New York City's Legal Aid Society, the country's oldest and largest not-for-profit legal aid organization. From 2004 to 2014, Steve was the attorney-in-chief at LAS, where he managed the legal practice and operations of the criminal, juvenile rights and civil programs run by the organization, which handles 300,000 legal matters each year in all five boroughs. At LAS, he had an extensive track record of working productively with a diverse and unionized workforce and helping the city's most vulnerable residents—including children and families, seniors, survivors of domestic violence, immigrants and people with HIV/AIDS—navigate DSS programs and services.
In 2008, Steve helped reach a landmark settlement in McCain v. Koch, resulting in the establishment of a permanent enforceable right to shelter for families experiencing homelessness in New York City. For many years, he also served as counsel to the Coalition for the Homeless, enforcing the right to shelter for single adults.