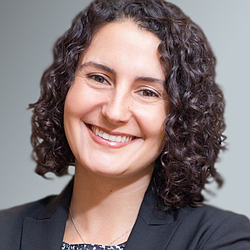 Tanaz Moghadam is a Paul, Weiss Pro Bono Attorney, working to manage the firm's pro bono efforts and develop partnerships with legal service organizations and clients. Tanaz focuses on the firm's DC office and supports the firm-wide pro bono litigation docket.
EXPERIENCE
Before joining Paul Weiss, Tanaz served as the Deputy Director of Programs for the American Immigration Council's Immigration Justice Campaign, an initiative seeking to expand access to counsel for detained immigrants by leveraging the good will of pro bono attorneys. In that role, she helped design and execute innovative pro bono programs to address the critical access to justice gap within immigration detention centers, including, notably, leading the Campaign's effort to secure counsel for dozens of families separated at the border during the family separation crisis.
Prior to her time at the Justice Campaign, Tanaz worked at a boutique labor and employment litigation firm in Washington, DC. In 2009, Tanaz received a prestigious Skadden Fellowship to work at the ACLU Immigrants' Rights Project in New York, where she focused on impact litigation in the immigration space. Tanaz graduated Columbia Law School, magna cum laude, as a Kent and Stone Scholar. She clerked for the Honorable Judge Jan E. DuBois of the Eastern District of Pennsylvania. Prior to law school, Tanaz worked in the field of international human rights and conducted field work in Tanzania, Rwanda, Ivory Coast, and Morocco among other countries.