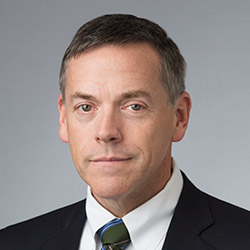 New York
1285 Avenue of the Americas
New York, NY 10019-6064
Fax: +1-212-492-0417
Washington
2001 K Street, NW
Washington, 20006-1047
+ vCard
ADD TO CONTACTS
Andrew Finch is co-chair of the Antitrust Practice Group and a partner in the Litigation Department. He rejoined the firm in 2019 from the United States Department of Justice's Antitrust Division, where he served as Principal Deputy Assistant Attorney General (April 2017-August 2019) and as Acting Assistant Attorney General (April-September 2017). In those roles, he oversaw all aspects of the Antitrust Division's operations, including merger reviews, civil and criminal antitrust investigations, litigation and appeals. Clients have recognized Andrew as "an incisive, strategic thinker who has perfected the ability to strongly advocate for a position," noting his "wide-ranging knowledge across criminal and civil antitrust issues."
EXPERIENCE
Andrew is a seasoned and pragmatic antitrust counsel and litigator. His practice focuses on antitrust investigations and litigation, both criminal and civil, including merger reviews. He is listed in Chambers USA as a Band 1 practitioner for Antitrust (NY), as a Leading Lawyer in The Legal 500 Antitrust: Merger Control category, and is also highly recommended in the Antitrust: Civil Litigation/Class Actions: Defense and Antitrust: Cartel categories. Most recently, Andrew was recognized as one of Lawdragon's "500 Leading Litigators in America."
At the Antitrust Division, Andrew oversaw dozens of major merger reviews; supervised multiple litigations; negotiated civil and criminal settlements, including consent decrees involving divestitures, plea agreements and deferred prosecution agreements; and represented the Antitrust Division in meetings with other federal agencies, members of Congress, state attorneys general and foreign competition authorities. Throughout his tenure, Andrew played a leadership role in developing and implementing Antitrust Division policies and priorities. Among other things, he oversaw the establishment of the Division's new policy regarding the consideration of effective antitrust compliance programs in criminal enforcement decisions.
Andrew also has spoken extensively in the United States and abroad about antitrust issues, including "big data" and technology platforms, acquisitions of nascent competitors, and the application of antitrust law to intellectual property disputes and standard-development organizations.
In private practice, Andrew has represented a broad range of clients, including in the financial services and payment networks, insurance, logistics and delivery services, technology platforms, healthcare, manufacturing, steel production, public performing rights, petroleum refining, publishing, retailing, shipping and air transportation industries, among others.
Andrew's notable representations as antitrust counsel include:
Spirit Airlines, Inc., a Florida-based airline, in its $3.8 billion sale to JetBlue Airways Corporation, a New York-based airline, and related private litigation.
Uber Technologies in the DOJ Antitrust Division's review and clearance of its $2.65 billion acquisition of Postmates.
Anheuser-Busch InBev in its acquisition of Craft Brew Alliance, a publicly traded U.S.-based beer brewing company.
Apollo Global Management and its subsidiaries in connection with multiple transactions.
Mastercard in connection with the antitrust review of its acquisition of Finicity Inc., a company that aggregates data from consumers' bank accounts; and in its acquisition of Ekata, a leading provider of digital identity verifications solutions.
Fédération Internationale de Football Association (FIFA) in the Relevent Sports USSF dispute, which involves allegations of anticompetitive behavior relating to attempts to organize a regular season professional football game, between two non-U.S. teams, in the United States.
Shopify, a provider of internet infrastructure for commerce, in its $2.1 billion acquisition of Deliverr, Inc., a California-based fulfillment technology provider.
Simon Property Group in connection with a Florida state court suit against their tenant, Retailing Enterprises, LLC, for unpaid rents. The antitrust claims were brought by Retailing Enterprises as counterclaims against Simon.
a global financial institution in connection with investigations by the DOJ, CFTC and other regulators into LIBOR and other interest rate benchmarks, as well as in civil litigations regarding LIBOR.
a global financial institution in connection with foreign exchange practices and related litigation.
the American Society of Composers, Authors and Publishers in connection with the DOJ's review of the ASCAP Consent Decree.
AIG against RICO and antitrust class action claims related to alleged bid-rigging of insurance contracts in all lines of commercial insurance.
numerous clients in antitrust and other investigations by the Federal Trade Commission, the DOJ, the CFTC, the New York Department of Financial Services, state attorneys general and other regulators.
numerous clients on a wide variety of antitrust and other issues arising in business and litigation contexts, including interlocking directorates, exclusive dealing, resale price maintenance and trade secrets.
Andrew is active with the American Bar Association (ABA), serving as a member of its Antitrust Law Section, co-chair of its Foreign Investment and National Security Committee and the vice-chair of its International Comments & Policy Committee. He previously served on the ABA's Task Force of the Future of Competition Law Standards, as vice-chair of the Books and Treatises Committee, as vice-chair of the Civil Practice and Procedure Committee, as a member of the Editorial Board of Antitrust Law Developments (Sixth), and as a principal editor of the Handbook on Interlocking Directorates.
Between 2003 and 2005, Andrew served as Counsel to the Assistant Attorney General in the Antitrust Division. While at the DOJ, he participated in drafting the joint report of the DOJ and FTC, Antitrust Enforcement and Intellectual Property Rights: Promoting Innovation and Competition, and contributed to the Report of the DOJ's Task Force on Intellectual Property.
Andrew served as a law clerk to the Honorable Dennis G. Jacobs in the U.S. Court of Appeals for the Second Circuit. At the University of Chicago Law School, Andrew was a John M. Olin Student Fellow in Law and Economics, the Topics and Comments Editor of The University of Chicago Law Review, and was elected to the Order of the Coif.
Andrew is Vice-Chair of the Board of Directors of the School of American Ballet.