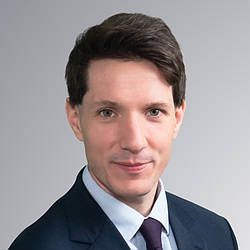 A counsel in the Litigation Department, Kyle Smith is a trial lawyer with experience in many different substantive areas, including antitrust, trade secrets, intellectual property and complex commercial litigation. Kyle focuses on helping his clients solve their most complex disputes, working tirelessly to understand how litigation affects his clients' business and developing creative recovery and trial strategies. He has represented both defendants and plaintiffs in federal and state trial and appellate courts, as well as in international arbitration.
EXPERIENCE
Within the last several years, Kyle has served as trial counsel in four significant trials and arbitrations. Among his recent successes for clients: winning a trial court ruling striking down a New York City regulation that impacted ridesharing companies' operations in the city; litigation to settlement for the plaintiff after three weeks of jury trial in SourceOne Dental v. Benco; and defending a hotly contested trade secrets case regarding the future of self-driving cars that was resolved in the midst of the jury trial.
Kyle has also helped guide plaintiff clients to several successful resolutions on the eve of trial. He recently represented a group of corporate plaintiffs in opt-out lawsuits concerning alleged price fixing of products containing LCD panels, helping them to recover amounts far exceeding their claims for single damages. He also represented many of those same clients in parallel cases involving price-fixing allegations concerning cathode ray tubes, which resulted in recoveries far exceeding their claims for single damages. In that case, Kyle was a key member of the appellate team that won a reversal of a $70 million adverse trial court ruling in the Ninth Circuit.
Kyle's representative matters include:
Defending a major consumer electronics company against fraud, business tort, securities and unfair competition claims asserted in California state court by a former manufacturer and distributor that sought over $1 billion in damages; the client prevailed on summary judgment against all claims, and recovered attorneys' fees and expenses.
Defending a major science and technology company in a federal-court action alleging trade secret misappropriation, breach-of-contract and related business tort claims.
Serving as trial counsel and prosecuting antitrust claims on behalf of the plaintiff against three large dental supply distributors through a three-week jury trial that resulted in successful resolution of all claims.
Representing a major science and technology company in a state trial court action that resulted in a ruling striking down New York City regulations governing ridesharing companies.
Representing corporate clients for six-plus years in opt-out litigation in separate matters In re TFT-LCD (Flat Panel) Antitrust Litigation and In re Cathode Ray Tube (CRT) Antitrust Litigation, including through successful appellate litigation in the Ninth Circuit reversing an adverse trial court ruling, obtaining historic settlements which resolved the actions in full.
Representing a major healthcare company as a plaintiff in affirmative litigation against pharmaceutical manufacturers in litigation regarding the drug Provigil (which involved a week-long bench trial regarding collateral issues and resolution of all claims approaching the brink of the jury trial); and in litigation over price-fixing allegations covering more than a hundred generic drugs in In re Generic Drug Price-Fixing Litigation.
Defending a former art gallery president in 10 lawsuits alleging contract, fraud, and RICO claims arising out of some $60 million in sales of forged artwork, previously believed to be by abstract expressionist artists.
Kyle previously clerked for the Honorable William J. Holloway, Jr. at the U.S. Court of Appeals for the Tenth Circuit. While at the University of Virginia School of Law, he was Executive Editor of the Virginia Sports & Entertainment Law Journal. Prior to law school, Kyle worked as an engineer.