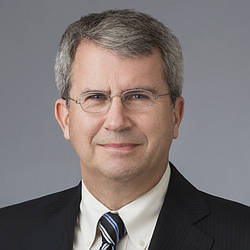 Bill Isaacson, a partner in the Litigation Department, is widely considered one of the most preeminent litigators of his generation. A Fellow of the American College of Trial Lawyers, Bill was named a "Litigator of the Year" in 2016 and a "Litigator of the Week" three times by The American Lawyer. Chambers reports that Bill is a "celebrated trial lawyer" and is "highly recommended for his work in complex class actions" with clients commending his "superb intellect" and that he is a "very smart strategist."
Bill has tried cases in a number of areas, including contract, commercial torts, copyright, international arbitration and antitrust. In antitrust, Bill has successfully represented both plaintiffs and defendants in major antitrust litigations; of the approximately dozen federal antitrust class actions that have gone to trial and judgment in this century, he has tried five of them, winning verdicts in each case. Global Competition Review has noted that "arguably no antitrust lawyer in recent memory has had as much success for both plaintiffs and defendants as Bill Isaacson." Lawdragon writes that it is "nearly impossible to find a more reliable antitrust litigator than Isaacson, who has successfully handled several of the most high-profile cases in the past two decades."
EXPERIENCE
Bill's achievements include:
winning a defense jury verdict as trial counsel for a leading technology company in the portable music industry in a high-profile antitrust class action seeking $1 billion;
winning a $50 million verdict—later increased to $124 million in a judgment—as trial counsel in a three-and-a-half week jury trial in the District of Nevada for plaintiff Oracle against Rimini Street for copyright infringement;
obtaining a historic judgment for college athletes in O'Bannon NCAA finding the NCAA in violation of the antitrust laws and ordering injunctive relief for NCAA athletes permitting the sharing of name, image and likeness monies. The Wall Street Journal wrote that Isaacson's cross-examination of the President of the NCAA "laid out, one by one" the "deeply embedded contradictions and occasional bits of outright absurdity" of the NCAA positions;
winning a significant victory in a high-profile, long-running action brought on behalf of users of Uber's ride-hailing app, challenging the legality of Uber's business model under the Sherman Act and seeking a nationwide injunction against surge pricing;
securing the dismissal of a major antitrust lawsuit filed by the D.C. Attorney General challenging Amazon's pricing policies nationwide;
representing the Ultimate Fighting Championship in defense of an antitrust class action being pursued by a group of mixed martial artists;
winning a $162 million judgment, and $33 million for settling defendants, as trial counsel in the first antitrust action against Chinese companies for cartel conduct relating to products sold in the United States;
obtaining as a Steering Committee Member a $2.67 billion settlement for health insurance subscriber plaintiffs in a class action lawsuit against Blue Cross Blue Shield, under federal antitrust laws;
achieving $220 million and $430 million in settlements, respectively, as co-lead counsel in antitrust class actions, In re: Municipal Derivatives Antitrust Litigation and In re: Polyurethane Foam Antitrust Litigation;
winning summary judgment reversing a tentative decision for the defendant as counsel to plaintiff, comedian Garry Shandling, against Shandling's former manager for breach of fiduciary duty, prompting Variety to declare that "Shandling Claims Get New Life in a Stunning Reversal";
winning a $261 million award for a Joint Venture for an Indonesian power plant in UNCITRAL arbitration and then confirming the award under the New York Convention in proceedings in the Southern District of Texas and on appeal to the Fifth Circuit Court of Appeals;
winning a $148.5 million jury verdict in an international price-fixing conspiracy and market-allocation case, Animal Science Products Mitsui & Co., in federal court in Washington, D.C.;
winning a $34.5 million jury verdict in an antitrust case, In re Scrap Metal Antitrust Litigation; and
winning a $26 million jury verdict as co-counsel in a groundbreaking pro bono lawsuit, Sines Kessler, brought against the white supremacist and neo-Nazi groups who planned and organized violence at the "Unite the Right" rally in Charlottesville, Virginia in August 2017.
AWARDS & RECOGNITIONS
Bill has achieved numerous industry awards over the years. Bill is among only 31 lawyers to be named in the Lawdragon 500 each of the last 10 years; Law360 has twice named Bill a "Competition MVP" and also has named him a "Titan of the Plaintiffs Bar." Global Competition Review has named him a "Litigator of the Week." He is also recognized by The Legal 500 as a "Hall of Fame Lawyer" in the Antitrust: Civil Litigation/Class Actions: Plaintiff category, a "Leading Lawyer" in the Trial Lawyers category, and is recommended in the Antitrust: Civil Litigation/Class Actions: Defense category. In college, he was a finalist at the 1982 National Debate Tournament.
Bill has spoken and presented regularly at legal conferences, including NYU Law School's conference on Antitrust and 21st Century Bigness; the ABA's American Judicial Law Institute for Antitrust (sponsored by University of California at Berkeley and the University of Chicago); the American Antitrust Institute; the Sedona Conference; and MLEX Advisory Board; and has conducted mock trials for the Spring and Fall ABA Antitrust Conferences and the ABA Economics Institute for Judges at George Mason University. 
Bill is a member and former Chair of the Board for Legal Counsel for the Elderly. In 2015, the group recognized him with its individual Award for Sustained Excellence and Outstanding Commitment. His pro bono work was featured in articles in the Washington Post in 2010 and 2017.